 SEWARD, Alaska, July 4 (Reuters) - A year after the last-place runner vanished without a trace during Alaska's most famous mountain race, presumably dying somewhere on the steep terrain, officials have made sweeping changes to prevent any repeat occurrences in the grueling Fourth of July tradition.
Last year's disappearance of a 65-year-old Anchorage man on Mount Marathon was the first fatality in the nearly century-old race, run in the coastal town of Seward.
That incident, along with severe injuries suffered by other racers in the 2012 event, is prompting this year's push for caution in what has long been celebrated as a daredevil contest.
Competitors must meet specified time milestones or they will be forced to drop out, a rule designed to avoid risks to stragglers. Rookies must attest to having scouted the mountain ahead of time. Signs posted on the lower mountain, site of the most dangerous cliffs, point out alternate descent routes and rate their difficulty. A team of hikers will "sweep" the mountain after the competition to look for potential laggards.
But, veteran runners say, it is impossible to entirely tame Mount Marathon, a race that takes competitors 3,022 feet up and down a mountain with pitches as steep as 60 degrees and into Seward streets lined with thousands of spectators.
"I think racers accept that if you don't want to do it, if you're really worried about getting down in one piece, then don't sign up for it," said 2009 champion Matias Saari, one of the safety tour leaders.
Runners scamper up rock faces grabbing tree roots, puff up and down on loose scree and descend through an icy creek bed and over rock cliffs of varying pitches. Injuries are common, ranging from skinned knees and backsides to heat exhaustion and broken bones.

Elite cross-country skiers dominate the competition. Two-time World Cup sprint champion Kikkan Randall won the women's race in 2011; fellow U.S. Ski Team member Holly Brooks won last year. The men's record of 43:23 minutes was set in 1981 by Bill Spencer, then a member of the national cross country ski team.
The course is only about 3 1/2 miles long, and there are longer and more difficult mountain races, but possibly none with the ferocity and fan following of Mount Marathon. Spectators who flock to watch the approximately 1,000 runners increase Seward's population of 2,500 about 10-fold each July 4.
"There's no other race like it. It's a thrill," Saari said. "We sort of call it the Super Bowl of Mountain Racing, at least for Alaska."
For Michael LeMaitre, the racer who disappeared, the mountain proved too difficult.
LeMaitre was a rookie who had never been on the route before last year's race. He was last seen approaching the top, two hours after the leaders had crossed the finish line.
Firefighters and police, state troopers, National Guard helicopter crews armed with infrared technology, mountaineering experts and search dogs scoured the mountain for days, but found no sign of LeMaitre. Driving rain hampered the search.
Although family members held a memorial service for him last summer, LeMaitre is still classified by Alaska State Troopers as "missing," not dead, said Megan Peters, an agency spokeswoman.
"Any person that goes missing in Alaska is put in the Missing Persons Clearinghouse. They stay in there until they are located, dead or alive," Peters said.
LeMaitre was not the only serious casualty of last year's race. Two competitors were badly injured in falls down a lower-mountain cliff. One still suffers from brain damage so severe that he cannot remember the events leading to his tumble down the rock face.
After last year's grim toll, some argued for an end to the event, which grew out of a 1908 barroom bet, started as an organized competition in 1915 and is now one of the nation's oldest footraces. But the overwhelming sentiment was to keep the race going, with its character largely intact, race committee member Lori Draper said in a public-radio interview this week.
This year's race got the usual flood of entries, Draper said in an email. "It doesn't appear people are discouraged from doing the race," she said. (Editing by Dan Whitcomb and Bob Burgdorfer)

Before You Go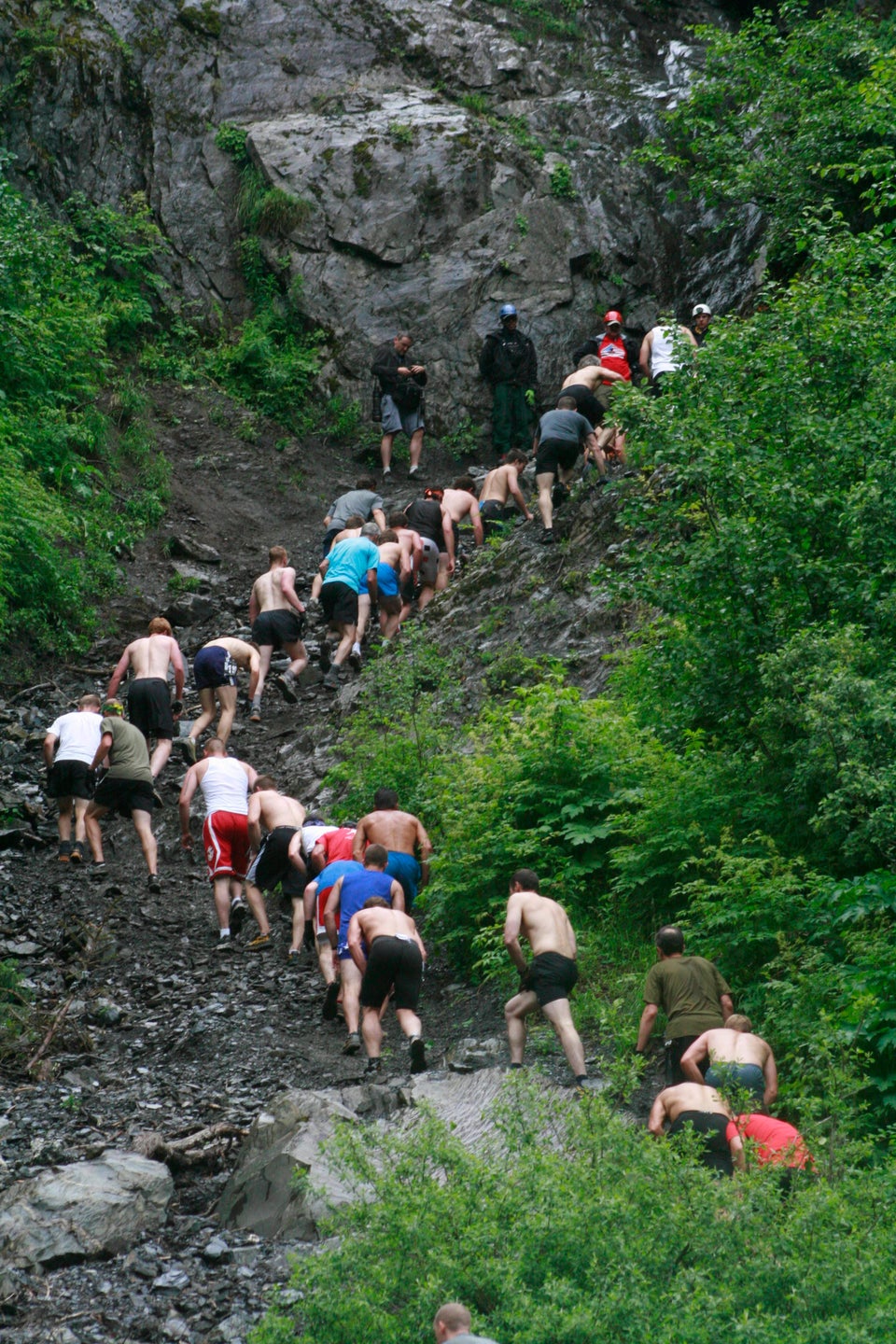 Michael LeMaitre
Popular in the Community