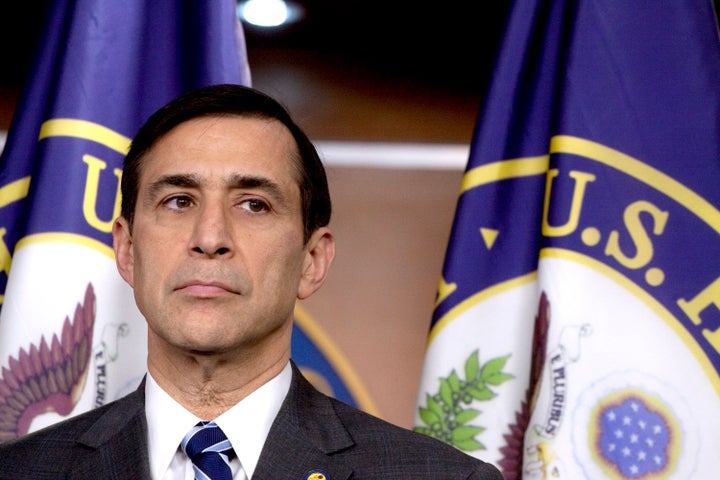 WASHINGTON -- The office of House Oversight Committee Chairman Darrell Issa (R-Calif.) acknowledged on Wednesday that days before Rep. Anthony Weiner's (D-N.Y.) lewd twitter activity went public, it received an inquiry from individuals seeking help exposing the congressman.
Issa did not know that the two self-described conservatives -- Mike Stack and "Dan Wolfe" -- had reached out to his aides, said Frederick Hill, his spokesman. He only became aware of it on Monday, when the website The Smoking Gun published four emails exchanged between Stack and Wolfe (an alias) in which they discussed efforts to touch base with Seamus Kraft, Issa's director of digital strategy.
"We did not respond to the inquiry we received nor did we offer any advice or counsel," said Hill.
Both Wolfe and Stack were part of a group of relatively mysterious conservatives who had been tracking the online activity of Rep. Weiner for months. According to a New York Times report, members of the group, who called themselves #bornfreecrew, were predicting as early as May that the New York Democrat would be caught in a sex scandal.
To make that prophecy come true, however, they needed a larger megaphone. An effort to tap into the conservative network ensued, with Stack sharing tips about who to trust both in the media and on the Hill.
At the time, the group did not have the infamous picture that Weiner took of his bulging underwear. Rather, Wolfe and Stack attempted to reach out to Issa's office with evidence that Weiner had been communicating with an "underage" girl via Twitter.
"I think that since we have the stuff screencapped we call or email his office," Stack wrote Wolfe on May 25, 2011, apparently suggesting that they contact Weiner's aides directly. "But cc a whole bunch of people asking for a comment. She is underage, however. Let me Email Darrell Issa press sec."
"Let's see what Mr. Issa says," Stack wrote twenty minutes later.
"This guy Seamus Kraft is awesome," Stack wrote two hours after that. "We were introduced by a writer at the Daily Caller who saw my postings at weasel Zippers (I'll send to you) and referred me to this person named Ashley Swope. She thought I would be good at keeping Seamus and Mr Issa up to date with ethics and BHO [Barack Hussein Obama] issues around the clock. They have proven to be great allies."
An email to the Daily Caller was not immediately returned [Update: The paper's editor, Tucker Carlson, tells the Huffington Post that he does not know who the writer is but is looking into the matter].
The exact identity of Ashley Swope wasn't confirmed either, though someone with the name has worked as a staff assistant for the House Oversight Committee, according to public records.
That conservative operatives with dirt on a Democratic congressman would try to loop Issa's oversight office into their operations isn't entirely surprising. While the ethics committee is the body charged with handling such matters, the California Republican is a watchdog with a much higher profile. His office and the Daily Caller, moreover, have shared several staff members, which could explain why a writer for the paper would suggest that Stack share his information with the congressman. The duo didn't trust everyone in the GOP. Wolfe, who under the twitter handle @PatriotUSA76 would go on to uncover the explicit Weiner photo, warned in an email on May 25 that Stack should avoid reaching out to Rep. Jason Chaffetz (R-Utah) because he was "friendly" with Weiner, having attended his wedding.
While acknowledging that inquiries to Issa's office were made, Hill, Issa's spokesman, stressed that the chairman only "became aware of this contact when the Smoking Gun published the story." That said, the emails, combined with the Times report, will likely provide fodder for progressives who have insisted -- even in light of Weiner's admission to inappropriate behavior -- that right-wing operatives played a surreptitious role in the saga.

Popular in the Community