Earlier this week I watched the film 'Where Hope Grows' in preparation to speak with one of its co-stars-- David DeSanctis. Where Hope Grows--which opens today--is a buddy film with the two male protagonists played by DeSanctis and Kris Polaha journeying through a series of comedic, dramatic and heartfelt interactions that unite this unlikely pair and reveal the nature of friendship.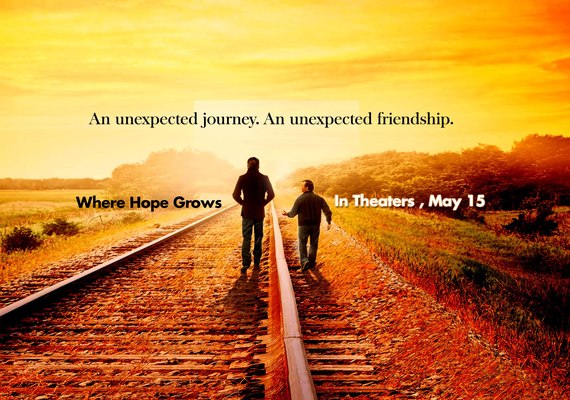 Polaha is Calvin: the mostly drunk, pushing forty former pro baseball player sent back home due to his panic attacks in the big league who meets up with Produce (DeSanctis), a twenty-something with a more happy-go-lucky vibe who works in the produce department of the grocery store Calvin frequents.

Polaha is an actor who does not have Down syndrome (Ds) and DeSanctis is an actor who does.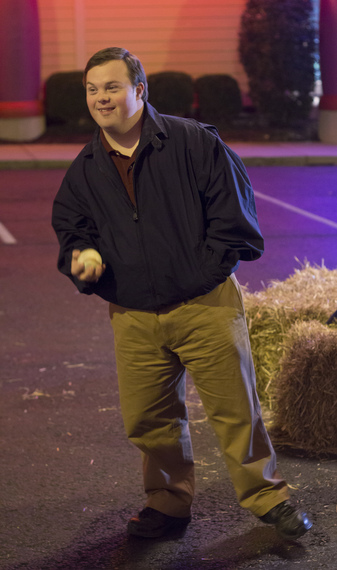 I wanted to see the film and talk with DeSanctis because my son has Ds. Aside from Ryan Murphy who bucks the stereotypes of characters with Down syndrome in the shows Glee, The New Normal and American Horror Story, actors with Ds are not in much demand on the little or big screen.
Unfortunately characters with Down syndrome or cognitive challenges are often relegated to the happy, hugging role. I am not opposed to 'happy' or 'hugging' but I do oppose narrow stereotypes that offer a blanket understanding of an entire group of people like my child. Much in the same way actresses must be discouraged by the over-abundant roles of tireless mother, long-suffering wife and supportive girlfriend.
Imagine my dismay early on in the film when Produce exuberantly hugged Calvin and later Calvin asks Produce about his "magical happiness".
I'm glad I stuck with the film I was otherwise enjoying because Chris Dowling, the director and screen writer, is a deft filmmaker. Produce's gifts of compassion and happiness do not result from his 47th chromosome but from his character's strong faith-- this is a Christian-based production company after all. I am not a church-person but I can live with that distinction.
How DeSanctis came to audition sounds like a Hollywood discovery story. A golf buddy of his was on the same flight in the same row as Milan Chakraborty - one of the producers of the film. In flight, DeSanctis's friend offered him up for the role of Produce -not based on his acting experience, of which he had none, but because of his advocacy work in the Down syndrome community. DeSanctis is an accomplished speaker and advocate serving as Ambassador for Special Olympics and a Global Messenger for Best Buddies.
DeSanctis told me modestly, "it was a world-wide search and somehow I defeated out the other actors who auditioned" noting "one was a Shakespearean actor."
Dowling related in an email, "...you could tell from the [audition] tape he was a star. I decided I wanted to roll the dice and cast a guy who had never acted before but had this amazing personality compared to going with someone who had more credits on a resume. It was David's first professional acting job...and he just crushes it."
I asked DeSanctis what the biggest challenges was for him acting first time out. He referred to the physical demands of being out in cold weather and being in one position for a long period of time rather than the emotional demands required of embodying a character. That part was easy for him.
Dowling shared, "First time actors often get caught up with being too self-aware and let fear hold them back. David is fearless...it takes actors a lifetime to lose that fear. David began without it."
Polaha's Calvin is the mirror for those of us who do not have Ds. As Calvin moves from self-indulgent to connected he sees his new friend is like any one else. A realization this mother and anyone who actually knows someone with Ds easily understands.
I asked DeSanctis if he could relate to the stereotypes his character faced. He told me he has "worked hard to end the word retarded, the R-word." He advised: "Look at my abilities not my disability. That's what I am."
DeSanctis said, "Chris made the cast and crew sign a pledge to end the use of the R-word." The pledge is not to say the word "retarded," which is rightfully considered a slur just like the N-word. The movie ends with a challenge for the audience to take the pledge as well.
DeSanctis appears in a video, also directed by Dowling, that "has people with disabilities showing three words they do not like to hear written on glass that they shatter with rocks." The video is titled Stand Up for Downs - Help Us Shatter Stereotypes. DeSanctis told me: "Watch it. It's important to me."
Clearly the film set was one of inclusion where DeSanctis felt accepted and respected. The best part of film for him: "We were a group of people who became family. Everyone adopted each other."
I asked if he wanted to continuing acting: "Yes, I do. I am waiting for TV show creators and casting agents to see me."
His hopeful waiting is probably like any other marginalized Hollywood outsider. As is his dedicated advocacy-- he is using his slim fame now for more than himself.
One of my final questions was: "As a mother of a son with Down syndrome what should I know?"
The answer he gave me is probably the best advice any parent can get:
"Tell him to go for his dreams. Support him through his dreams. Take your time with him. He's eight. You don't want to miss out."
Kari Wagner-Peck is a frequent contributor at Huffington Post among other sites. She writes on disability and typical life at her blog: atypicalson. You can follow her on Twitter @atypicalson.
Popular in the Community