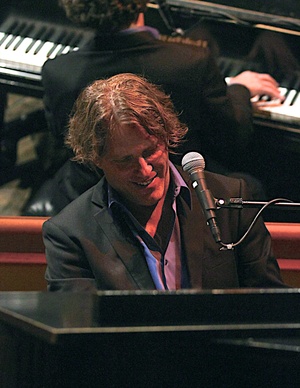 Musician David Geist is proof that it's never too late to change your path in life. Born in San Diego, Geist always knew he wanted to be in New York City, the place where his inspirations -- George Gershwin, Cole Porter and Rogers and Hart -- created their timeless music. He lived his dream, playing piano in many Broadway shows, including Cats, Wicked, Les Miserables and the original production of Passion. For many, the satisfaction of working steadily on Broadway would be enough, but Geist knew there was more to his story.
Ten years ago, he packed his bags and headed west to the hills of New Mexico. He was quickly embraced by the community, and Pranzo, the local Italian restaurant, teamed up with him to open Pranzo's Geist Cabaret. Earlier this year The Santa Fean named him one of Santa Fe's top 25 favorite residents. It's no wonder he feels completely at home.
"I've talked to a lot of musicians who are in New York, and they ask me, 'What keeps you in New Mexico?' I feel very appreciated here. That's a huge part," Geist said. "I felt appreciated in New York, but when you're in an orchestra pit you're pretty much playing for your fellow musicians; you're not playing for an audience. I felt removed in New York. Here I'm engaging with an audience."
Recently, Geist released his second CD titled Inside the Flame, a collection of original compositions. He describes his music as contemporary classical with theater and pop sensibilities. The flame is the creative spark, and with this CD he feels closer than ever with his creative energy.
He's also at peace. If he could go back and talk to his younger self, he told me he'd say: "What we think is so important doesn't really matter. Helping others is the only thing that does."
From his home in New Mexico, Geist spoke about his journey and how he got to the place where he knew it was time to reinvent himself and create a new life.
You don't have to live in a major city to do your art well and have a fulfilling life.
Think Georgia O'Keeffe. I relate to her story. I lived in the city. Then something pulled me to the mountains of New Mexico. It was like my art and my spirit were telling me that it was time to leave. I felt like I had done everything I had wanted to do in New York. I played in the orchestra pit for many shows. I conducted. I was totally immersed in the world of theater music. I felt like I had absorbed it and could now offer it to the world. I can sort of be the ambassador of theater music to wherever I wanted to move.
Over the years, how have you seen yourself grow mentally and emotionally?
Since living in New Mexico and running a cabaret room, I've been more engaged with the public, learning about their tastes and preferences. It's made me more aware of being part of a community that looks to you for artistic direction, which I love. With that comes responsibility. When I first moved to New Mexico from New York, it wasn't so much about demonstrating my talent, but inviting people into my world. I knew I was musical. I knew I could compose. I knew I had this crazy ability to catalog The Great American Songbook, but I needed to share these gifts with others. I grew mentally and emotionally by allowing people to know me more, to listen to my music and to understand me.
What advice would you give to others who are thinking of making changes in their lives?
Cut the cord! Don't have one foot in one reality and one foot in another. You'll know when you hit your wall, and that is the time to make your move.
When did you first realize you had a gift for music?
My mother could have been a professional theater actress. She was one of those '50s housewives. She gave her love for theater and music to me. My dad had very good taste in music, as well. I had this record collection of Annie Get Your Gun, My Fair Lady and Rhapsody in Blue. Theater was always in my bones, so going to New York was just a logical step. Growing up I was into classic rock bands.
Yes, I read once that you said growing up you wanted to be a cross between Marvin Hamlisch and Steven Tyler. Is there this rock side of you that just wants to come out?
There is! There is a camp rock and roller guy in me. I love rock musicals.
Certainly, my meditation practice has helped me make decisions from a clearer place, which in turn has helped me conserve my energy for the things that are most to important to me: art, community, family and friends. Keeping a "beginner's mind" in all my relationships and in my music is also key. I like sharing what I know and as a result, mentoring and teaching is a big part of my life. Giving back, being open and accepting others and staying curious maintain a youthful spirit.
Where do you see yourself in five years?
I see myself as expanding more in New Mexico, but I would like to do concerts globally. I want to bring my music and The Great American Songbook to a wider audience, both nationally and internationally.
After everything you've accomplished, what are you the most proud of?
Art is like your child. It's like the song from Sunday in the Park with George, "Children and Art." Really the two things you leave behind are your children and your art. My two CDs are like my children, and I think I'm the most proud of those CDs. They are my legacy.
Related
Popular in the Community