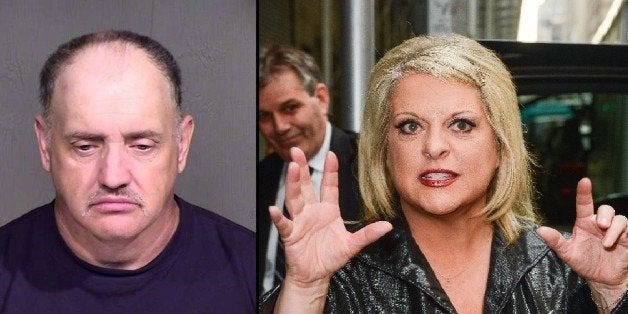 A judge overseeing the case of a New York man who allegedly said he wanted to tie HLN's Nancy Grace and Jane Velez-Mitchell to a tree and cut their throats has ordered attorneys to try to reach a deal.
David Lee Simpson, of Bath, N.Y., appeared in court Wednesday at a pre-trial conference hearing before Maricopa County Superior Court judge Margaret Mahoney.
The 48-year-old is charged with three felony counts of computer tampering and two felony counts of stalking, related to online threats against the two television personalities and an unnamed Phoenix woman.
During Wednesday's pre-trial conference, Simpson's lawyer, Casey Martin, told the judge he has been in talks with prosecutor Edward Leiter about a possible plea deal for his client.
As a result of those ongoing talks, Mahoney ordered both parties to appear at a settlement conference to discuss the matter.
Simpson, who was extradited to Arizona in July, previously entered a not guilty plea to the charges.
According to Leiter, Simpson wrote on Twitter in June that he wanted to tie Grace and Velez-Mitchell to a "tree naked and leave them to suffer all night" and then "slit their throats."
In addition to the tweets, Simpson allegedly told a co-worker at an auto repair shop in Bath that he wanted to gut one of the TV commentators "like a deer."
Simpson is also accused of threatening an unidentified Phoenix woman who defended the news anchors online.
Maricopa County Sheriff Joe Arpaio said Simpson made the threats because he was "infatuated with Jodi Arias" and was upset with negative remarks that the two broadcasters made while covering Arias' first-degree murder trial.
Simpson was arrested for a traffic stop on July 17. During a routine search of his vehicle, authorities allegedly discovered guns, handcuffs, zip-ties, binoculars, a knife and a police radio. Detectives also found a news article about the Newtown shooting, police said.
"This suspect was on his way south with enough weapons in his car to do serious harm to someone," Arpaio said at a press conference following Simpson's arrest.
Arias, the unwitting motivation behind Simpson's alleged actions, was convicted in May of killing her ex-boyfriend, Travis Alexander. A jury determined Arias stabbed Alexander nearly 30 times, slit his throat and shot him in the head at his Arizona home in June 2008.
However, the jury that convicted Arias failed to reach a unanimous decision on whether to sentence her to life in prison or death. Arias is scheduled to sit down with prosecutors at a settlement conference on Oct. 24, to discuss possible resolutions to the case.
Mahoney scheduled Simpson's settlement conference for Nov. 13. If an agreement cannot be reached, the case will proceed to trial on Nov. 21.
REAL LIFE. REAL NEWS. REAL VOICES.
Help us tell more of the stories that matter from voices that too often remain unheard.
BEFORE YOU GO
PHOTO GALLERY
Travis Alexander - Jodi Arias Crime Scene And Trial Photos