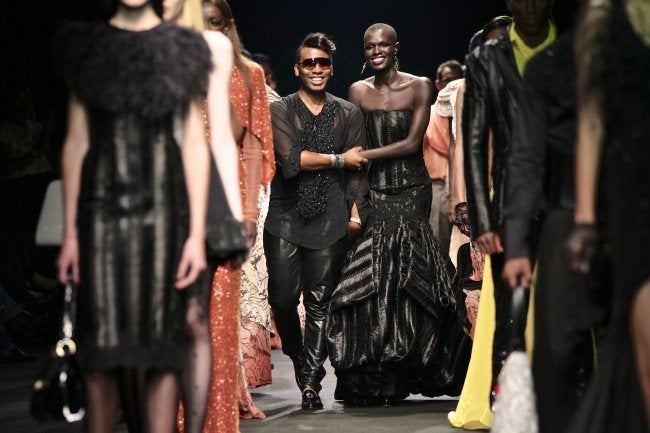 There are two important things I've learned from attending Mercedes-Benz Africa Fashion Week 2012; the continent is filled with talented designers and that many deserve to be recognized on a global scale.
Thankfully a handful have managed to garner some international attention--Mimi Plange from Ghana has dressed Michelle Obama and South African designer Gavin Rajah is a celebrity favorite of Beyonce and Naomi Campbell. In addition, David Tlale is considered one of the most successful and popular designers to come out of Africa.
Based in Johannesburg, Tlale has craved out a distinct presence with his unique designs and meticulous detailing. He has shown his wears from Paris to New York City leaving a trail of stellar reviews along the way.
I had the opportunity to stop by Tlale's spacious office/studio/showroom in Johannesburg's hip Arts On Main district to speak with him just hours before his Africa Fashion Week runway show last week. He opened up about Africa's far reaching influence in the fashion industry, the role he is playing in putting Afticn designers on the map and why African design is more then just Kente cloth.
How would you define "African fashion" to the world?
I believe it's a melting pot of what's happening around the world. People all around the world come here to take inspiration and I think it's time that perceptions change about what African fashion is since we have so much culture and diversity.
Where have you seen Africa's influence in fashion?
I travel around the world about every other month and see what is happening. Ninety-nine percent of the time when I'm working down, say, Fifth Avenue or Madison Avenue in New York City I'll see a store having something inspired by Africa. That's why I say Africa plays a major role--directly or indirectly-- in fashion. You saw it from Oscar de la Renta and Donna Karan when she used the kente cloth from Ghana, I think it was two seasons back. And John Galliano took the Masai and put it on the runway and everyone was like 'Wow, this is great!' So, we are a force behind the fashion industry as Africans.
What are you doing personally to expand your business beyond Africa?
I'm on a journey of taking the David Tlale brand to the world started out in 2007, when I first showcased in Paris, then in 2009 first time in New York City and finally in September I presented my first solo collection at New York Fashion Week.
Are all your designs made in Africa?
Everything is made in South Africa. People think we send things out to the east and brand it and say it's from South Africa--but that's not the case. I'm proud to say that my product is designed and made here and that's the message that I'm taking to the world. I may not be pushing the African prints, but the African soul is alive in my clothes.
I want my product to speak to anyone--whether you're in Europe, the United States or South Africa. If you love it because it's beautifully made, the fabric is chic and the finishing is everything and embellishments are everything, then buy it. It doesn't have to scream that it's from South Africa.
Tell us about your current Spring/Summer 2013 collection you're showing this evening.
This collection is themed "transcendence" because it's coming from South Africa, designed by a South African--but taking it globally. My inspiration comes from color--the beautiful sunrises with oranges and yellows leading into the sunsets with black. The print has a bit of a jungle motif coming through, but it done in a very chic and elegant way. The lines in the collection are very sophisticated and very clean. Workmanship has been paid attention to like never before.
From what we saw in New York, your designs have remained glamorous but have a certain amount of versatility as well.
Yes, I'm focusing on a new David Tlale woman who can wear this product from the office to a cocktail and even a red carpet event.
Here's a look at David Tlale's Spring/Summer 2013 collection and his beautiful Joannesburg studio.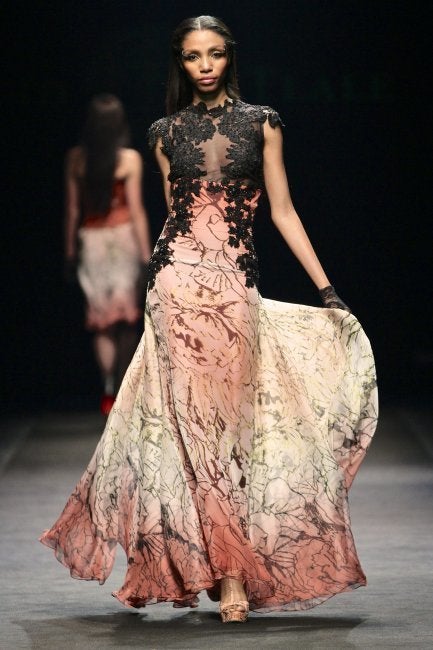 David Tlale Spring 2013 Show