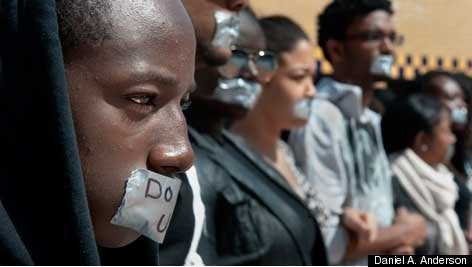 Students, professors, teachers and unions around the country will organize today to protest America's imperiled education system with more than 100 events in 32 states.
The movement started in California, where the public college system has been seized by tension and dissatisfaction over proposed tuition hikes, budget cuts and a series of racist events on University of California and California State campuses. Last Thursday, a riot erupted at UC Berkeley, allegedly to recapture the energy from last year's protests at the campus and build momentum for today.
Some California demonstrators couldn't wait for this day to come. Last night, a small dance party-turned-protest at San Francisco State University swelled to 200 people in three hours. The Golden Gate [X]Press reports:
The students blasted electronic music and began dancing. More people joined the demonstration as night classes got out at 9:45 p.m. SF State student Chantelle Icaza said she could hear the music from the 4th floor in Thornton Hall.

Others climbed onto the roof of the Student Union to dance. Some graffitied "this is the life" on the windows above the eateries outside the back entrance of the Student Union. Two men threw firecrackers into the crowd from the roof of the building.
At UC Irvine, approximately 50 members of the school's Black Student Union gathered yesterday in front of the campus student center, wearing pieces of duct tape with "Do UC us" written on them over their mouths. The silent protest was held to show support for black students at UC San Diego, which has been rocked by racially charged incidents.
Berkeley is considered the nexus of the Day of Action movement. The Daily Californian explains:
March 4 was chosen as the date for mass activism by nearly 600 students and teachers from across the state who gathered at a conference in UC Berkeley's Pauley Ballroom. Conference attendants said they sought to determine the best way to harness momentum stemming from the Sept. 24 UC systemwide walkout when about 5,000 people demonstrated at UC Berkeley.
On his Facebook page, UC President Mark Yudof wrote protesters a note of good will:
My heart and my support are with everybody and anybody who wants to stand up for public education. I salute those who are making themselves heard today in a peaceful manner on behalf of a great cause.

Our public institutions, from kindergarten to the doctoral level, have shaped our nation's course and are an essential piece of the American fabric. Here at UC, through the Master Plan for Higher Education, we have created a model emulated throughout the world. It's time that model started receiving the support it deserves in the place of its birth.

As my predecessor Clark Kerr often said, higher education should never be regarded as a cost, but rather as an investment. The university is an investment, not only in an individual's well being, but also in the public good. Public education drives a society's ability to progress and to prosper. This state's great public universities hold the key to our economic and social growth and are deserving of support by all Californians.
What are you doing for the Day of Action? STAY TUNED to HuffPost College for a LIVE BLOG of today's events!
Popular in the Community