The United States keeps thousands of its prisoners in solitary confinement or some other type of segregated housing. A group of religious leaders is trying to put an end to that.
On Sunday, March 22, St. Stephen and the Incarnation Episcopal Church in Washington, D.C., debuted a full-size replica of a typical prison Special Housing Unit (SHU), or solitary confinement cell. The church's senior warden, Liane Rozzell, said the goal of the project is to encourage visitors to reflect on what they see and take action to push for an end to solitary confinement.
"Because solitary confinement happens out of public view, we don't normally confront the reality of it," she said. "I think experiencing this cell will be sobering for most people, and perhaps a wake-up call."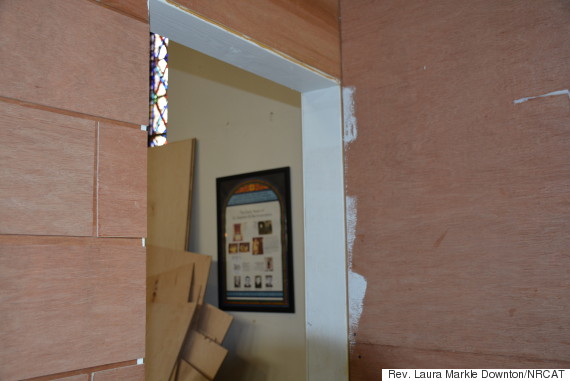 The solitary confinement cell replica is installed in St. Stephen and the Incarnation Episcopal Church in Washington, D.C.
The cell will tour houses of worship on the East Coast as part of a project by the National Religious Campaign Against Torture, an interfaith group working to end torture in U.S. policy. Rev. Ron Stief, executive director of NRCAT, said he hopes the cell serves a call to action, especially for those who have never witnessed the realities of a 6-by-9 to 8-by-10-foot solitary confinement cell.
"Think of the last elevator you've been in with a slab for a bed and a metal toilet and sink," Stief said. "It shocks you at first, then you immediately think that no one, for any reason, should ever be put in this cell for a day or a week, let alone months, years and even decades."
Rev. Laura Markle Dowton, NRCAT's director of U.S. prisons policy and program, said the group wanted to draw attention to the "torture of solitary confinement." NRCAT initially approached St. Stephen to inquire about using the worship space to build the cell, Downton said. The church agreed and requested that the installation stay there for several days so the congregation could experience it.
The installation opened during the season of a Lent, a 40-day period of reflection and fasting that many Christians observe leading up to Easter. Because the Lenten fast is voluntary for Christians, Stief said he hopes the involuntary nature of solitary confinement will make an impression on viewers.
"You are compelled as a Christian to advocate on [prisoners'] behalf at whatever level of our broken system you can and end their torture," Stief said.
But beyond Christianity, Rozzell added, there is a basic human rights value at stake that transcends religious tradition.
"Human rights make sense whether you are religious or not," she said. "Christians, Jews, and many people of other faiths are specifically called to love our neighbors as ourselves. Torturing our neighbors is not love."
"This awareness campaign helps people of faith understand that solitary confinement is torture, and reminds us that the people we are torturing in these cells are indeed our neighbors," she said.
In addition to the installation, NRCAT's "Statement Against Prolonged Solitary Confinement" calls for endorsements from people of faith in order to spread a message to government officials that this is an issue the religious community won't compromise on. For every 500 signatures they receive in a given state, the organization vows to send the statement and list of endorsers to that state's governor and top corrections official until prison reform becomes a top priority.
First on this list, Downton said, is putting an end to solitary confinement, which has been found to cause lasting mental damage in prisoners after just a few days of exposure. Juan E. Méndez, U.N. special rapporteur on torture, released a report in 2011 that said the practice should be banned as a form of punishment or extortion, as it works counter to aims of rehabilitation.
Religious groups are well-equipped to address these human rights concerns and seek reform, Rozzell said.
"Animated by our values, faith communities can broaden and strengthen the movement to end solitary confinement," she said. "When faith communities organize and speak with a clear and strong voice, policymakers listen."
Calling all HuffPost superfans!
Sign up for membership to become a founding member and help shape HuffPost's next chapter
BEFORE YOU GO
PHOTO GALLERY
DC Church Hosts Solitary Confinement Cell Replica for Lenten Reflection