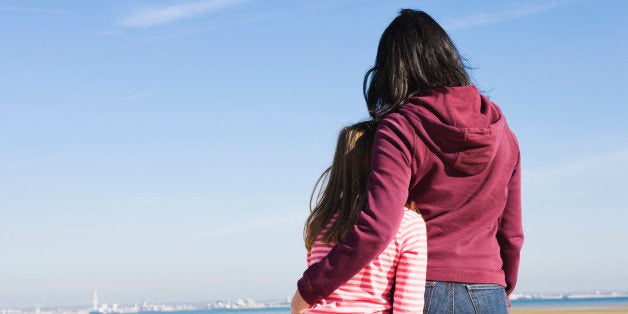 I know you were too young to understand what was happening to me - to us. After all, how could you?

You were only eight years old when the police spoke to you outside their vehicle while I was in the backseat of another - crying for you while you were crying for me. All you knew was that your mommy was very sick because that's what the police told you - but you know now that I was very drunk. In fact my blood alcohol content was very high (a .22%) but I will never forget how much I wanted to grab you up in my arms and make all of our pain go away.
I just wanted you back. I wanted to go home with you and start all over. I wanted the moment to go away. I wanted my addiction to go away and I wanted the Mother's Day card back that you were just showing me in the car - you remember, the one you made for me at school that afternoon. I didn't even get to read it all.
I was terrified I would never get you back, and I was terrified that you would never know how much I truly loved you. You couldn't see me but I was hysterical. I thought I would never see you again and I wanted to hold you once more to wipe away your tears, to tell you how truly sorry I was and how much I loved you. Who was going to take care of you? Who was going to make you breakfast and pack your lunches? Who was going to help you get dressed for school and help with your homework? Who was going to get you to softball practice and tuck you in at night? Who else was going to possibly love you like I did? I had never been so scared or so completely broken inside as I was in those moments and for many more to come.
You see, before you came along I didn't know what addiction really was. I did know what pain was, though, and I didn't like it - and I was too young myself to know how to deal with it. I started drinking before I even became an adult; I wasn't even thinking that one day I would be a mommy and I definitely underestimated the power of addiction. Had I known that something could get in the way of the most powerful love in the world I never would have touched it to begin with. If I could only have seen you in my future instead of nothing but darkness, I would have taken each step with gratitude and eagerness into my destiny where you were waiting.
You see, Baby Girl, what you need to know is that alcohol lied to us both. At first, alcohol made Mommy believe everything was going to be okay - that all the pieces would eventually fall into place while I let it be part of my life. The problem is that alcohol didn't tell me that it wouldn't go away when I wanted it to, and for every day you were in my life I begged it to leave me alone.
You probably think that I loved to drink more than I loved you - and you couldn't be more wrong. I was always afraid to be someone's mommy one day. I never thought I had the ability to love someone so deeply. The day you were born you proved me wrong. I wanted nothing more in the world than to hold you, kiss you, smell you and pamper you every moment I could, but alcohol made Mommy act really funny, Baby Girl - it does that sometimes to people who go to it with a broken soul, but don't know their mind can't handle it. I tried every day to make it better and every day I was tricked into thinking that either I was or that I had more time. I guess you can say my brain is broken in a certain spot too - how else could it be that something could pull me away from you?
I tried every day to make it better, and every day I was tricked into thinking that either I was or that I had more time.
I'm sorry I let something lie to us and lead us down the wrong path. I'm sorry about all those nights you waited for me to come to bed and hold you, and I couldn't because addiction had a hold on me. I'm sorry if you ever thought any of this was your fault. I'm sorry for the six years that went by without you always by my side where you should have been, and I'm sorry for all the moments I can't remember. Do you know every night I went to sleep that I prayed to hold onto each memory? Do you know that every night I woke up I prayed that I would get through a day without drinking? Yes, Baby Girl, Mommy did that for eight years, and the only thing that saved me was YOU and my love for you.
Thank you for forgiving me so quickly.
Thank you for trusting me again.
Thank you for running back into my life and into my arms.
My beautiful, sweet 16-year-old girl - you don't have to worry, alcohol don't live here anymore.