It is so hard to end a relationship—whether it is a friendship, romantic relationship, or a relationship with a mentor—break ups can be extremely difficult. Last week, I found myself devastated for black people everywhere as we have to officially end our relationship with Dr. Ben Carson. Yes, we are done. The foolishness will no longer be tolerated.
First, let's be clear, I was a long-time fan and supporter of Dr. Carson. In college I was a Biology/Pre-Medicine major and black physicians truly encouraged me to follow my dreams. From Dr. Ben Carson to the former Surgeon General, Dr. David Satcher, black physicians motivated me to pursue my goals. To see someone who looked like me achieve such monumental milestones, such as successfully performing a groundbreaking surgery to separate conjoined twins, was simply awe-inspiring. And who can forget the book, "Gifted Hands", and the subsequent film starring Cuba Gooding, Jr. chronicling Dr. Carson's life—from his humble beginnings to his notable success as a neurosurgeon? To say his story of triumph is remarkable is an understatement and no one can take away his accomplishments or what he has done for the medical community. In my opinion, Dr. Carson was Black America's preeminent surgeon. When I say I was a fan, I really mean it! So you can imagine why I am both disappointed and confused by the man he has become today. Like many Black people, I am simply asking, what the hell happened? Will someone please tell me what has happened to Dr. Ben Carson? Honestly, I think Jordan Peele may have hit the nail on the head....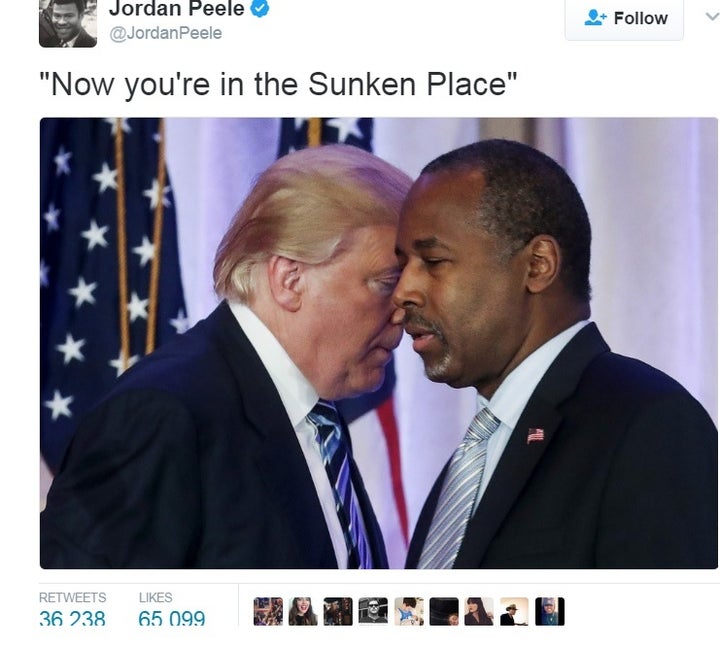 I don't want to spoil the film "Get Out" for those who haven't seen it yet, but has Dr. Carson been listening to the sound of a spoon slowly circling the brim of a tea cup? Seriously, it is the only logical explanation for the illogical statements he made.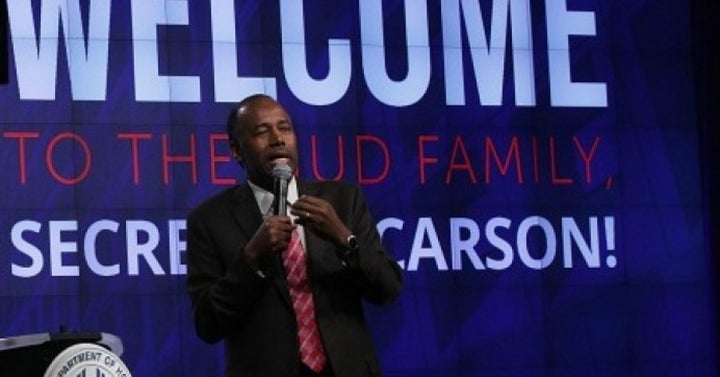 That's what America is about. A land of dreams and opportunity. There were other immigrants who came here in the bottom of slave ships, worked even longer, even harder for less....But they, too, had a dream that one day their sons, daughters, grandsons, granddaughters, great grandsons, great granddaughters might pursue prosperity and happiness in this land.
For those who missed it, while addressing staff at the Department of Housing and Urban Development (HUD), Dr. Carson made the above statements. Yes, he actually said that slaves were immigrants who came to America, a land of dreams and opportunity, and worked even longer, even harder for less.....they had a dream that one day their family members might pursue prosperity and happiness..."
*from the film, "Get Out"*
That is not how slavery worked! Let me explain. Slavery is defined as "the submission to a dominant influence". Those who were brought to America as slaves did not come looking for a better place to live and flourish; they were stolen from their native lands, brought here in shackles, and forced into a life of submission where they had to labor for FREE. Their nights weren't filled with dreams of prosperity for their families and generations to come, instead they were filled with prayers for freedom. They were praying to stay alive, praying not to be beaten or raped, and praying to make it through another day. Harriet Tubman once said,
"I would fight for my liberty so long as my strength lasted, and if the time came for me to go, the Lord would let them take me."
Now I ask you, Dr. Carson, at that very moment, does that sound like someone who was concerned about future generations pursuing prosperity and happiness in America? To compare immigrants, people who come to America from other countries on their own free will, striving for a better life, to slaves at the bottom of ships is by far the most asinine thing I have ever heard. And to hear a black person make the comparison was beyond baffling and quite disheartening. I imagine that Harriet Tubman, Nat Turner, and Sojourner Truth turned over in their graves as those words came out of your mouth. Therefore, I have no choice but to give you my best break up speech:
We—yes, I am speaking on the behalf of all black people—have come to the end of the road with you. We are at a crossroads, and it appears that we are going in different directions. As much as it pains me to say this, it is officially o-v-e-r between us.
And in case I am not being clear enough, this pretty much sums up how we, Black people, are feeling about you right now.......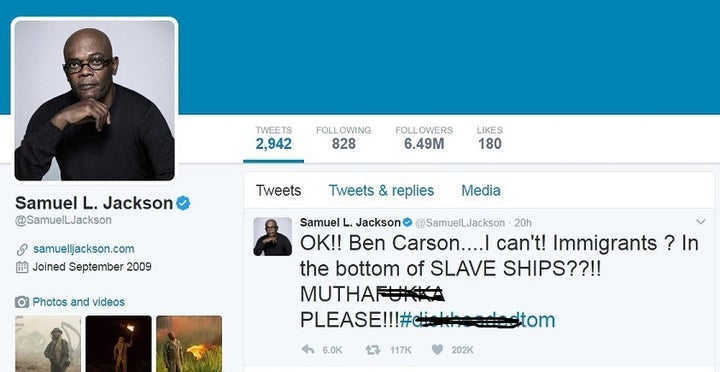 We implore you to put the cotton in your ears and break whatever spell you are under asap. "GET OUT" and come back to us! In short, get it together, please!