The Delta's Global Ambassadors for Louisiana Music and Culture rolled into the Andy Warhol Museum at the G-20 Summit this week. Over 600 guests packed the space, which was hosted by the U.S. Climate Action Network, with Teresa Heinz and Senator John Kerry serving as Honorary Hosts. Quint Davis produced the presentation of Louisiana's bayou musical heritage, featuring the Savoy-Doucet Cajun Band, Allen Toussaint, Trombone Shorty, and Cajun bluesman Tab Benoit. Policy was eschewed in favor of fun while Savoy-Doucet and Benoit took their turns on the tiny stage in the main reception area, and Toussaint and Trombone Shorty played the more formal main stage. But the sounds of the Cajun bayou ruled the younger crowd. By the end of the evening, Teresa Heinz turned out to be the soul of the party, with Louisiana's delta music providing the heartbeat.
There was no doubt it was a fun event that at the very least exposed the mostly east coast crowd to the only state in the union that can claim a truly unique culture and heritage.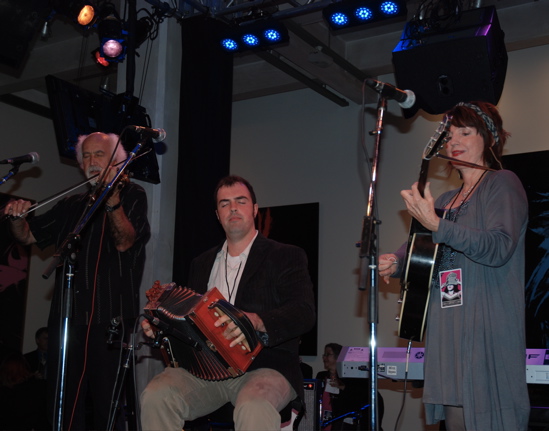 (l-r) Michael Doucet, Wilson Savoy, Ann Savoy
After the Savoy-Doucet foot stomping solid opener, delta bluesman and star of the IMAX presentation Hurricane on the Bayou, Tab Benoit , took the stage alone and to little fanfare. As the first licks of "Rambling on My Mind" played out, heads literally turned. It's tough to work what is basically a huge party, and many musicians would end up as so much background. Benoit went from song to song, the sweat building on his forehead and you knew that even if no one was listening, he was pouring heart and soul into every phrase. But they crowd was listening, mesmerized by Benoit as they were by Savoy's Cajun strains before his set. Getting the attention of a cocktail party crowd is no small feat. Mission accomplished.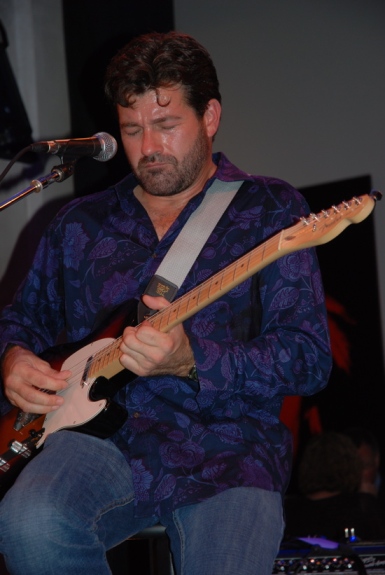 "I hate to leave my baby, but she treats me so unkind..."
In some ways, Louisiana is Benoit's "baby." He was originally scheduled to play an event in New Orleans with Cyril Neville, Anders Osborne, Big Chief Monk Boudreaux, Jumpin Johnny Sansone, and Waylon Thibodeaux as the Voice of the Wetlands Express Tour 2009. The tour will wind up at Benoit's home town of Houma and a huge community party with the Voice of the Wetlands All Stars.
Benoit has been sponsoring this event for six years as a means of focusing attention on the destruction of the wetlands.
We had a quick conversation, promising to catch up in Houma for Voice of the Wetlands. He asked where I had been. When I said, "Africa," he laughed and said, "Well, no one knows about that, either." Benoit worries constantly about the potential loss of a way of life and valuable culture if nothing is done to literally turn the tide on the Delta.
Ann Savoy graciously sat down with us for a quick chat after her second set. Writer, producer, photographer and songstress, Savoy is a fierce advocate of Cajun music and Louisiana in general. Familiar to mainstream audiences because of her appearance in the movie, Divine Secrets of the Ya Ya Sisterhood, Savoy also collaborated with Linda Ronstadt on the critically acclaimed CD, Adieu False Heart (Vanguard).
Savoy sipped a beer while notes from Trombone Shorty's horn had us talking almost nose to nose as he tuned up hardly fifteen feet away outside of the green room. It felt like we were in New Orleans.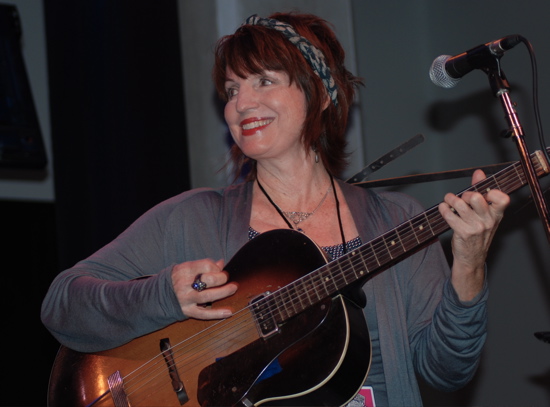 We were called by Quint (Davis) and we came. Louisiana is so endangered. It is something we talk about all of the time. It is important to make people aware. Hello we are here. You know we are disappearing into the water and I hope this fun party and the music made people take notice of us. Quint is a champion of authentic music and is holding the candle for Creole and Cajun music. All of us who came here tonight...we all have been working hard on this.
It was a shame in some ways that water policy in Louisiana did not merit more discussion. Several of the "young un's" came up to this writer and asked about the music and the Delta. As climate change experts, one would have thought that Louisiana would have been front and center on their radar, considering that the state is losing an average of 34 square miles of land per year due to dredging, erosion and hurricane damage. 700 square miles are in danger of vanishing and if they do, the United States will lose a valuable cultural asset as well as critical energy infrastructure. When I asked why there was not more policy discussion, the reply was that this was a break from "24/7" organizing leading up to the G-20 event. That makes sense, but you had to wonder if it was a bittersweet experience for the musicians who had come so far to bring their message about the troubles facing Louisiana's environment.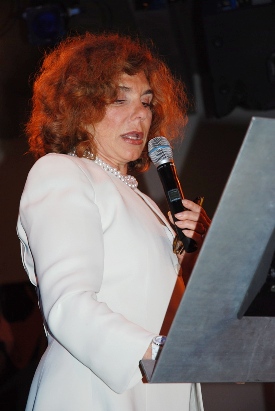 Finally, things wrapped with an impassioned plea for environmental responsibility from Teresa Heinz, philanthropist and wife of Senator John Kerry. Kerry remained in Washington, working on environmental legislation with Senator Barbara Boxer.
"We live in an environmentally unjust world," Heinz said. We cannot have health if we do not do something to clean up this mess."
It was obviously a heartfelt plea, and someone in the crowd behind me murmured, "She is much more spiritual than I expected."
Heinz oversees many foundations for women, the environment, children and the arts.
The Heinz Endowments, based in Pittsburgh, is among the largest independent philanthropic organizations in America. The foundation approved more than $70 million in grants to non-profit organizations, mostly concentrated within southwestern Pennsylvania, in the program areas of Arts & Culture; Children, Youth and Families; Economic Opportunity; Education; and the Environment.
Heinz took notice of our camera and stopped for a minute to chat after her speech. After the connection to the Huffington Post was established, she smiled warmly and said, "Say hi to Arianna for me."
OK. Here goes. "Hello Arianna," from Teresa Heinz, the soul of the G-20 party.
................................
Nienaber is currently working on a profile of Tab Benoit for the Spring issue of Dirty Linen Magazine.
Related
Popular in the Community