Barack Obama has been accused of being "the biggest celebrity in the world," but some serious contenders for the titled are heading to Denver this week. Celebrities already spotted in Denver include:
Kanye West, Zooey Deschanel, Charlize Theron, Sheryl Crow, Dave Matthews, Tim Reynolds, Laurie David, Rachael Leigh Cook, Spike Lee, Matthew Modine, Alan Cumming, Susan Sarandon, Kerry Washington, Ellen Burstyn, Anne Hathaway, Tim Daly, Daryl Hannah, Lawrence Fishburne, Richard Schiff, Kal Penn, Cyndi Lauper, Josh Lucas, Will.i.am, Chris Daughtry, Moby, Charles Barkely, Angela Bassett, Chevy Chase, Richard Dreyfuss, Ben Affleck, Jennifer Garner, Jennifer Lopez.
Chris Daughtry performing: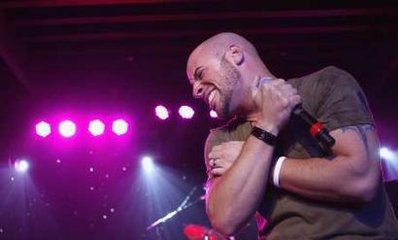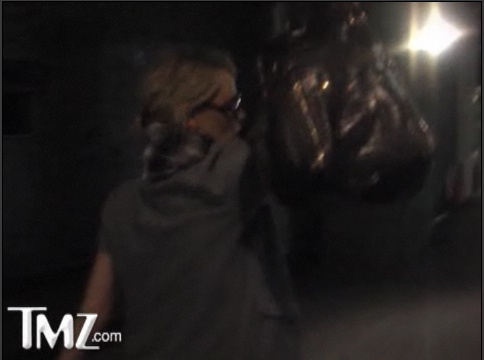 Anne Hathaway at the airport: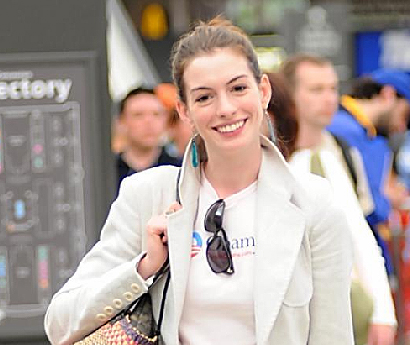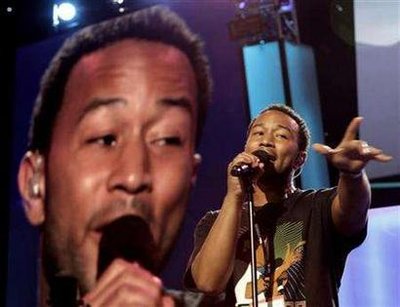 Daryl Hannah signing a hat: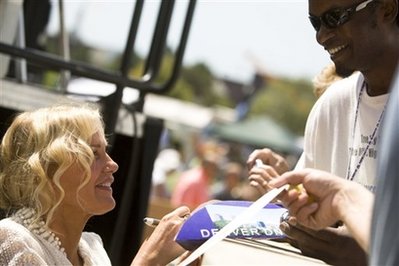 Rachael Leigh Cook giving an interview: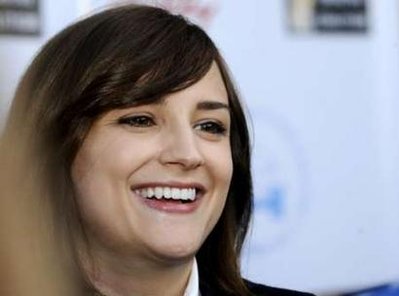 Dave Matthews performing: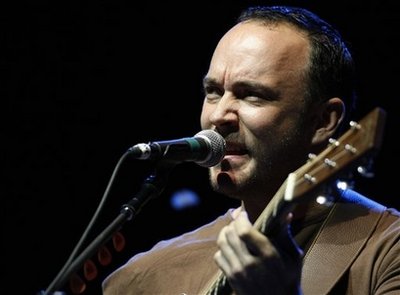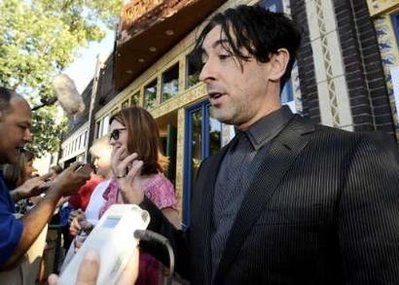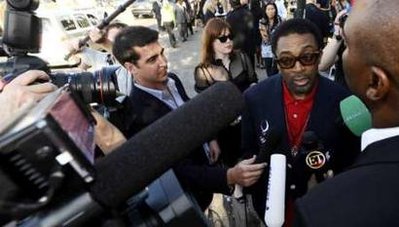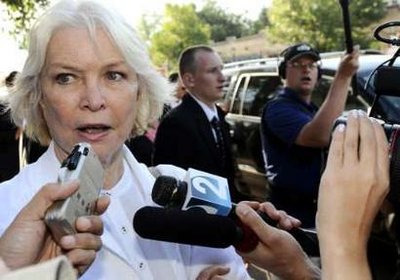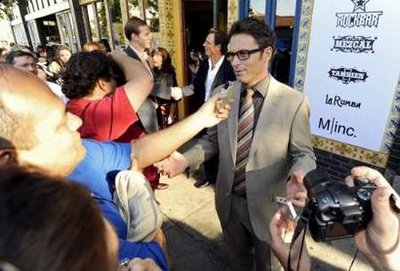 Other celebrities expected to attend or perform at the convention:
Melissa Etheridge, Rufus Wainwright, Annette Bening, Fran Drescher, Quentin Tarantino, Maggie Gyllenhaal, Neil Patrick Harris, Cheryl Hines, Josh Brolin, Nick Cannon, Jennifer Hudson.
MONDAY

At the city's opera house, Rock The Vote hosts "Ballot Bash," the big party of the convention's first night. Performances were expected from Fall Out Boy, Jakob Dylan and Pharrell Williams and Chad Hugo's rap-rock band NERD. Mr. Mariah Carey, Nick Cannon, will be DJing at the afterparty.

TUESDAY

Grammy organizers set up a concert with rockers Everclear, Daughtry and the Denver band Flobots, who also performed at a Saturday night DNC party at the Elitch Gardens amusement park.

Also downtown, the nonprofit Do Something hosts a party at a hotel-lounge with a set by Moby. Among planned attendees: Arianna Huffington, John Kerry and (random star alert!) Chevy Chase.

"Etown," a long-running Boulder, Colo.-based radio variety show, will host performances from James Taylor, Ani DiFranco and David Crosby and Graham Nash.

Singer Idina Menzel, best known as Elphaba from "Wicked," performs at another Rock The Vote party in Denver's LoDo district, with Ashanti in attendance.

WEDNESDAY

By far the busiest day for performances and celebrities features Jennifer Lopez stopping by the Denver Art Museum to honor Marian Wright Edelman, Ben Affleck promoting "America's Second Harvest" at the Food Bank of the Rockies, and Rage Against the Machine raging against the machine at the Denver Coliseum.

The Creative Coalition, a nonprofit group meant that engages the artist community in issues, sponsors a Black Eyed Peas concert at the Fillmore Auditorium, one of three performances Peas' frontman will.i.am will be doing in Denver.

West's concert -- sponsored by ONE and the Recording Industry Association of America -- is at around the same time, and will attract at least as much attention, if only for the hip-hop star's unpredictability when it comes to politics.

Also on tap: A Ralph Nader rally with Sean Penn and Val Kilmer set to speak. A separate indie rock lineup in support of Obama features the Silversun Pickups, Clap Your Hands Say Yeah, Nada Surf and the Cold War Kids.

THURSDAY

The most prominent Obama celebrity backers -- from Oprah to Kerry Washington -- will be at Invesco Field for the candidate's big speech. Sideline events are minimal, though there's an afterparty sponsored by Google and Vanity Fair.
Popular in the Community