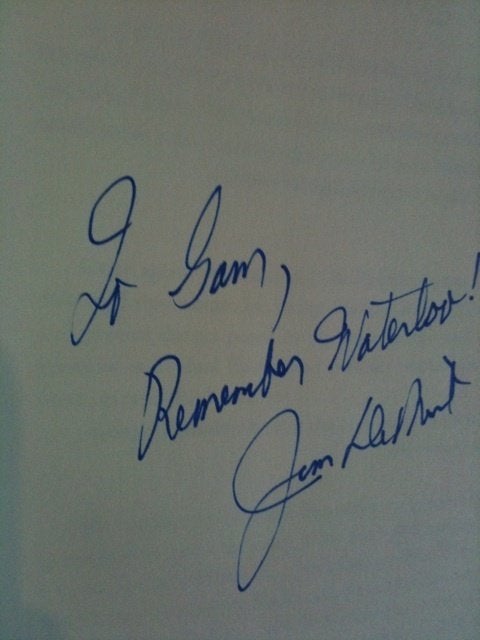 On Monday, however, the South Carolina Republican found himself defending Barack Obama from the fringier elements of his own political party: the conspiracy theorists who insist the president was not born in the United States.
"I may have disagreements with [the president] on issues," DeMint told the Huffington Post. "But he is my president, he deserves our respect, and we need forget that nonsense ...
"He is not only a citizen," he added, "he is our president."
It was a small nicety amid an otherwise familiar barnburner DeMint address. Speaking at the Heritage Foundation to promote his new book, "Saving Freedom," the South Carolinian warned that the president was "running wild" on a fast track to socialism.
"So much of those things that have held up this country are being just purged from the civil society," he warned.
"Americans are not afraid of socialism because we have never lived in socialism," he declared.
When pressed to describe how it felt to be at the red-hot center of the health care debate, the senator placed the blame for the ramped up rhetoric squarely on the president's shoulders.
"In the last week, he has attacked a police officer, he said physicians take out tonsils for profit, he has attacked businessmen for being greedy and rich, and he attacked [the Weekly Standard's] Bill Kristol," DeMint declared. "So I'm one of a group. But thank goodness for [Vice President] Joe Biden. His gaffes kind of take the attention off what I'm saying. The president has shown he is going to turn his machine on and attack anyone who criticizes it. I happen to be one of the first out of the box."
The latter comment came after the speech was over, at the table where DeMint was signing copies of his book. Earlier he had autographed one for Air America's Ana Marie Cox, which she ended up giving to the Huffington Post. "Remember Waterloo!" he inscribed -- a reference to his now infamous call for conservatives to stop Obama's political agenda in its tracks by derailing health care reform.
Approached at the table, DeMint said it was his hope that his colleagues would use the August recess to stir up grassroots opposition to a "government takeover" of the health care system. There was no room for compromising with the White House on legislation, he said.
"Theirs is kind of all-or-nothing because they obviously don't want to improve access to health insurance -- because they voted against it a number of times," he told the Huffington Post. "I don't think we are going to find any compromise with them until we stop their government plan and then I hope they will come to the table and say, 'Let's make this better.'"
Popular in the Community