 WASHINGTON -- Over the past two years, House Majority Leader Eric Cantor (R-Va.) has repeatedly wrestled with factions of his own party as he tries to bring traditionally uncontroversial bills to the floor, only to see a legislative war break out between tea party hard-liners and old-guard conservatives. But Cantor is currently prepping a bill that will incite a different kind of floor fight -- this time among Democrats.
It's supposed to be the kind of procedural bill that wouldn't raise hackles, even during an election year. The House Agriculture Committee cleared it by a voice vote, not even bothering to record the yeas and nays. Many of its major provisions have already passed the House with dozens -- in some cases, hundreds -- of Democratic votes.
But Cantor's legislative package is now packed with deregulation items long sought by Wall Street banks that would roll back key sections of the Dodd-Frank financial reform law related to derivatives -- the complex contracts at the heart of the 2008 economic meltdown. And as a result, the bill is at the center of a national struggle over the direction of the Democratic Party's economic policy platform -- how hard it will fight to preserve its 2010 Wall Street overhaul, and how a lengthy intra-party wrestling match over Wall Street campaign funds will be resolved.
In a bitter irony for Democrats, two of the people who stand to gain the most from the fracas are none other than Charles and David Koch, the Republican billionaires who have tapped one of the world's largest fortunes to cut down Democrats in elections and fuel conservative reforms. According to a lobbying disclosure form, lobbyists for the Koch empire have pushed for four of the most controversial deregulation provisions in Cantor's latest endeavor.
"I think they are gravely mistaken, and I think they're all going to fail," says former House Financial Services Committee Chairman Barney Frank (D-Mass.) of the bipartisan effort to chip away at the financial reform law that bears his name. "I cannot believe that if these became big public issues, that it would benefit the people pushing them."
The Koch and Wall Street-backed deregulation items have all been folded into a bill formally reauthorizing the existence of the Commodity Futures Trading Commission -- the regulator that oversees the multi-trillion-dollar derivatives market. The agency has been functioning without authorization since October, and financial oversight advocates are confident that it can continue to do so unless the GOP passes legislation to defund it.
By lumping a host of bipartisan bills together, the CFTC bill is Wall Street's best chance yet to defang Dodd-Frank. The most consequential deregulation bill in the package was introduced in early 2013 as HR 1256. Critics on Capitol Hill blast it as the "London Whale Loophole Act," because it allows U.S. firms to skip Dodd-Frank's trading rules on derivatives, provided they conduct trades in other countries with supposedly similar regulatory regimes.
Supporters say the measure would help harmonize international standards. But bank watchdogs see it as fueling a race to the bottom. In 2012, JPMorgan abruptly lost more than $6 billion trading risky derivatives through its London subsidiary -- a jurisdiction that would be exempted from U.S. rules under the bill -- indicating to many that the offshore standards are insufficient.
The Obama administration officially opposes the bill.
Proponents of stronger regulation are frustrated by the bill's re-emergence after a year of inactivity.
"Deregulating the derivatives market and rolling back important reforms in Dodd-Frank brings our economy closer to a sequel of the market crash in 2008 and the Great Recession that followed," says Rep. Keith Ellison (D-Minn.), one of a small core of Democratic Wall Street deregulation opponents that also includes Reps. Maxine Waters (D-Calif.), John Conyers (D-Mich.) and Alan Grayson (D-Fla.).
The Koch brothers' backing appears to be a sore subject for the bill's top supporters. The office of GOP co-sponsor Scott Garrett, of New Jersey, denied meeting with Koch lobbyists about the bill. Ted Monoson, a spokesman for the other Republican co-sponsor, Mike Conaway of Texas, said the inquiry was "a dumb question about a serious piece of legislation," adding, "I do not understand the Huffington Post and other liberal's obsession with attacking Koch industries, which employs 50,000 people in the United States."
The bill's two Democratic co-sponsors Reps. David Scott (D-Ga.) and John Carney (D-Del.), denied meeting with Koch lobbyists, as did two Democrats who co-sponsored a previous version of the bill in 2011, Reps. Gwen Moore (D-Wis.) and Jim Himes (D-Conn.). Of the 17 Democrats on the House Financial Services Committee who voted for the bill in committee last spring, 10 denied meeting with the Kochs, and seven did not respond to requests to comment. Most insisted they had no idea the Kochs were pushing for the bill.
"It is as if they don't exist," emailed David Scott aide Michael Andel, referring to the Kochs. "Maybe they suck at lobbying, or maybe they wanted a low profile."
Although the Kochs are better-known for fighting environmental regulations and pushing tax cuts for the wealthy, they've always been deeply involved in bank regulatory issues. Like Enron, the Koch empire includes is a hybrid of energy, commodity and financial activity. Unlike Enron, the Kochs haven't been busted for using financial machinations to illegally rig energy markets (although a joint venture between the Kochs and Entergy paid $3 million in 2004 to settle charges that the firm had set up sham transactions and reported false information to market indexes). During the Clinton years, they joined Enron and Wall Street in a successful effort to deregulate the derivatives market. Koch entities served on an official advisory committee for the CFTC under President George W. Bush, and lobbied hard against Dodd-Frank in 2009 and 2010.
Wall Street's support on Capitol Hill, of course, has long been obvious. Lobbyists from Goldman Sachs, Citigroup, JPMorgan Chase, Bank of America, Wells Fargo and a host of industry groups representing them barraged both Congress and the CFTC last year to press for offshore loopholes, and the bill's Democratic backers have been raking in campaign contributions from the banking sector.
This election cycle, Moore has collected $243,400 from the financial industry, according to data from the Center for Responsive Politics -- nearly triple the $89,750 she's raised from organized labor, her next-highest backer. Scott has pulled in $220,160 from finance, compared with $68,000 from unions. The $353,632 Carney has drawn from the financial industry is more than five times what he's received from his next-biggest supporter, lawyers and lobbyists. Himes, who has been in charge of national fundraising for House Democrats since early 2013, has secured $733,600 from the banking sector for his own war chest and political action committee (the Center for Responsive Politics categorizes his next-highest sector as simply "other").
The bank blitz has clearly had an effect on regulators, who have responded to big bipartisan votes for deregulation in the House with weaker Dodd-Frank rules. Indeed, the most important provision in the CFTC bill is important precisely because it's an area where the agency refused to be cowed by lobbying pressure. But so far, Wall Street hasn't been able to get anything through the Senate, and a big bipartisan vote on the CFTC bill would put pressure on the Senate to approve its own deregulation bill.
Wall Street has targeted not just industry-friendly New Democrats on the Financial Services Committee, but members of the traditionally social justice-oriented Congressional Black Caucus to provide left-wing bona fides on deregulation bills since the passage of Dodd-Frank. Few members of Congress have a strong grasp of the policy details for a complex subject like derivatives regulation, and support from typically liberal members can serve as a proxy for how noxious the bill is to progressive sensibilities. The Congressional Black Caucus wields power not only from the votes it can deliver from its own members, but as a barometer of liberal ideology.
This coalition of the Black Caucus and New Dems got a passive boost from Frank himself, who waved a host of deregulation bills through the committee on his way out the door. Frank says he let the bills slide because he didn't think they'd become law. They didn't.
"In my last term, they were pushing one to try to immunize the overseas derivatives activities of American banks from regulations," Frank told HuffPost. "Then the London Whale blew up and they pulled the bill. If the Republicans controlled the Senate and Mitt Romney was president, I'd say it'd be weakened."
But when Maxine Waters of California replaced Frank, she reversed course, setting off a firestorm within the Congressional Black Caucus and the broader party.
"Waters has been terrific," says Marcus Stanley, policy director at Americans for Financial Reform, a coalition of consumer groups, neighborhood foreclosure activists and labor unions that provides the majority of progressive technical analysis for banking policy on Capitol Hill.
When the offshore bill hit the House floor last June, Waters and the AFL-CIO twisted arms, trying to keep Democrats from siding with the GOP. Two Democrats who had voted for the bill in committee abstained from the vote, and another, Rep. Dan Kildee (D-Mich.), switched his vote to oppose the legislation. The bill passed 301 to 128, with 73 Democratic supporters.
While few pieces of GOP legislation garner dozens of Democratic yeas, the vote was far closer than other deregulation bills that Waters had decided not to fight on the floor -- either because the CFTC had already adopted their key terms, or because she'd secured amendments in committee substantially weakening them.
At the time, the 73 votes seemed too few to generate Senate interest. And a year later, the Senate hasn't taken up the bill.
But the CFTC bill folds in four other bills -- all advocated by the Koch brothers -- chipping away at Dodd-Frank that were bipartisan blowouts on the floor. One passed 423 to 0. Another, 441 to 12. Adding these to the offshore bill will likely make it harder for Democrats to vote against the overall package.
The Kochs' involvement may prove a gift to reform advocates, however. While many Democrats have been willing to make sacrifices to Wall Street in the name of fundraising that enables other policy pursuits, nobody in the party wants to take public credit for checking off items on the Koch brothers' deregulation wish list.
Article updated to include information on the 2004 settlement regarding Entergy-Koch Trading.
Before You Go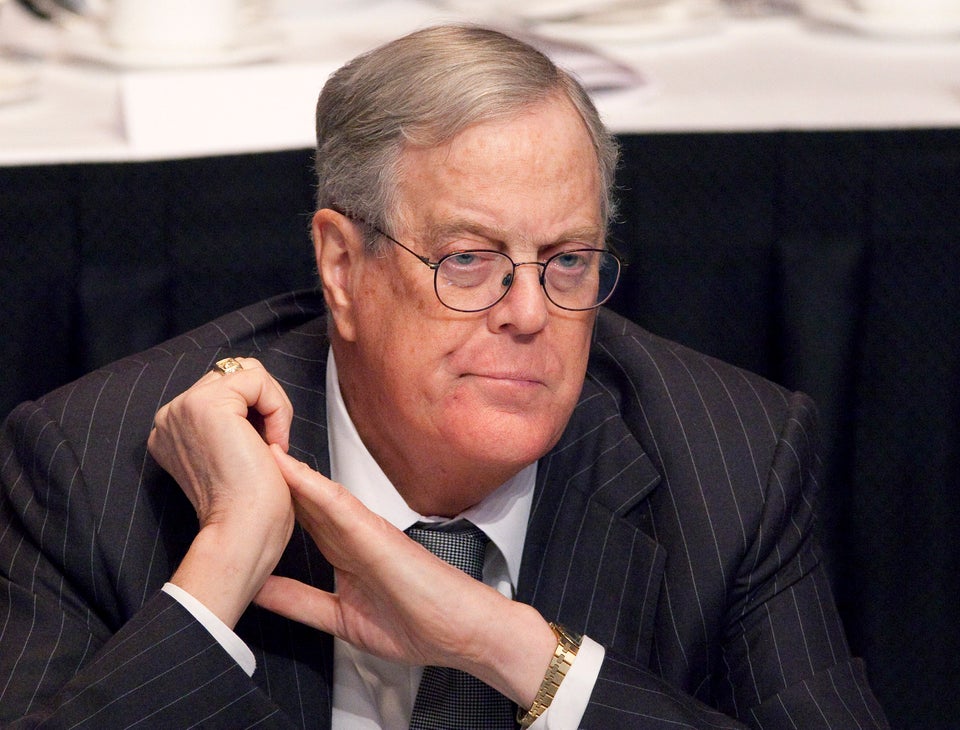 David Koch
Popular in the Community