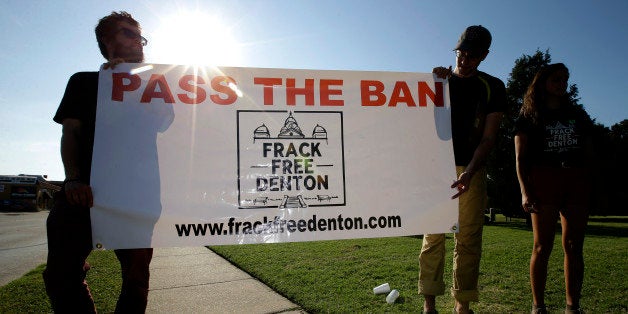 DALLAS, Nov 5 (Reuters) - Voters approved a ban on hydraulic fracturing in the North Texas town of Denton on Tuesday, making it the first city in the Lone Star State to outlaw the oil and gas extraction technique behind the U.S. energy boom.
The vote in the city of 123,000 was highly symbolic because hydraulic fracturing, better known as fracking, is widely used in Texas, the top crude producer in the United States.
Green groups said the result, which is sure to face legal challenges, served as a wake-up call to the industry. But several similar measures failed in cities and counties in Ohio and California.
"Denton, Texas is where hydraulic fracturing was invented," said Bruce Baizel, Earthworks energy program director. "If this place in the heart of the oil and gas industry can't live with fracking, then who can?"
Fracking was pioneered in Texas at the Barnett shale formation where Denton is located. Exxon Mobil's XTO unit honed its shale expertise in the natural gas-rich Barnett. Exxon's headquarters are a short drive away in Irving, though most of the crude output in Texas comes from the growing Eagle Ford and Permian fields to the south and west.
In a frack job, a mix of pressurized water, sand and chemicals are used to unlock hydrocarbons from rock. Many environmental groups oppose the practice, but operators say it is safe.
The Denton referendum pitted oil and gas operators and mineral rights owners against residents who say their homes and lives are being encroached on by work that can be noisy, soak up scarce water supplies, and overwhelm roads with heavy truck traffic.
The Denton measure won more than 58 percent of the 25,376 ballots cast, official results showed.
Elsewhere, the Ohio cities of Gates Mills, Kent and Youngstown rejected proposed fracking bans, while Athens approved one. In California, proposed fracking bans failed in Santa Barbara County but passed in Mendocino and San Benito counties, official results and local media reports said.
The votes are not expected to have any meaningful impact on U.S. crude output that has soared to a 25-year high.
The local votes in Ohio and California, two among a dozen or so states that have clear rules allowing fracking, were held to directly challenge the states' authority over the issue.
Some Colorado towns have previously tried to prohibit fracking, only to run into lawsuits.
There are about 270 wells in Denton, about 30 miles (50 km) north of Dallas and home to two state universities.
Industry groups say they will press their case in the courts.
"It's essentially a ban on all drilling," said Ed Ireland, executive director of the Barnett Shale Energy Education Council, a group aligned with producers. "No one would try to drill a well if they can't frack it, and that will unleash a torrent of lawsuits."
Groups like Frack Free Denton won even though they were outspent by a margin of 10-to-1, according to organizers and local media reports. (Reporting By Terry Wade; Editing by Chizu Nomiyama)

Related
Before You Go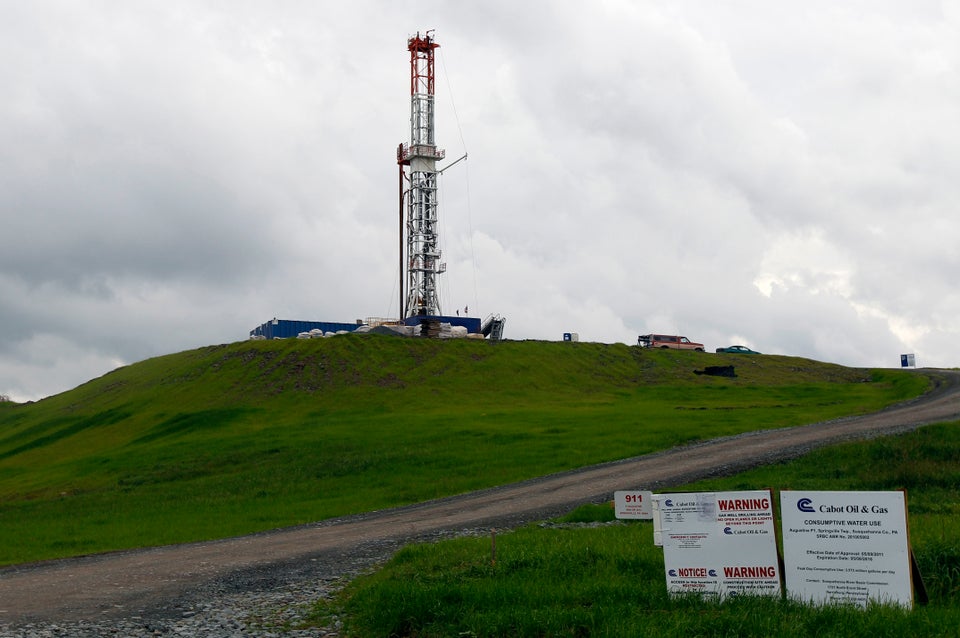 Drilling And Fracking Photos