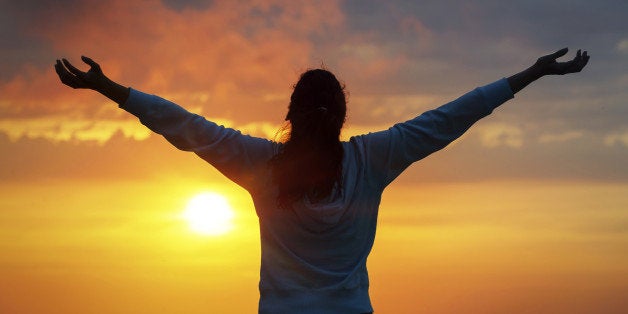 In a short period of time, an individual's life can change from feelings of desperation, despair, and a belief that their life doesn't have any purpose --- to feeling renewed, purposeful, and committed to fighting for their dreams.
I know these feelings very well because on Tuesday, 3/11/14, I was moments from taking my life. The only thing that prevented me from doing so was a call I made to one of my brothers --- out of concern about my mother's well-being. In making this phone call to ensure that my mother would be cared for if I was unable to do so, I allowed someone who cared and loved me to help me. Prior to this moment, I knew that I was loved by my family, although, my ego, concerns about being judged, and a false belief that strength means fighting your battles by yourself led me to needlessly suffer alone.
Since March, I've written and spoken extensively about my battle with depression and near-suicide to help others who have similar feelings. I never imagined or realized that being so open, vulnerable, and honest -- the thing I was the most afraid to do -- would be something that would save my life, help others, and hopefully change minds about depression.
It's been approximately nine months since I almost made a fateful decision to end my life. However, by fighting and willing myself to move forward, share my story, and not to give up on myself or my dreams, my life has led to positive unexpected outcomes. Today, I'm a better, stronger, and a more positive man than I ever thought I could be, simply because I chose, fought, and was determined to make positive forward progress.
A snapshot of my recovery:
Shortly after my extremely depressive episode, I had very open, honest, and tearful conversations with my siblings, which allowed pent-up feelings to finally be released.
About a month later, I wrote my book Choosing To Take A Stand: Changed Me, My Life, and My Destiny to understand and release my painful experiences from the last few years. This soul wrenching was an extremely important step in my recovery, as it allowed me to finally address the things I couldn't discuss with anyone -- including myself -- for a very long time.
In August, I shared my struggles with depression and my near-suicide with my FaceBook family and friends. By disclosing this information, I released my fears about anyone learning about my personal challenges that I didn't want anyone to discover. This self-imposed fear about others judgments about me were incorrectly given more value than my feelings and evaluations about myself.
A week after my Facebook disclosure, I was a guest on the "Maggie Linton Show" -- a national radio program. During my interview, I told my story. Then the unexpected happened, individuals who listened to my interview contacted me to share their battles with depression. This helped me realize that I wasn't alone and my life did have value and purpose.
In September, I accepted a great opportunity to blog on The Huffington Post. This experience has allowed me to share my story with a wider audience, educate others about depression and suicidal feelings, and hopefully prevent individuals from unnecessarily suffering alone or taking their life.
Since September, I have transformed my life by continuing to help others by teaching inmates about life and business, being interviewed about my journey to overcome personal challenges, becoming a mentor for an at-risk teenager, and the thing that I'm most proud of is accepting an invitation to be the commencement speaker for the same school district that directed me to leave school in the 10th grade due to horrible academic performance.
Today, my life is still not as I want it to be, but its heading in the positive direction I want and I'm living my life on purpose -- to give back, inspire, educate and uplift.
It's very hard to believe that I'm the same person (today) who gave up on life, didn't feel I or my life had any value, and couldn't see any future for myself just nine months ago. I share my experiences very openly and honestly because I want to encourage anyone who feels that their life doesn't have value to not give up on themselves or their dreams.
During my mental health challenges, my brother reminded me that life is about cumulative moments and not specific moments. He stressed to me that my feelings at that time were related to a moment and I needed to get past it. These words helped me, and hopefully by sharing these words will help others, too.
My purpose and goals of sharing my story are to inspire others who believe that their life doesn't have value -- and that things won't get any better -- to keep moving forward.
A quote I wrote and use as my mantra to keep myself in a positive frame of mind:
Rain can only come down for so long so prepare for the sun to shine, but act as if the sun is already out.
Understand that letting someone know that you need assistance isn't a weakness. It's a strength to be able and willing to ask for help. Please don't needlessly suffer alone.
The inspirational and closing words by exiting character Cristina Yang (played by Sandra Oh) on her final episode of Grey's Anatomy provide valuable words of encouragement:
Sometimes the future changes quickly and completely and we're left only with a choice of what to do next. We can choose to be afraid of it, to stand there trembling, not moving, assuming the worst that can happen, or we step forward into the unknown and assume it will be brilliant.
I've chosen to step forward. I hope that you'll do the same.
Remember -- no matter the length of your journey, don't forget to be your best!
Have a story about depression that you'd like to share? Email strongertogether@huffingtonpost.com, or give us a call at (860) 348-3376, and you can record your story in your own words. Please be sure to include your name and phone number.
This post originally appeared on S. L. Young's blog on his website at: www.slyoung.com
Related