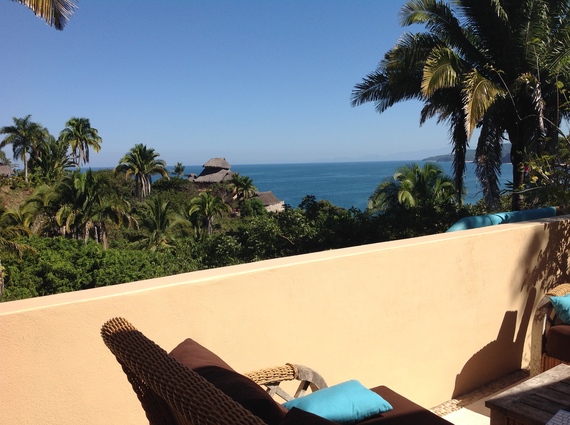 Never mind destination weddings. When you're celebrating your sixth decade on the planet, like many baby boomers will this year, you deserve a destination birthday. If sun, sand, surf, and cerveza are what you crave, there's no better spot for a boomer birthday than Sayulita. This small fishing village and artisan community, just a 40 minute ride from the Puerto Vallarta airport, has been a popular surf getaway and summer vacation spot for Guadalajarans for several decades. Today, even with the huge influx of CanAmerican expats and retirees, Sayulita is still just as down home rustic Mexico as it ever was. Or not, depending on how much Mexico you can handle.
We made our first trek to Sayulita in April, 2006, during the Mexican pre-Easter holiday of Semana Santa. This year marked our fourth visit. Amazingly enough, not that much has changed. Four of the sunken, rutted, sometimes muddy and trash-ridden dirt streets that extend from Avenida de Revolucion to the beach have been cobblestoned over, turning the beachfront into an open air mall of cafes and shops. The chaise-lounge colonies now extend north of the Sayulita River as do many new (since our last trip in 2010) beachfront accommodations. They managed to bury all the electrical and phone lines, but they still haven't gotten around to taking the old telephone poles and wires down. Why bother, right? The CanAmericans wanted to bury the lines, but nobody ever said anything about getting rid of the old lines. Who knows? They might come in handy some day.

There's no question that Sayulita has been "discovered." Vacationers that may have once stayed in one of the dozens of highrise beachfront hotels in PV can enjoy many of the same comforts and amenities in Sayulita, albeit on a "lowrise" scale (Sayulita prohibits buildings higher than three stories, though a thoroughly greased civic palm will get you up to five stories on a hillside.) Villa Amor is as ritzy as Mexican resorts get, though golfers need to go to Punta Mita and the tennis courts are in need of repair. And even though Sayulita has a broad range of lodging options, the town fills up fast and reservations are often made years in advance. (You can always go in July, August, September and October. The place is deserted, and for good reason.)
If anything has changed, it's the amount of cognitive dissonance we experienced on the ten minute walk from our luxuriously appointed casita overlooking the ocean to the beach. We had to clamber down a steep cobblestone drive which inexplicably turned back to slippery, rutted dirt, past a purple house with a snarling pit bull behind bars, through a couple of overgrown vacant lots where locals parked pigs and horses and burnt their trash, and then to one of the main drags, Ninos Heroes, (still a single lane dirt road) where abuelas napped in hammocks, little brown babies played in the mud and scores of homeless street dogs left their unattended piles. Some homes have storefronts - mini-supers - that sell milk and a million varieties of Mexican sabritas. Others have converted their front patios into a five table restaurants for the weekend. One family set up a restaurant under an awning - not for tourists, but rather a place where the homies in the hood could gather, drink cokes, snack on mama's tamales, text their buddies and play Pajaro Enojado on their smartphones.
After successfully dodging the souped-up golf carts and ATVs we make it to the beach, where the dissonance continues. Beautiful Huichol (pronounced "weetchel") children skip school to hawk their handmade "animalitas" (stuffed animals), locals selling cigars might sidle up to your chaise and whisper "Weed? Cocaine? Whatever you want...," the old mestizo women pack hand-knit rugs on their backs in the hot sun, young women in white offer massages, and the donut man cries "Dos Donuts" all day, day in, day out. Meanwhile the musicians are playing La Bamba in the background for the umpteenth time while a porky Huichol child beats on a drum and screams - literally hollers at the top of his little lungs - "Ay yay yay," punctuated with the plaintive tremolo trumpet of his ponytailed father. Drums and trumpet. All this while you sip margaritas, nibble fish tacos and frolic in the waves.
This last trip to Sayulita I couldn't help but wonder: Is it that much easier to build a cell and wi-fi network than it is to build a functional sewer? How could someone - American, Canadian, Mexican - be trading stocks on the internet one minute, then deposit their stained toilet paper in a bucket the next? How is it possible that you can swipe your iPhone to buy a bottle of water, but you don't dare brush your teeth with the bacteria-laden poison coming from the tap?
I guess you could say that Sayulita is the classic example of the good news/bad news story. The good news is it is one of the most beautiful beaches in the world, surrounded by verdant, lush jungle and a million different tropical flowers and birds. The water's warm, there are waves for both beginner and advanced surfers, there are accommodations and restaurants for every budget, the beer is cheap, there must be a thousand varieties of tequila, and the drug cartels are far, far away. The bad news? That depends on how much you like Mexico, because once you set foot outside the small central area, even if it's only on the way to your casita, that's where you are: charming, trashy, colorful, stinky, impoverished, dusty, dirty, primitive Mexico. And you still can't drink the water.
Even so, if I could, I would go back tomorrow. Sayulita is alive with color, laughter, music, dancing, beautiful women, dashing caballeros and mole enchiladas (Mary's Cantina) that will make you jump for joy. As our driver mentioned in his broken English on the trip from the airport: "I couldn't live in the Bay Area. It's too much pressure. Always work, work, work. Here, I work for 2 or 3 days, then go fishing." Si, claro amigo!