Tiny waist? Check. Intricately bejeweled ball gown? Check. Tiara? Check. Sofia has a lot in common with Snow White, Cinderella, Belle, Sleeping Beauty and Ariel -- except that she's a little girl.
We probably should have seen this coming after Disney released (creepy looking) toddler versions of their iconic princesses earlier this year. Now, just in case there isn't enough princess-themed content available in stores, televisions and costume trunks, they have decided to roll out another sparkly franchise. The young Princess Sofia is set to star in a TV movie and series, dubbed "Sofia the First" and marketed to children under seven. These animated masterpieces will air on both Disney Channel and Disney Junior.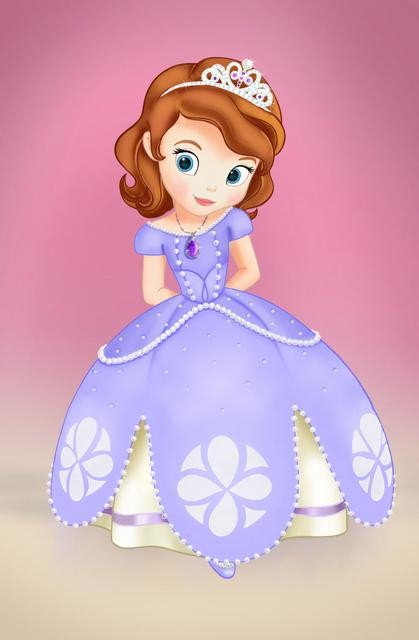 There has been parental uproar over the so-called "princess culture" for years, most famously represented in journalist Peggy Orenstein's book "Cinderella Ate My Daughter." The princesses have been derided for upholding traditional and unrealistic beauty ideals, teaching us and our daughters that "happily ever after" must include a Prince Charming and spawning a fervent need in little girls for all things that glitter.
But, like a bad boyfriend with a Prince Charming complex, Disney says, this time it's different. Sofia's narrative will focus on "age-appropriate" themes and the value of learning. Nancy Kanter, general manager of Disney Junior Worldwide released a statement that said:

"Although Sofia will have plenty of pretty dresses and sparkly shoes, our stories will show Sofia, and our viewers, that what makes a real princess is what's inside, not what's outside."

That's a nice sentiment, but I remain skeptical. When it comes to a business -- and yes, princess toys are a business -- that makes Disney over $4 billion a year, it seems likely that Sofia's inception is driven more by profit potential than goodwill towards ambitious little girls. And although this princess is being explicitly created for kids ages 2-7, weren't the older royals always most appealing to that demographic?
I called Orenstein to get her take on a preschool princess and asked her if she thought that Sofia was an improvement on previous Disney princesses. "There's no reason to make this character a princess except to make sure [girls are] hooked on princess culture and princess products," she said. "If there was a princess character and also 500 other characters that were female and expressed other ideas of how girls looked and how they acted -- an explorer, a cowgirl, an astronaut -- I might be willing to give [Sofia] a pass."
Seriously Disney, couldn't you have taken a cue from Dora? Other than her, this wide variety of young role models that Orenstein references simply don't exist.
Sofia the First will show a girl living her life as a diamond-clad princess. Not only is it an unattainable image for toddlers and young girls -- who, let's face it, should just focus on being kids -- but it's also unnecessary. Yes, girls love princesses. But they'd also love, for example, a young math-loving character who also enjoys wearing a bedazzled top or two.
At the end of the day, Sofia isn't really selling an ideal much different from Cinderella, she's just being packaged in a way that might appease some concerned, anti-princess parents. Because we know that Sofia's adventures won't just happen on-screen, they'll be turned into a plethora of toys, kits and costumes, nice, shiny and ready for purchase.