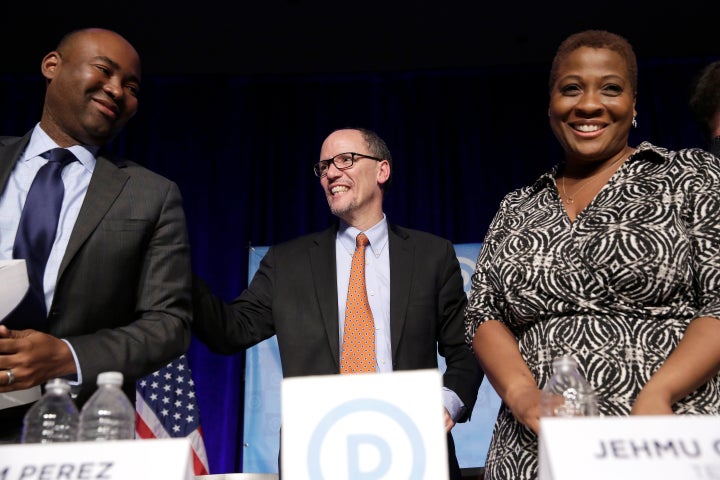 The moment at Saturday's DNC regional forum in Baltimore that most encapsulated that tension and the unwillingness of top DNC contenders to acknowledge it was when protesters interrupted the remarks of former Labor Secretary Tom Perez with shouts that were quickly quieted. Perez, who has strong progressive credentials, has been all but endorsed by former President Barack Obama and is viewed as an establishment favorite.
Yvette Lewis, a voting DNC member from Maryland who is backing Perez, asked the 10 chair candidates on stage to present their "formula for getting us past" the intra-party tension that the outburst represented.
But rather than share their proposals, Perez and Rep. Keith Ellison (D-Minn.), his Sanders-backed rival to head the main party body, responded by downplaying Democrats' divisions.
"The way we move forward as a party is to remind ourselves what our values are. When we lead with our values, we win," Perez said.
Ellison sounded a similar note, insisting that "we are all friends up here."
"I want everybody supporting me to know I respect [Perez], I like him, he's my friend," he added.
Discussions with the voting DNC members and activists in attendance, however, revealed that the divisions remain real.
While not all of Ellison's supporters backed Sanders in the presidential primary, those who did view his candidacy as a test of whether the party is willing to welcome them in and show respect for their priorities. Clinton's devastating loss to President Donald Trump in the general election has affirmed their conviction that the party should be taking its cues from the more populist Sanders wing.
Ben Jealous, a former NAACP president who backed Sanders, implied at a rally for Ellison in the early afternoon that rejecting Ellison would mean repeating the mistake party members made by failing to nominate Sanders.
"All these good people in this room ― we know a good brother when we see him, we know a good leader when we see him. We tried to tell y'all before what a good leader looks like," Jealous told the hundreds-strong audience, drawing loud applause.
Many Sanders supporters believe the DNC favored Clinton's candidacy during the primary. Their suspicion is based in part on leaked emails that intelligence agencies believe were hacked at Russia's behest, which showed DNC officials musing about publicly attacking him.
Although there is no evidence these officials acted on their discussions, the contents of some of the emails solidified an impression in Sanders' camp that the DNC had denied the Vermont senator a fair shot at the nomination. Another source of tension was the DNC's decision to start its presidential primary debates well after the Republicans began theirs, and to schedule some on Saturday nights when fewer people were likely to tune in.
Ed Fischman and Wala Blegay, Maryland-based members of Our Revolution, an organization Sanders founded to promote the priorities of his campaign, said that if Ellison loses it would, at the very least, fail to bring into the party many independent progressives inspired by Sanders. Blegay suggested it could also alienate some people already active in the party.
"There is a small group that I know of ... that are very frustrated with the Democratic campaign because of the Bernie stuff," Blegay said, referring to the DNC's alleged intervention in the presidential primary. "The loss of Keith Ellison might move those people from wanting to work within the party."
Clinton supporters, by contrast, mostly insisted that the chairmanship should not be used to settle scores from the primary.
"I want someone who is going to unify our party from day one and I see some of last year's primary playing out a little bit here, which is unfortunate. I think we need to get past that," said David O'Brien, a voting DNC member from Massachusetts. O'Brien backed Clinton in the primary and remains uncommitted in the DNC chair race.
With exactly two weeks to go in the contest, the number of contenders for the chairmanship has grown to 10. In addition to Perez and Ellison, candidates for the top spot include South Bend, Indiana, Mayor Pete Buttigieg; Idaho Democratic Party executive director Sally Boynton Brown; New Hampshire Democratic Party chair Ray Buckley; South Carolina Democratic Party chair Jaime Harrison; media strategist Jehmu Greene; Robert Vinson Brannum, Veterans Committee chair of the NACCP's Washington D.C. branch; Milwaukee attorney Peter Peckarsky and Ohio activist Sam Ronan.
The 447 voting DNC members will gather in Atlanta on Feb. 25 to elect the next chair, vice chairs and other top positions.
Ellison and Perez remain the top contenders, but there is no clear front-runner. Buttigieg, an openly gay Afghanistan veteran, has also attracted attention for his mayoral record, unique life story and articulate speaking style.
This story has been updated to reflect that Yvette Lewis has endorsed Perez, and to provide additional details about the some of the reasons for Sanders' supporters' skepticism of the DNC.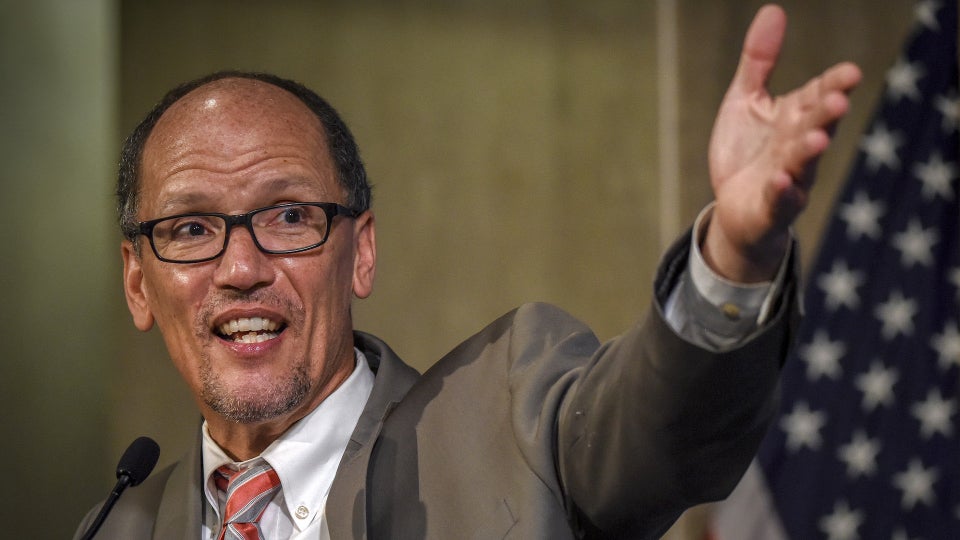 Democratic National Committee Chair Candidates