Jake Batsell seems to think so, saying that while advertising-driven models of digital journalism aim to maximize page views, when news organizations introduce online subscriptions "it reconfigures the benchmarks for success."
Which leads to the question: What are online readers willing to pay for digital content?
It's one of those complex issues troubling publishers, editors and reporters who have to worry about producing enticing content to compete with the plethora of digital fare, and, ensure the success of their revenue streams.
Paid Digital Content: The Journey Begins, a report by the World Association of Newspapers and News Publishers (WAN-IFRA), uses case studies to explain successes, failures and transitions news organizations are experiencing in attempts to get readers to pay for what they consume.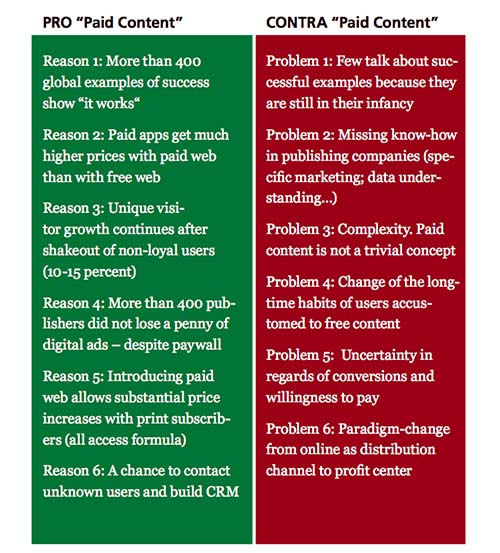 Pro & Con Argument for Paid Content (courtesy WAN-IFRA)
Paywalls have worked in more than 400 papers, according to WAN-IFRA, which reported they did not lose money in digital ads.
But paid content is still in its infancy and the transition from print to digital is far from over, so business models remain in a state of flux.
An introduction to the report admits the industry's slow adoption of paid content:
It's easy to criticise the news industry for not having tried hard enough with paid content models in the past. The reality is that to succeed in paid content there was a need for a conjunction of factors, ranging from Internet penetration and the right technologies (e.g. to analyze traffic data, user behaviour, easy payment platforms, a digital CRM...) to having a mass penetration of e-commerce usage.
That said, our industry did not learn from the rise of other pure digital players and took far too much time to understand this opportunity. And one could only regret that the essential driver for taking action has been losing revenue on core print business.
It's now the right time to let people pay for content and include that source of revenue in the company digital strategy. And it's also worth starting because the whole strategic thinking, preparation and launch process is extremely interesting and healthy for any news company. From top management to the entire team, it's inspiring and unveiling many opportunities and unexploited valuable assets.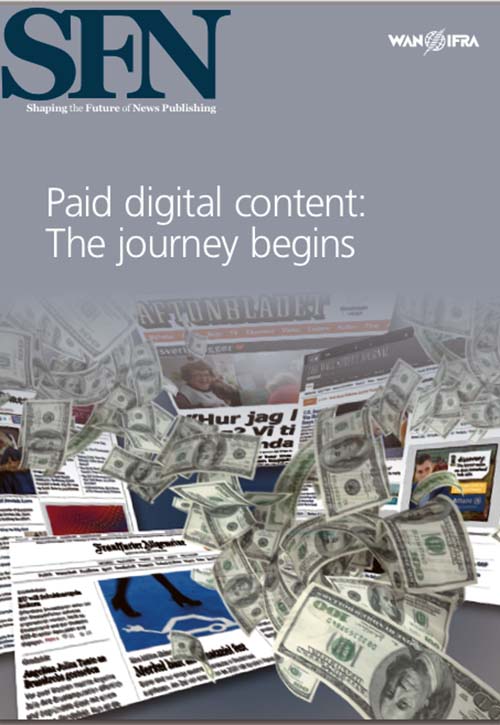 Paid Digital Content (courtesy WAN-IFRA)
The report, part of a series on Shaping the Future of News Publishing, sheds light on the trend's evolution and what it calls the first wake-up call in 2002.
It recounts how France's Le Monde newspaper "launched its first digital subscription offer (5 Euros, or about $6.65, per month; free for print subscribers) with the promise of exclusive services and content behind this freemium paywall."
Other papers have taken the plunge but continue to experiment with a variety of models.
In a chapter entitled "Paid content, the thinking process and options," the report explains its intricacy:
The preparation work before starting to charge digital users is complex, whichever model a publishing company chooses. Marketing is sophisticated; you need the right technologies, and most of all it only works with aligned forces within the company, ready to support this strategy and aware of the long-term effort. It does not end the day the "paywall" is introduced - it's a marathon.
It suggests that within a few years, digital activities will probably make up the core business of most media houses, so strategists must figure out how to secure the transition from print to digital profitability.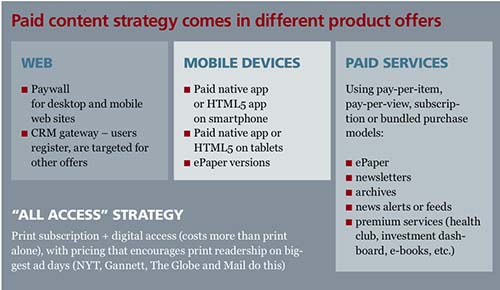 Paid content strategy comes in different product offers (courtesy WAN-IFRA)
The New York Times, Gannett, and Canada's The Globe and Mail have adopted a strategy to fit the Web in general, mobile devices in all their permutations, and other paid services that complement their audiences' browsing needs.
The New York Times, for example, has put mobile at the forefront of its bundled digital subscription options that include Web, smartphones, and tablets, as well as laptops and hard copy newspapers.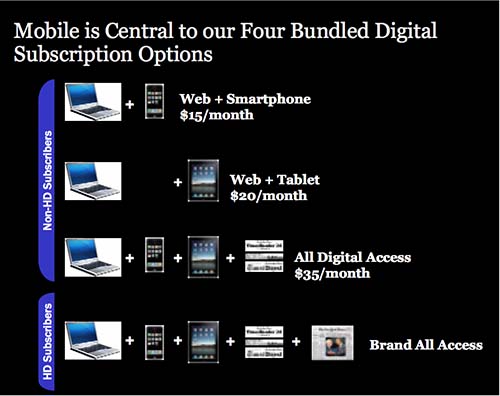 Mobile is key to NY Times' digital subscriptions (courtesy WAN-IFRA)
Analysis is undoubtedly paramount to determine readers' habits, preferences, the number of daily (and more) unique visitors to a site, regulars who can become subscribers, and the percentage of occasional visitors and "fly-bys."
In 2012, the main paid content options included the "hard paywall," with none of the exclusive editorial content made freely accessible, the "metered model" permitting users to access a certain number of articles before they are required to pay, and, the "freemium model," which combines two components: a free area (to retain traffic and advertising) and a paid-for premium part either for advanced functionalities (a very popular model in the game industry) or for unique content.
Gannett's Arizona Republic is an example of capitalizing on the "hometown advantage."

"When people feel empowered by their community paper, they recognize that it is worth paying for," the report said, adding that it had invested in identifying a list of "passion topics" print readers cared about and in measuring what digital clients found important.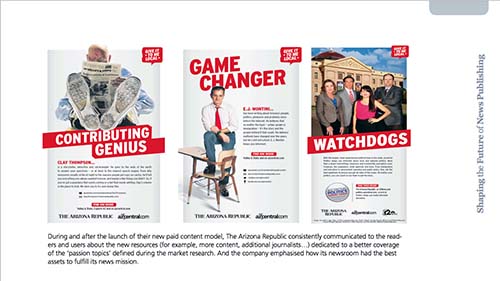 The Arizona Republic's case (courtesy WAN-IFRA)
The lessons learned from research and implementation were: the importance of developing attractive packages, enhancing heavy users' status, making it simple for newcomers, making "all access" a reality on all devices, and investigating niche content opportunities.