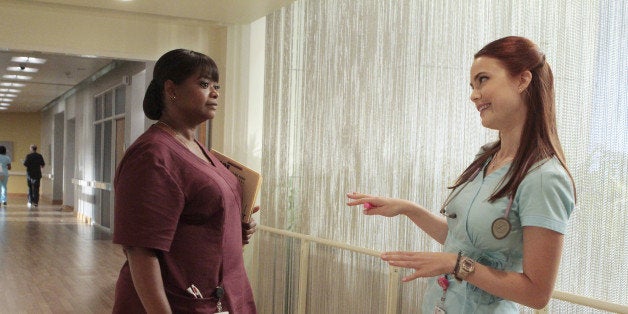 As a young cancer patient myself, I was curious how Red Band Society, a new TV series on FOX that centers around a pediatric hospital, would portray a situation I'm all too familiar with.
The TV show, which critics are calling House meets The Breakfast Club, takes place in an inpatient wing of the hospital and trails the lives of kids with a variety of illnesses. Almost every classic high school stereotype is met through the cast. There's the dark artsy girl with an eating disorder and the partying, mean cheerleader with an enlarged heart. Then there's the cancer patient who crossed the border from Mexico without his parents to seek health care. But it's really the narrator Charlie, a young patient in a coma, who draws you in. Charlie talks to the characters whenever they are unconscious, and it's his interactions that reveal the plot's most tender moments. He often gives his fellow patients advice, or tells them a message to pass along. In one scene he reflects, "When you're in a hospital the most important thing that needs to survive is you." And in another he offers: "Life is full of black holes and the only person who can pull you out is you."
These lines could sound cheesy to the average viewer but I found comfort in them. As a patient it is so easy to find yourself lost in the shuffle of appointments, tests, and treatments; you become robotic at times. Finding ways to remember who you are outside of your illness is powerful and keeps your spirit alive. During my illness, I remember forcing myself to go to a concert with friends so I could have just an hour of something "normal." We all have times of struggle in life, cancer or not, and while there can be support from others, we have to find strength from within to endure, and Charlie reminded me of that.
Ocean Park Hospital, where the kids are all treated in Red Band Society, is as fancy as they come. The hospital setting is even distracting at times. I have never been to a hospital where there are schools, apartment-sized rooms, and coed living situations for young adults. The rooms have modern furniture, are covered in posters, equipped with guitars and have fairy lights hanging. My hospital was lenient with the decorating in all of my rooms, but it was never as extravagant as the one in Red Band Society.
But Hollywood doesn't always get hospital settings wrong. This past spring The Fault In Our Stars, a film adaption of the young adult novel by John Greene, shined a spotlight on the lives of young cancer patients in an unglamorous and pretty realistic way. The hit movie centered around Hazel, a smart and sarcastic thyroid cancer patient, and the handsome Augustus, a fellow "cancer kid" who lost part of his leg to the disease but is healthy now, and the love that blossoms between them as they seek normalcy while undergoing treatments.
Watching The Fault In Our Stars was like watching the past year and a half of my life on a big screen. In the beginning of the movie Hazel shares that her parents and doctors think she's depressed, a side effect of her having cancer. She corrects this, saying: "Depression isn't a side effect of cancer. It's a side effect of dying." I was taken back to the days of my illness when I couldn't get out of bed and I felt an awful darkness come over my body and spirit -- I knew exactly what she was talking about. There's also a scene where one of the characters gets dumped prior to surgery because his girlfriend couldn't handle him having cancer. Yep, I've lived that. Another character is shut off to accepting love because of her health and doesn't want others to suffer because of her. Currently living that. The moments of fear, the worries of recurrence, the lack of "normalcy" in these patients lives, all of these things I could relate to. And all of these things brought me to tears.
I saw The Fault In Our Stars with a friend who has been by my side through every treatment. By the end of the movie we were covered in used up tissues and tears, and our eyes were swollen shut. It broke something inside me; not because it made me relive painful moments but because it made me realize how many others have to live their lives like this. But it also made me feel less alone. John Greene, the writer of the book that the movie was based on, was able to express feelings I've spent months searching for.
In Red Band Society my favorite line from Charlie is: "People think when you go to a hospital, life stops. But it's the opposite, life starts." While my experience with cancer has not been without trauma and plenty of low moments, I did find that a new life was created in me. Parts of my personality emerged when I got sick that I didn't know I had in me. My voice suddenly became louder, and I claimed the role as the boss in my own life as I assigned roles and jobs to the many kind people who helped me through my treatments. It gave me an excuse to stop making excuses and reprioritize my life.
Not only is it fine to watch films and movies about cancer after having cancer, I think it can help with healing. It felt good to cry along with the characters, even better to laugh with them, and more than anything watching things like Red Band Society and The Fault In Our Stars made me feel better that someone else out there might understand what life as a young cancer patient is like.
This article originally appeared on reimagine.me, a new online magazine for those who have been touched by cancer, and an education resource that teaches a powerful set of skills to take your life back from cancer.