This dog's best friend is a police officer who wouldn't give up on her.
Officer Sylvia Coelho of the Galt Police Department in California has adopted a German shepherd that she rescued from a median along Highway 99. The dog, dubbed "Freeway Frida" by the media, fell from a pickup truck barreling down the highway on April 10. The pup dodged death along the busy freeway for five weeks before Coelho, and two other officers, were able to wrangle her on May 14.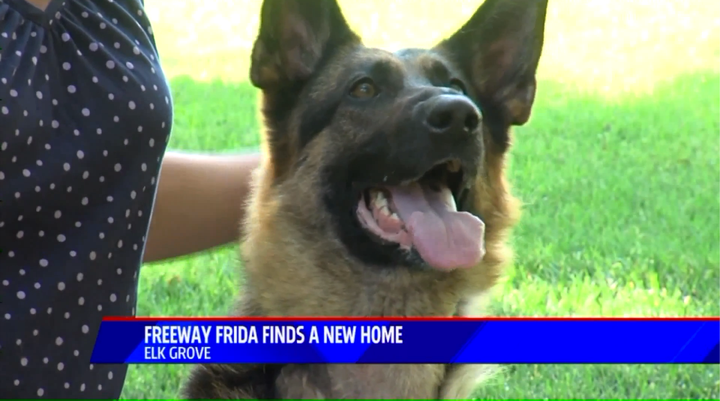 Coelho has been regularly checking up on Frida as she's undergone numerous surgeries and intensive treatment at VCA Bradshaw Animal Hospital in Elk Grove for a broken hind leg and infected bone.
During her Frida's time in the hospital, Coelho developed a deep bond with the pup she helped rescue and since Frida's original family has not come forward to claim her, Coelho was happy to take her home on June 30.
"I've got her bed, her toys, her treats," Coelho told The Fresno Bee. "I'm so excited!"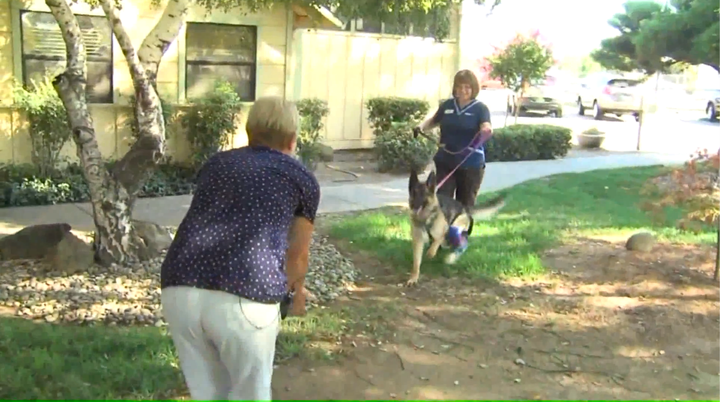 Frida's new forever family also includes Coelho's husband, Rick, a Chihuahua named Valerie and three cats, Harley, Marley and Midnight.
Coelho calls the latest addition to her brood "baby girl" but originally, she called her "ghost dog" — due to the fact despite numerous calls about seeing glimpses of the dog, Coelho had a difficult time pinning down the pooch. But when Coelho got a call about the dog while she was on duty on a Saturday, a day she usually does not work, she felt it had to be a sign.
"I'm like, 'OK. We're going to find this dog,'" Coelho told the LA Times. "I never work weekends. It was meant for me to work that Saturday."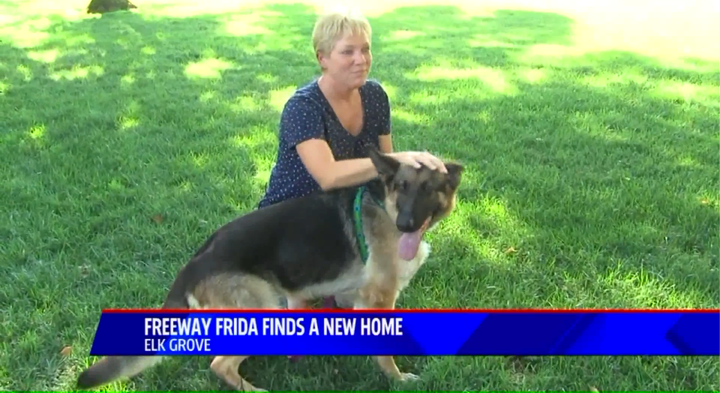 Her hunch was right and Coelho was able to capture a then emaciated, 44-pound Frida that day.
"She fights, she bites. We're saying, 'It's all right, it's all right,'" Coelho told the LA Times. "And those big brown eyes just staring up at me … She didn't fight us after that at all."
It's a mystery as to how Frida survived that long without food or water next to a busy highway, but Frida's veterinarian, Mike Johnson, guesses she ate garbage. Though, he's unsure where she found water.
But, from now on, Frida will get all the food, water and love she needs.
"She's going to go from the freeway to being here -- to a loving home," Coehlo told KGRA. "I'm so happy to give that to her."
REAL LIFE. REAL NEWS. REAL VOICES.
Help us tell more of the stories that matter from voices that too often remain unheard.
BEFORE YOU GO
PHOTO GALLERY
What Dogs Can Teach Us About Being More Zen