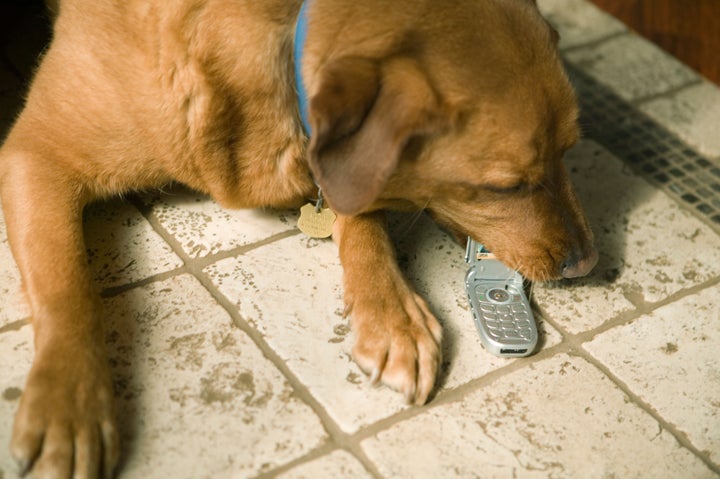 After George, the two-year-old Basset Hound from West Yorkshire, England got so tangled in a phone cord that he began choking, the frantic pup somehow managed to alert authorities by dialing 999 -- the British equivalent to 911, the Sun reports.
Concerned by the heavy breathing on the other end, the emergency operator dispatched police to the home.
Since George's owners, Steve Brown and his daughter Lydia, weren't home, their neighbor let the police into the house, where George was choking on the living room floor.
"He was absolutely terrified and could not free himself," Walker told the Sun. "I knew I had to get him free quickly so I just ripped the wire out. Incredibly you could see where his paw print was on the phone to ring 999 -- he literally saved his own life."
Last year, 15-year-old Patches saved his own life by singing "happy birthday," the Daily Mail reports. Up until then, the pooch was reportedly on death row after accidentally ending up at the pound. In a joyous turn of events, a dog foster carer looking for him called the establishment, and as a test to see if the pup was indeed Patches, and not a stray, started singing the song. When Patches started howling along, he was sent back to be reunited with his family.
Two years ago, Max, a chocolate Lab from Macungie, Pa. saved his own life after his owner, Donna Gardner, accidentally locked him in her car in 90-degree heat.To get his owner's attention, Max laid on the horn -- much to Donna's surprise.
"I'm thinking 'Who is blowing the horn out there,'" Donna told NBC Philadelphia. "I went out on the porch this time and there is Max sitting in the front seat of my car. Well, obviously it was him that blew the horn."
A distraught Donna cooled Max off with towels and water, and rushed him to the vet where he didn't require medical attention.
Popular in the Community