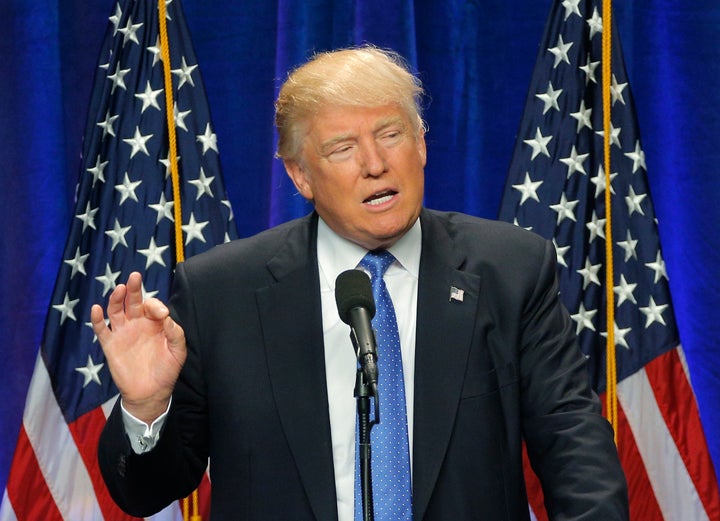 Presumptive Republican nominee Donald Trump on Monday attempted to undermine Hillary Clinton's support among the LGBT community by accusing her of wanting to allow people into the United States "who reject our values" on issues like women's rights and gay rights.
Trump argued that new immigration bans on several countries with ties to Islamic extremism are needed to protect the LGBT community, which suffered a deadly blow on Sunday after a gunman fatally shot 49 people and injured 53 others at a gay nightclub in Orlando, Florida.

"Hillary Clinton can never claim to be a friend of the gay community as long as she continues to support immigration policies that bring Islamic extremists to our country who suppress women, gays and anyone who doesn't share their views," Trump said in a national security address in New Hampshire.
"She can't claim to be supportive of these communities while trying to increase the number of people coming in who want to oppress them," he continued.
"Ask yourself," he added, "who is really the friend of women and the LGBT community: Donald Trump with his actions, or Hillary Clinton with her words? Clinton wants to allow radical Islamic terrorists to pour into our country — they enslave women and murder gays. I don't want them in our country."
Omar Mateen, the suspect in the Orlando shooting, was a U.S. citizen born in New York City who reportedly declared his allegiance to the Islamic State militant group before carrying out the massacre -- not a refugee or foreigner who would be affected by Trump's proposed immigration restrictions. There's no clear evidence that Mateen was acting as part of a larger terrorist network, President Barack Obama said Monday.
LGBT voters support Clinton over Trump, 84 percent to 16 percent, according to a recent Whitman Insight Strategies survey. Trump has gone on record opposing national marriage equality. Over the weekend, he also assured a conference of Christian conservatives that he stood with them on the matter.
Trump still has ways to go on his pitch to LGBT voters. In his address, he promised to be a "better friend" of the "LBGT" community -- a misspeak that may have been caused by his inexperience using a teleprompter.
Chad Griffin, president of Human Rights Campaign, America's largest LGBT civil rights organization, criticized Trump's penchant for antagonizing Americans regardless of race, religion or sexual orientation.
Popular in the Community