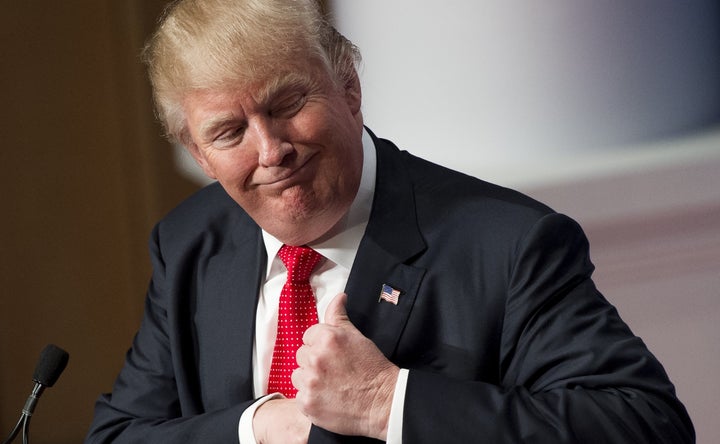 WASHINGTON -- Not a single Republican politician has come out and endorsed Donald Trump's call to ban all Muslims from entering the United States. They have called his plan "unconstitutional" and "foolishness" and done their best to distance themselves from it.
They still, however, plan to support him for president should he make it that far.
"I'm certainly going to support the Republican nominee for president," Senate Majority Leader Mitch McConnell (R-Ky.) said Tuesday, minutes after calling Trump's remarks "completely and totally inconsistent with American values."
House Speaker Paul Ryan (R-Wis.) used his weekly briefing to take the unusual step of weighing in on the presidential race because he felt the issue was so important.
Does that mean he won't back Trump if he becomes the face of the party?
"I'm going to support whoever the Republican nominee is," Ryan said.
Sen. John McCain (R-Ariz.), who was the party's presidential nominee in 2008, called Trump's proposal "foolishness" but said he's still fine seeing him become America's next president.
"I doubt if there's any nominee that I totally agreed with in my lifetime," he told reporters. "I am a loyal Republican and I'll rely on the good judgement of the Republican voters."
"I'm going to support whoever the Republican nominee is."
Sen. John Thune (R-S.D.) couldn't say if there was anything Trump could say that would make him not support him if he becomes his party's nominee.
"That's a very speculative field to go into, so, I don't venture into hypotheticals," he said. "There's going to be another debate here in a week. People are going to get a good opportunity to see these candidates up close and personal, and I think in the end we'll nominate a candidate that can lead our party in the general election."
"I will in the end support our nominee," Thune added.
Sen. Ted Cruz (R-Texas), who is competing with Trump for the GOP nomination, said he disagrees with the real estate mogul's plan but didn't really want to criticize him -- and he's still planning to support him if it comes to that.
Former Arkansas Gov. Mike Huckabee (R) thinks it's "simply unconstitutional to ban people on the basis of religion" but also thinks that in the end, Trump is still better than Democratic presidential frontrunner Hillary Clinton.
Some Republicans simply refused to entertain the notion that Trump might actually become the nominee.
And in the halls of Congress Tuesday, most senators didn't seem all that thrilled to be answering questions about Trump.
Sen. Jeff Flake (R-Ariz.), after calling Trump's comments "positively awful," laughed when asked if he would still support him.
"He's not going to be the nominee," he told reporters repeatedly.
Sen. Rob Portman (R-Ohio) said Trump's proposal runs "counter to our traditions, but also counter to the religious liberties that are guaranteed under the Constitution." He wouldn't rule out supporting Trump either, exactly, but said it's too soon to say he'll be the nominee.
"I've said the same thing from the very start, which is I intend to support the Republican nominee," Portman said. "I think my further comment was 'unless something crazy happens,' and that's continuously my position. Look, guys, it's so early. ... I don't expect him to be the nominee."
Sen. Susan Collins (R-Maine) talked at length about the "very negative reaction" she had to Trump's remarks and how it sends the wrong message to Islamic nations allied with the United States. But she didn't want to talk about what would happen if he becomes the GOP nominee.
"I've got to go now," she told The Huffington Post.
Popular in the Community