One of President-elect Donald Trump's possible choices to fill the vacancy in the Supreme Court of the United States is a judge whose career is marked with anti-LGBT acts.
William H. Pryor, Jr., is a federal judge on the United States Court of Appeals for the 11th Circuit in Atlanta. His name has been mentioned as one of multiple potential nominees for the SCOTUS seat. Pryor's anti-LGBT agenda certainly makes him stand out.
"This Court has never recognized a fundamental right to engage in sexual activity outside of monogamous heterosexual marriage, let alone to engage in homosexual sodomy," Pryor wrote in his brief. "Such a right would be antithetical to the 'traditional relation of the family' that is 'as old and as fundamental as our entire civilization.'"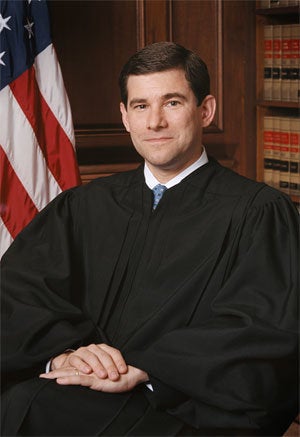 He added that citizens have "no fundamental right to engage in homosexual sodomy just because it is done behind closed doors. 'Plainly enough, otherwise illegal conduct is not always immunized whenever it occurs in the home'… Because homosexual sodomy has not historically been recognized in this country as a right — to the contrary, it has historically been recognized as a wrong — it is not a fundamental right."
He contended that Texas was not the only state in the nation with these views.
Texas is hardly alone in concluding that homosexual sodomy may have severe physical, emotional, psychological, and spiritual consequences, which do not necessarily attend heterosexual sodomy, and from which Texas's citizens need to be protected. Texas's conclusion, which is shared by other States, is certainly open to debate, but a statute does not become irrational for purposes of equal protection review just because some may hotly disagree with it.
Popular in the Community