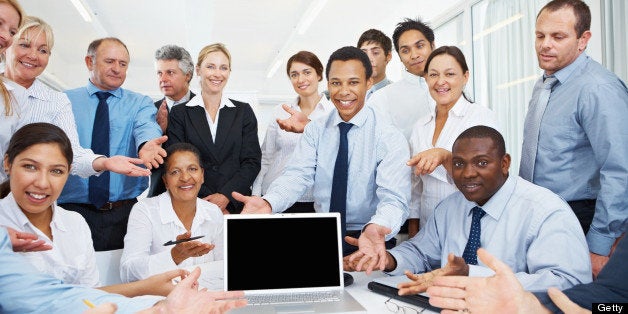 Want to hire top talent? Better throw out the employer branding bit.
Sure, creating a solid employer brand is essential to having a great reputation as an employer -- it shows you've got great products and services. Many tout an employer brand as the key to recruiting the best job seekers, but if you really want to attract and retain the best candidates, it's almost always better to turn your branding efforts on the people behind the company -- developing a culture brand instead.
In a poll of 4,500 job seekers by CareerBuilder and Inavero, job seekers reported that when researching a company for a job, they most frequently run a Google search, read the company website, read recent news about the company online, ask friends and family about the company, check the company's Facebook presence and follow them on Twitter.
You know job seekers are going to do this, so how are you going to get them hooked on your company? What they find shouldn't necessarily be focused on the ins and outs of your products and services, but rather, how your company operates as a team.
In Recruitment, Your Culture Seals The Deal
Company culture directly reflects on a company's consumer brand, but it also reflects on the perception job seekers will have of your organization -- and what it really would be like to work there. Too often, companies keep their internal culture hidden from the outside world, and it may lead job seekers to think the company has practices it wants to hide, that the existing employees are miserable, or that the company has no interest in ensuring its workers are happy during their time there.
When it comes to recruiting and employee retention, company culture may be more important for job seekers than salary or benefits for determining whether or not they'll truly be happy in their day-to-day life at your company. Consider this:
So if job seekers have the wrong perception of your company culture as soon as they sit down to write their cover letter, who's really to blame? You. There's one thing to keep in mind when creating a great culture brand: the importance of humanizing.
A Company Isn't Just A Brand -- It's People
Remember, a company is made up of people -- people the company serves, people the company hires, and people the company works with. Creating a culture brand means showcasing people and putting them at the forefront of your external branding strategy.
Michael Long, founder of the recruiting blog The Red Recruiter, has taken what he calls an "investigative journalist" approach to unearthing and showcasing his company culture. He started his blog to allow job seekers to get to know the personalities of the people they'd be applying to work with, creating a space for them to get answers to their questions about the company. He scours the halls for relevant aspects of the culture, snapping pictures to share. On the blog, employees to share their personal journeys to the company, or even the negative aspects of working there.
This type of transparency allows a window into culture, not just a place to sell products and services. It provides key insight into the values of the workers to ensure every hire wants a job at that particular company, not just any company. If your organization isn't using the Web and social media to create the same transparent, people-focused brand, you're not going to make dedicated hires.
Don't Become Static -- Create Conversations
Too often, job seekers send a resume and cover letter to an HR manager and hear nothing but silence in return. They get frustrated, and end up harboring a negative view of the organization they applied to, thinking the people on the inside don't care about people who are interested on the outside.
Companies need to allow conversations to occur between current employees and the outside world, but too often, an employer brand doesn't allow for this communication. Here's how to open up a dialogue:
Showcase company culture on social media, the website or blog. Post office photos, videos, interviews with employees and polls to create conversations and allow job seekers an outlet to ask questions and get to know the organization from the inside.
Develop a talent community: Create an open Facebook page and invite current employees and prospective job seekers to join. You'll create a sustainable talent pipeline that works to reinforce your culture and unearth great hires in the process.
A strong company culture helps to boost job awareness and pegs your organization as a place where employee contributions are the bread and butter of the organization's success. Creating an employer brand can help to sell products, but creating a culture brand humanizes your company, framing it as a great place to work.
Popular in the Community