We don't normally think of them as such. We think of wine as the ultimate in elegance and chemical complexity, not simply to be quaffed but also to be very carefully and consciously and expertly sniffed and analyzed, its flavors and aromas so refined and rarefied, each bottle so unique, that unlike any other beverage wine can be sipped, then spat out unswallowed into jugs -- often the same jugs that are being spat into by many strangers simultaneously. This practice is considered respectful, normal and polite. Imagine doing that with Fresca, say, or milk.
But wine is like milk in that both are natural, unsynthetic beverages born of ploughed fields, plants, sunshine, insects and animals. In other words, both come from farms.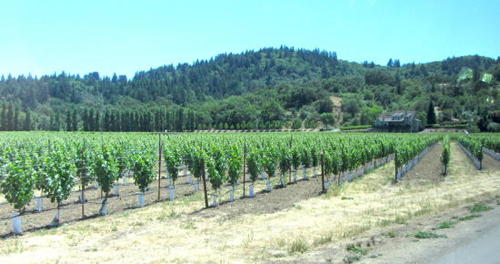 Your flowery-fruity Sauvignon Blanc, your spicy Pinot Noir, your two-buck Chuck: It is all grape juice, grown in vineyards, which are grape farms which for the most part look and work like all other farms, with fertilizer and backbreaking labor in blazing heat and blasting cold, and with keen attention to the seasons.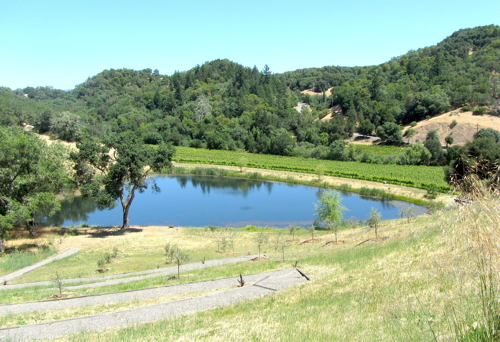 I figured this out last Sunday while touring the Dry Creek Valley, a 16-by-two-mile strip of Sonoma County in California's world-famous Wine Country that is an American Viticultural Area unto itself and renowned since before Prohibition for its Zinfandels. As we rolled through the vineyards that shimmered jade-green to the far hills that flank the lowlands like cozy brown bolsters, I kept noticing barns. Big red old-fashioned barns with steeply slanting roofs. Here and there I saw horses. Cows. Trucks. People hard at work outdoors. And farm equipment. I thought: Wineries are farms.
This was confirmed during a walk through Quivira Vineyards & Winery near Healdsburg, where we learned how ground-cover plants such as fava beans are grown between the rows of grapevines to nourish the soil, which is further fertilized with the effluent of resident chickens and pigs.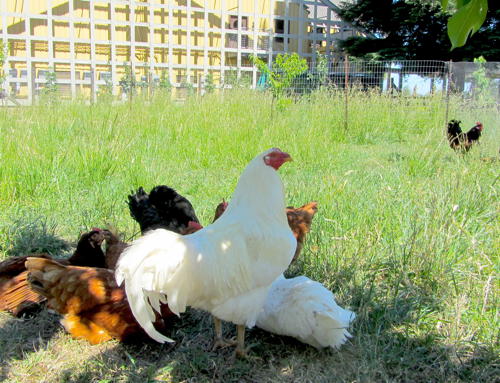 Ladybugs and praying mantises -- the carnivorous kings and queens of the insect world -- keep aphids and other pests under control. Compost plays a major role in the farming here. As a biodynamic winery, Quivira also employs the techniques intrisic to that realm: Think subterranean cow horns and the signs of the Zodiac.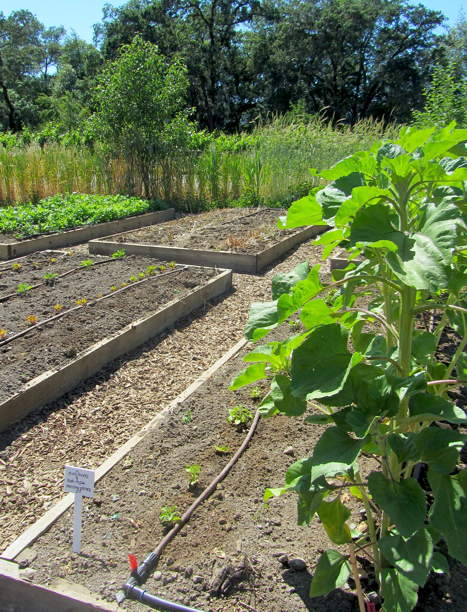 Quivira also maintains beehives to promote pollination and produce biodynamic honey, as well as abundant fruit trees (whose pears, apples and peaches are served at estate dinners and made into preserves), a greenhouse and a large organic vegetable garden, a mini-farm within the farm. Its produce is sold to nearby restaurants; the proceeds benefit local charities.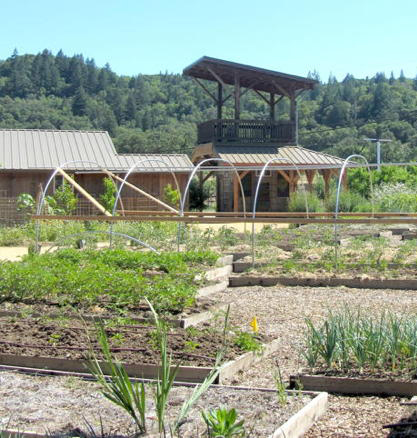 Like all farms, the Dry Creek Valley vineyards are at the mercy of the seasons, year by year. California is famously mild and Californians make a point of welcoming rain as it staves off drought, but when rain came early and hard to this region in October 2011, wine growers panicked -- as any farmers would. These unseasonable storms threatened the whole 2011 harvest with low yield and lower-than-usual alcohol content. Today the valley's winemakers still shudder when discussing the rains of 2011.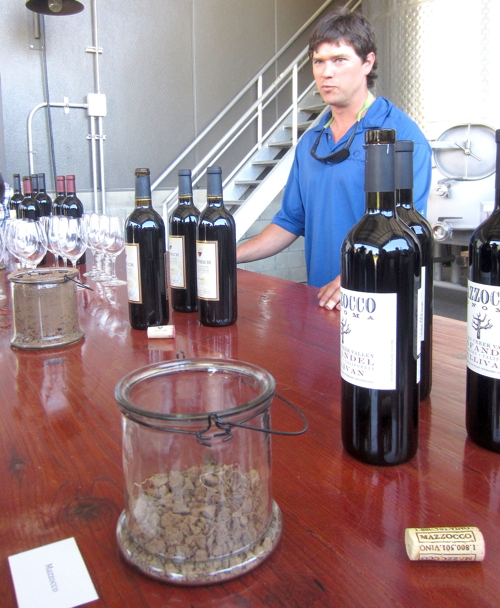 And what is terroir if not a fancy farm word? At Mauritson Wines, grower Cameron Mauritson -- who has a degree in soil science -- showed us how various types of soil on his family's acreage create entirely different flavors and produce entirely different wines. White wine grapes need less time to ripen, so they need to grow in somewhat fertile soil -- while red wines grow best in rocky, less fertile soil.
"Thinner soil stresses the vines more, increasing tannin in their seeds and skins," Mauritson explained. "That's great for red wines. With a stressed grape, you're going to get that great astringency -- while in white wines that's definitely not what you're looking for."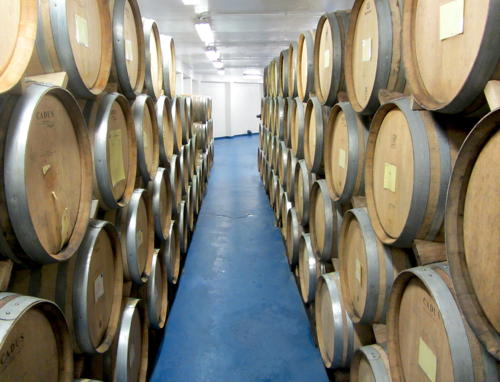 Later in the week, I visited 130-year-old family-owned Wente Vineyards in Livermore, which is credited with introducing Chardonnay to the USA -- and which employs 100 head of cattle for grass management and soil fertilization.
"There's a lot of land in the western United States that's unsuitable for agriculture but appropriate for grazing," fourth-generation winemaker Philip Wente told me. On its 3,000 acres, the Wente clan maintains conscientious land stewardship with its Farming for the Future program, whose practices conserve water, control soil erosion and naturally manage pest control.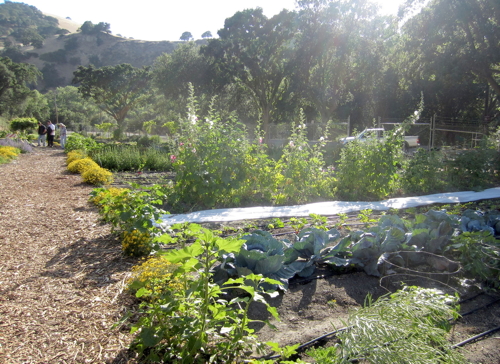 A large garden on the property provides produce for the winery's restaurant, where beef from some of the aforementioned cattle is also served; century-old olive trees produce the winery's Oro Fino extra-virgin olive oil.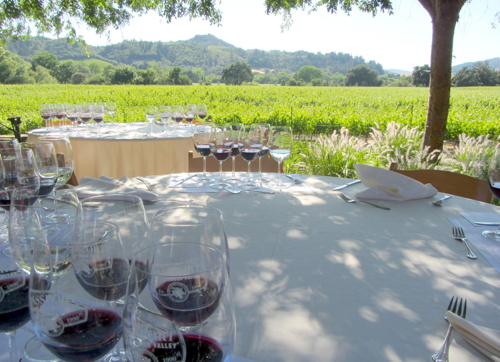 So the next time you raise a glass of something very aromatic, very elegant and very expensive, remember to toast the folks driving the tractors. Toast their colleagues who dig dirt and shovel dung. All of that, plus sweat and passion, ended up in your glass.
Wente garden photograph is by Anneli Rufus. All other photographs are by Kristan Lawson, used with permission.