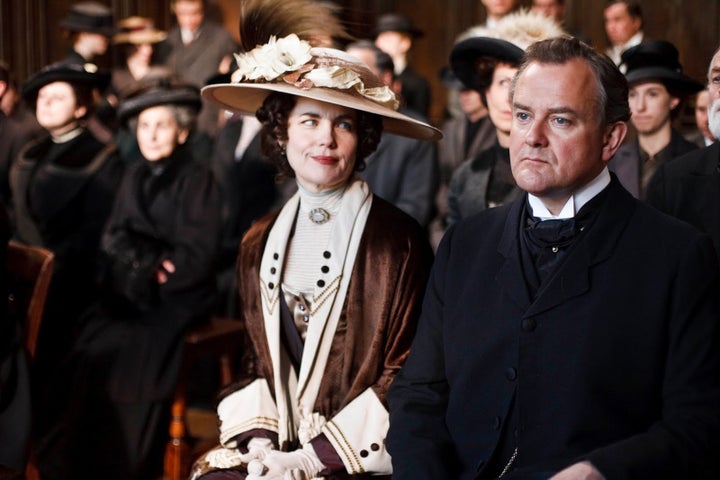 Whether it is 1921 or 2013, there is probably nothing harder on a marriage (or on the soul) than the death or serious illness of a child. Sunday's heart-wrenching episode of Downton Abbey demonstrates how easily grieving parents can alienate one another through blame, disengagement and emotional paralysis. The show carries two important messages about grief and marriage: couples must grieve together rather than separately to get through it, and the support of families and community is essential.
Following the shocking death in childbirth of their beloved daughter, Sybil, Lady Cora is furious and disgusted with her husband, Lord Grantham. During early labor, their family doctor, Dr. Clarkson expressed concern that Sybil was suffering from eclampsia and he urged the family to get her to a hospital to have an emergency cesarean. Lady Cora agreed with Dr. Clarkson's concerns and advice, but Lord Grantham choose to follow the advice of the prominent and knighted doctor, Sir Philip Tapsell, who brushed off Dr. Clarkson's concern and assured everyone that Sybil was perfectly healthy. Despite Sir Philip's obnoxious confidence, Sybil died soon after delivery.
In the wake of Sybil's death, Cora feels furious and dismissed. She is vocal with the family about her disgust, and cannot stand to be in the same room with, let alone interact with, her husband. When Lord Grantham begs forgiveness and asks his wife if she thinks he misses his daughter any less, she says she assumes he misses her even more than she, since he blocked their one chance of saving her life.

A deflated and devastated Lord Grantham opens up to his mother about the extent to which Lady Cora seems to be grieving both her daughter and her marriage. And the wise, edgy and impeccably proper Granny Violet replies:
My dearest boy, there is no test on earth greater than the one you've been put to. I do not speak much of the heart, since its seldom helpful to to do so, but I know well enough the pain when it is broken.
In a most eloquent expression of grief, Lord Grantham then opens up to his eldest daughter, Mary:
I keep forgetting she's gone. I see things in the paper that would make her laugh. I come inside to tell her that her favorite rose is in bloom, and then [I remember].
Mary shares her father's tears and begs:
Say that to Mama, PLEASE.
Mary's verbal plea for her parents to grieve together rather than separately is backed up by Granny Violet's decision to take matters into her own hands by reaching out to Dr. Clarkson. She explains the great divide in Cora and Roberts' marriage and wisely asserts:
The only way they can conceivably bear their grief is if they bear it together.
She asks Dr. Clarkson to research how few deaths have actually been avoided through late cesarian once eclampsia strikes in hopes that his research will determine the minimal likelihood that Sybil would have survived, regardless of the path taken the evening of her death. Her hope is that Cora can let go of some of her blame, join her husband, and share their grief. Granny Violet's pointed efforts to help Cora and Robert reconnect are especially poignant given her long-standing prickly relationship with her daughter-in-law.
Dr. Clarkson's research determines that Sybil's chances of survival were, in truth, quite small. During a meeting convened by Granny, Dr. Clarkson expresses strong distaste for Sir Phillip's cavalier attitude, but he also admits that the trip to the hospital and surgery he suggested would have been traumatic and painful and gave poor Sybil only the slimmest chance of survival:
When everything is weighed in the balance, I believe Lady Sybil was going to die.
Upon hearing Dr. Clarkson's opinion, Lady Cora can begin to forgive her husband and the couple can finally share in their grief. As they embrace, it is clear that their daughter's tragic death is a loss they will never forget and from which they will never fully recover. It is equally clear that they will be stronger through it, and will grieve more completely, if they face it together.
Even the episode's sub-plot in which sweet Mr. Mason (who has no living relatives) attempts to get through his grief over his son William's death by inviting his daughter-in-law, Daisy, to live with him and inherit his entire farm, "stock, tools and all" demonstrates the significance of family support and shared grief.
As a therapist, I hear a lot about loss, and no loss is as great as the loss of a child. A client once told me that, amidst the traumatic chaos of his daughter's terminal cancer diagnosis, he vividly remembered his parents (who had also, tragically, lost a child decades earlier) sitting him down with his wife to say:
This tragedy will either make or break your marriage. Hold each other tight and never take one another for granted.
Their honest, loving words, along with devoted family, friends and a strong commitment to one another allowed them to face the unbearable.
Once again, Downton Abbey offers a message that, notwithstanding the drama's rarified and anachronistic setting, demonstrates the timeless importance of a family's support in the face of loss.
Popular in the Community