The cast members of the series, which ended in 2015 after six seasons, say a "Downton Abbey" film is still a possibility. They are just waiting for that call.
"There's a great willingness among all of us to do it," Allen Leech, who portrayed Tom Branson on the show, told HuffPost on Build Series. "And it's just as [series creator] Julian [Fellowes] said, 'Trying to get everyone in one place. It's like herding cats.'"
Joanne Froggatt, who won a Golden Globe for her role as Anna Bates, added, "Gareth Neame is our executor producer and he said … 'There is a script and everyone's keen and they are hoping to make it happen.' But they kind of need to … give us all a call."
Before that phone rings, though, HuffPost asked some of the cast members to weigh in on what their characters would be doing in a movie version, if it did happen. The answers ranged from serious to humorous.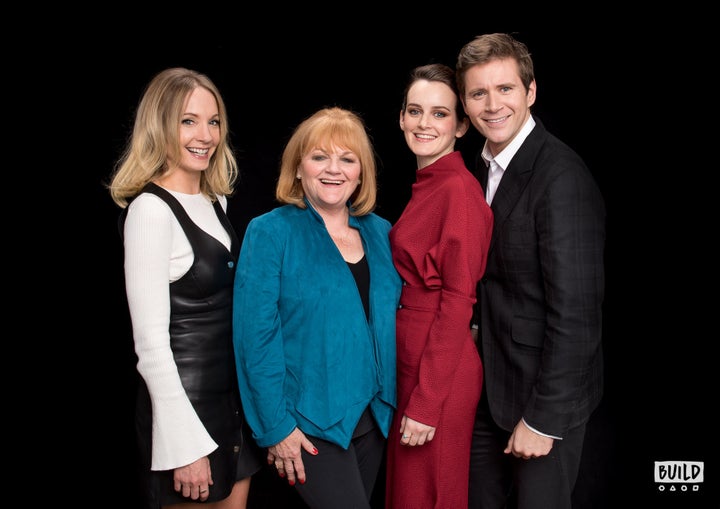 Joanne Frogatt on Anna Bates: "I imagine I'll be in a brown hat, again, carrying a tea tray. No, I think Anna and Bates, it would be lovely if they have maybe baby No. 2 by then and they may have their little guest house ...  Hopefully they get their happy ever after. They had their ups and downs. It was hard on them. I'd like to see them have a happy future."
Lesley Nicol on Mrs. Patmore: "Ideally, as I am a huge fan of Sir Anthony Hopkins, he will be cast as my new beau and he will fall in love with me — Mrs. Patmore — deeply. And she will transform into this goggle-eyed beauty, and they will just elope and have lots of dogs."
Sophie McShera on Daisy Mason: "I was going to say that Daisy would look after Mrs. Patmore into her old age, but I don't need to do that anymore because you've got Tony [Anthony Hopkins] ... I'll just pop in. I don't know, maybe she's pursuing a political career."
Allen Leech on Tom Branson: "I'd like to see Branson happy. Obviously the fun version would be … he realizes he's gay and elopes with Thomas Barrow [played by actor Robert James-Collier] and opens the first Edwardian gay bar."
Talk of a movie has been brewing for a while. In June, Michael Edelstein, president at NBCUniversal International Studios, weighed in on a possible film version, saying, "We are working on getting the script right and then we've got to figure out how to get the [cast] together. Because as you know, people go on and do other things. But we're hopeful to make a movie sometime next year."
In the meantime, fans can get their post-Edwardian era fix at Downton Abbey: The Exhibition, opening in New York City on Saturday. It features costumes and pieces from the show, along with recreations of the set. The exhibit is scheduled to stay open through January 2018. After that, it's expected to travel to other cities.
We reached out to Fellowes' rep for an update on the film's status and will update this post accordingly.
Check out our full Build Series interview below. 
BEFORE YOU GO
PHOTO GALLERY
"Downton Abbey" Stars Of Yesteryear