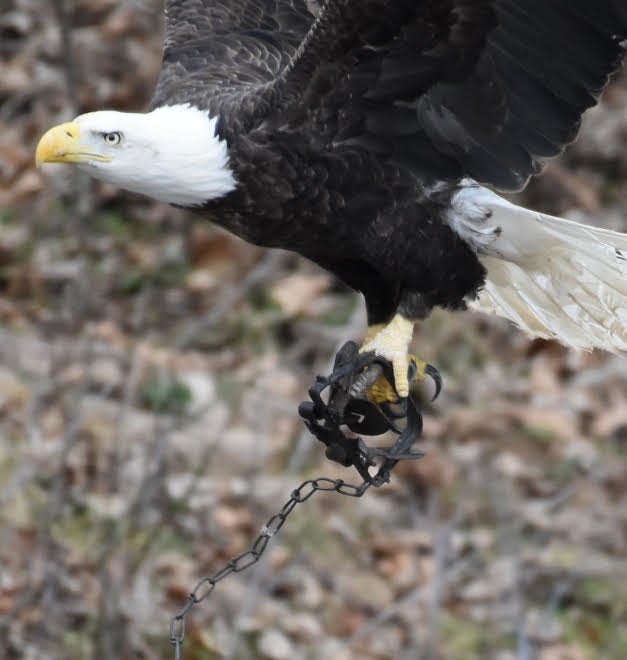 Wildlife officials in Pennsylvania are working to capture a bald eagle seen snared by a leg-hold trap over the weekend, putting its life in jeopardy.
In photos taken on Sunday, the bird of prey is seen flying with the metal trap clamped on one of its talons. A chain is dangling from the snare.
Sue Boardman, who said she snapped the photos in Adams County near Gettysburg, described spotting the animal in distress alongside a road.
"After a brief struggle, he was able to lift off somewhat and fly into the woodlot next to the road ― trap and chain still firmly attached ― where we lost sight of him," she told The Huffington Post by email Wednesday.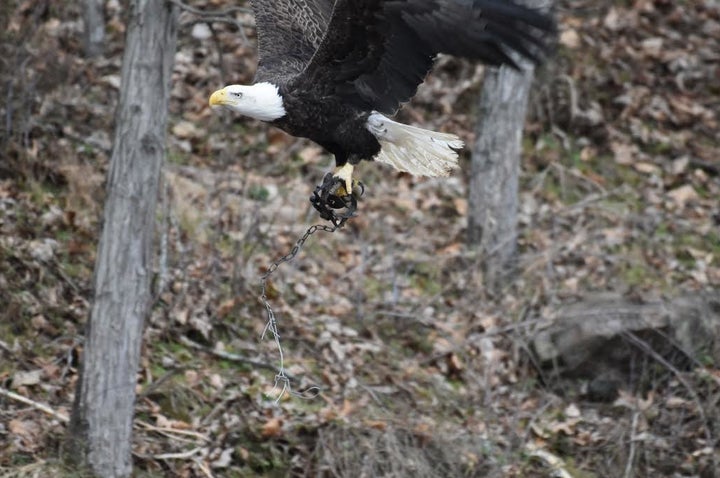 Boardman expressed concern that without prompt care, the bird will likely die.
"He can't hunt or fly high enough to get out of harm's way. It was heartbreaking to see him like this. He is one of a pair of nesting eagles that have been producing young for several years," she said.
Richard Danley, a law enforcement supervisor for the Pennsylvania Game Commission's Southcentral Region Office, said that they've been able to locate the bird and are now trying to figure out a way to trap it.
"It appears that the injury is to one digit on its foot, to one toe, and if that's the only injury that it has, it's not that extensive," he told HuffPost Wednesday.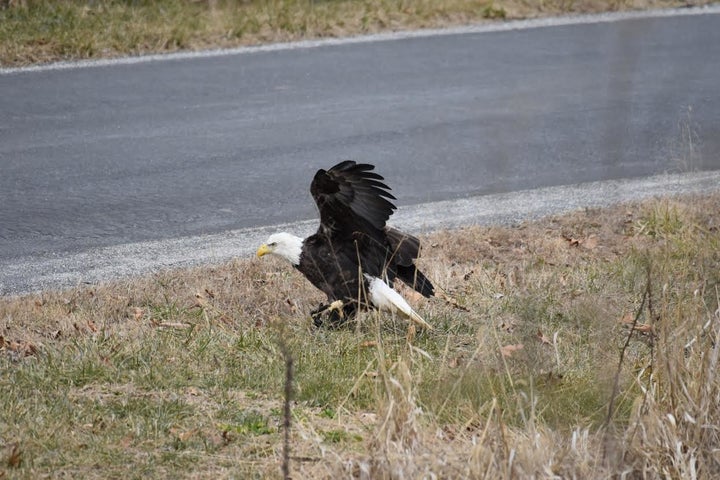 Danley said that the trap appears to be an older spring trap, "which leads me to believe that the person who placed it has very little experience or, to be quite frank, doesn't know what they're doing."
It's illegal for traps like these, which are usually put out to catch game, to be placed on the ground where they are visible from the air, he said, as birds hunt through visual cues and can become ensnared by traps that catch their eye, like this eagle.
Once the trap is recovered, Danley said they'll look to see if they can trace it back to its owner.
"There's a law in Pennsylvania, and in most other states, which requires traps to be identified to its owner," he said. Metal tags that are attached to the trap usually make that identification.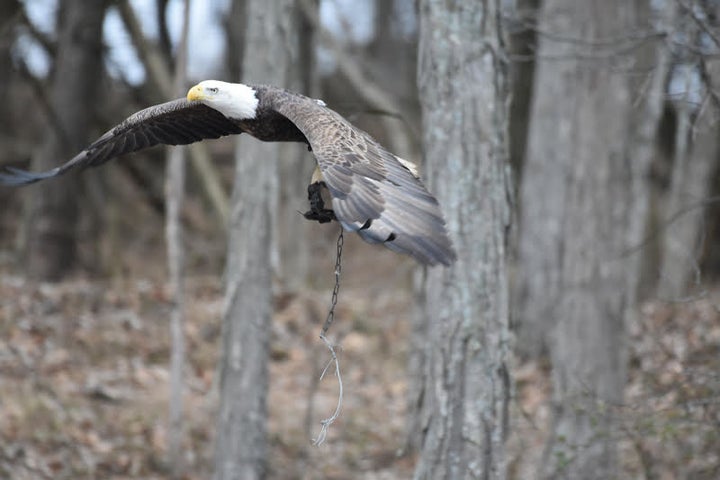 "I did not see one from the photographs, but that's not to say that there isn't one," he said.
Once they are able to recover the trap from the eagle, Danley said they will also determine whether any charges are warranted.
He stressed however that though the bird's injury is horrible, what happened is rare.
"Most fur trappers out there today do not act in an unlawful way and this is just an outlier, in our opinion, of an individual who did something wrong," he said. "Whether that was premeditated of an unlawful act or just a mistake, trappers and fur trappers should not be painted with the same brush."
Wendy Ebersole Looker, a wildlife rehabilitator based in York County, told the York Dispatch that she would take in the bird for recovery once it's captured. 
REAL LIFE. REAL NEWS. REAL VOICES.
Help us tell more of the stories that matter from voices that too often remain unheard.
BEFORE YOU GO