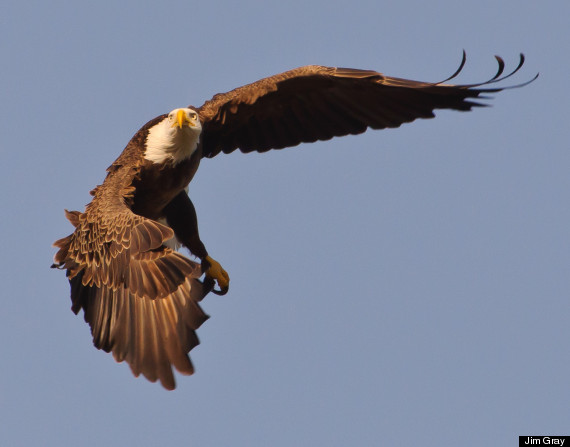 When's the last time you saw an eagle? A Bald Eagle, perhaps, perched in a tree along a river, or a Golden Eagle soaring overhead? I get to hear a lot of people's eagle anecdotes -- there's something about those big, proud birds that make people want to tell their eagle stories -- and I love every one of them.
For one thing, eagle stories are a lot more common than they used to be, especially stories about Bald Eagles. By 1963, only 487 pairs were left in the lower 48 states. America's national bird, nearly wiped out by a deadly combination of hunting, habitat destruction, and especially DDT. The crisis truly touched people and unleashed a wave of concern that succeeded in restoring our Bald Eagle population, from Washington's Olympic Peninsula to the Hudson River. That amazing recovery has happened during many of our lifetimes, and it's one of the best examples of what people can accomplish in conservation when they band together to protect what they care about.
And that's the second reason I love hearing eagle stories: Eagles bring all of us -- in red, blue and purple states and communities -- together. Eagles symbolize something deep and special that we all agree needs to be protected.
During the bitter 2012 election cycle, Audubon teamed up with ConservAmerica, a Republican conservation organization, to ask people of every political persuasion to sign a simple declaration that we called the American Eagle Compact. It was a document that said we all want clean water, clean air, healthy natural spaces and abundant wildlife. It also had a powerful political message: We're sick and tired of conservation being used as a wedge issue by cynical politicians to divide Americans and chip away at our great natural heritage -- including our majestic eagles.
So I believe that eagles can help bring out the best in us, and in that way, they're a powerful symbol.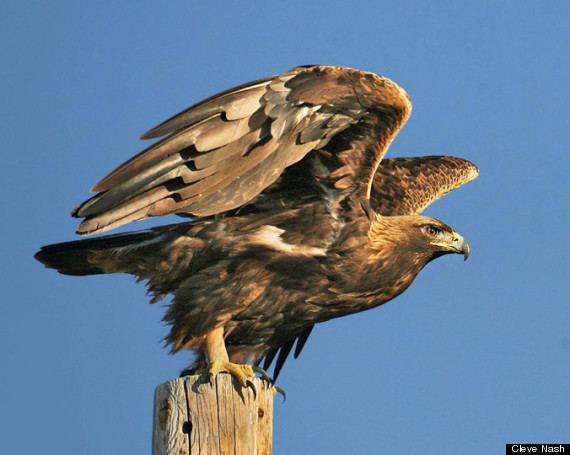 But a symbol that we have to keep protecting. See, here's the difficult lesson we're learning: We don't just get to save a species once and walk away, job done, on to the next challenge. We humans do all kinds of things that can devastate eagles and other birds, and we have to balance our needs -- like the demand for renewable energy -- with our responsibility to care for eagles and the rest of the natural world.
The challenges eagles face are numerous today; some, like habitat loss and pollution, are old enemies while others, like human-induced climate change and collisions with wind turbines, are newer but no less serious.
That's why Audubon is so concerned about a decision the Department of the Interior (DOI) made in December. The DOI is going to give wind companies permits to operate new turbine farms for decades, but without any real protection for eagles. Audubon does partner with the Interior Department across the country on a range of issues. But the facts in this case are clear.
DOI has allowed the slaughter of hundreds (at least) of Bald Eagles and Golden Eagles in the seven years since Bald Eagles came off the Endangered Species list. Each of those deaths is illegal, but in all that time, with all those dead eagles, only one power company has ever been penalized. There's no cop on this beat; we've been told by DOI leaders they don't have the staff to enforce the law.
That's bad for eagles, and it's also bad politics for renewable energy. Critics of wind power are already using the lack of protection for eagles as a new way to attack an industry that deserves all the public support it can get. That's a cynical way to undermine the critical need for renewable energy, including the best wind technologies, but the DOI has only itself to blame.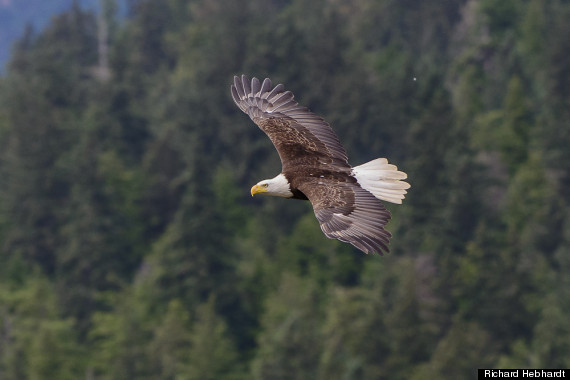 Eagles hold a special place for Americans and we can all be proud of the conservation heroes in communities across the country who helped bring them back from the brink of extinction. These big birds are beautiful and majestic animals -- and a powerful symbol of higher human aspirations. They were worth fighting for in the '60s. They're worth fighting for today.
This post is part of a series produced by The Huffington Post for Save the Eagles Day, which occurs on Jan. 10 each year to raise awareness and support efforts to protect the once-endangered American bald eagle. To see all the posts in the series, click here.
Popular in the Community