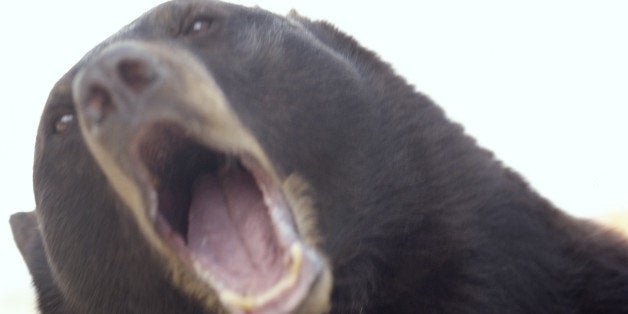 The Easter Bunny is played out. And probably has been eaten by the Easter Bear.
Caroline Tidwell of Estero, Florida woke up Friday to see a 300-400 pound black bear relaxing in her living room, NBC-2 reported. Tidwell initially was afraid the bear was chowing down on her cats, but it turned out the only thing the animal consumed while in her home was her family's Easter candy.
The sugar-addled bear fled the scene, only to break in again the next morning. "We opened the window and just banged on the pot and said 'go away bear' and he went away," she told NBC-2.
Sometimes, bears don't leave as easily. In September, a family camping in Utah was trapped inside their trailer for two hours by an unwanted bear guest.
Based on a bearproofing guide by the Colorado Parks and Wildlife department, Tidwell did the right thing when she saw a bear in her home. The guide recommends leaving doors and windows open and trying to scare a bear away with loud noises like yelling, clapping, and banging on pots and pans. The guide also stresses that you should not approach the bear.
CORRECTION: A previous version of this article suggested that the bear came into the family's home after Easter. The bear went into the home the Friday and Saturday before Easter Sunday.