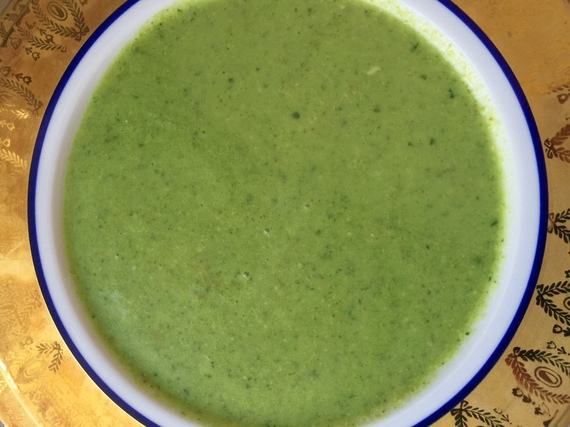 For beginner cooks, creamed soups may seem intimidating, but honestly this soup is so easy to make.
I eat very low carb, so I've modified traditional recipes (leaving out carrots, using heavy cream instead of half and half to lower the carb content further). This recipe makes about 10 servings with 5 grams of carb per serving.
Using Better Than Bouillon gives this soup a rich tasted that will make any cook come off like Julia Child. If you choose, you can use chicken broth instead, but it won't be as tasty.
Please note that with the bouillon and the cheese it may not be necessary to add salt, so proceed with caution.
2 tablespoons butter
1 medium onion, chopped
1/4 cube butter
1/4 cup flour
16 ounces whole cream
24 ounces water
1/2 jar Organic Chicken Better Than Bouillon
6-7 large broccoli heads, stems removed, chopped fine
Handful spinach, for color
16 ounces sharp cheddar cheese, grated
1/4-1/2 teaspoon freshly grated nutmeg, or to taste
Pepper
Salt, if desired
In a medium sized skillet, melt the butter until it's hot, then add the chopped onions and sauté until onions are translucent. Remove from heat and set aside.
In a large soup pot, melt the butter and add the flour, whisking constantly for about 3 minutes. Add the cream, water, and Better Than Bouillon, stir to dissolve, then simmer on low for 20 minutes.
Add the broccoli and onions and cook another 15-20 minutes until the vegetables are soft. Add the spinach, as it will cook immediately.
VERY carefully insert a hand emulsifier into the soup pot and blend to your desired texture. Some people like lumps, others like it puréed.
When you have your desired consistency, add the cheese and stir around with a wooden spoon to melt. Season with nutmeg and pepper (and a teensy amount of salt, if needed).