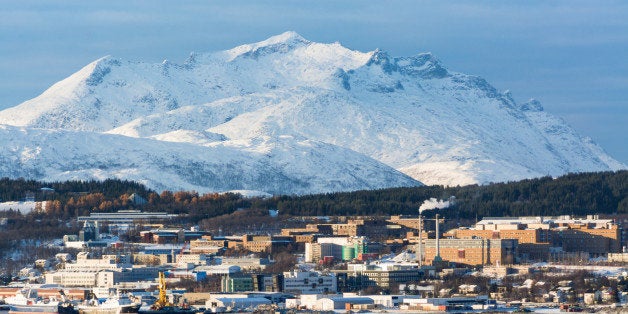 Geographically, politically, economically, socially, naturally, expensively and culturally, Norway is an impressive nation -- no matter how you slice it. It's got the world's longest road tunnel, it is the most successful nation in the world at the Winter Olympics, and it's also the world's third-largest natural gas exporter. Its literacy rate is 100 percent, and it is also the proud owner of the world's largest sovereign wealth fund -- valued at a cool $860 billion -- which is used to help finance public expenses. To add insult to injury, Norway is also credited with inventing the cheese slicer, and it is so geographically and topographically diverse that it has both Europe's highest waterfall and its deepest lake. Impressed yet?
It's no surprise, then, that Oslo is a capital city brimming with poise, beauty and class. A true city for all seasons, it doesn't disappoint: Summers are full of island hopping and endless sun; fall manages to somehow be even better, with temperatures dropping a few notches and the leaves brightening into a bricolage of color; winter in Olso, replete with white lights and white snow, feels like a page out of a Hans Christian Andersen fairy tale; and spring is equally as charming: Think modernist architecture set behind easy strolls and bright flowers. Springtime even brings that puzzlingly amazing Easter tradition that has people reading, watching, listening to -- and even publishing--mystery novels. Påskekrim, everyone.
Let's start with the basics. Covering an area of 175 square miles -- 93 of them forests -- Oslo also boasts 343 lakes and an actual waterfall within the city limits; making it truly one of the world's greenest cities. How green? Approximately half the city and most of its schools are heated by burning garbage and recycling -- think household trash, industrial waste, even toxic and dangerous waste from hospitals and drug arrests -- but the city is so efficient it has even run out of garbage to burn. More recently, a plant in the city began converting household food waste into liquid fuel to run the city's 135 buses. How often do you get to visit a city and know that the very garbage you're tossing is helping it run? Not very often, I'd guess.
Once you hop off a "garbage" bus, there's no shortage of things to do: You can escape to nearby islands in the Oslo Fjord; walk to the world's largest sculpture park made by a single artist; and explore the Royal Palace, where the world's most attractive monarchs still live. You can also visit the Munch Museum for a "Scream," sample anything from fresh Valencian paella to traditional Norwegian sweets at a food hall in a converted warehouse; or hang out in the city's bustling arts district, Tjuvholmen -- or "Thief Island" -- a dockside destination where the city's criminals were once executed. When the sun doesn't set at night, you can hang out at Bla, where there might be literature debates, bingo parties or "Klubb Juicy" taking place; or head to Grunerlokka Brygghus to get a peek of Norway's microbrew culture. Before you fall into bed, however, make sure to follow the reputed Norwegian tradition of kveldsmat and grab a bite to eat.
Oslo: lots to do, lots to see and lots to eat. No wonder the Norwegians are so happy.
Katherine loves Oslo so much that she has even braved it in January. Her grandmother also made certain that Katherine was very proud to be Norwegian.
Popular in the Community