On the heels of a new study on the emergence of local food hubs as an economic force in Iowa, Ecopolis Iowa City will feature leading food experts and advocates at its next forum, "Grow Here: Ramping Up the Local Food Movement" on Saturday, March 28, at the Iowa City Public Library.
"Expansion of local and regional food systems has been linked to solutions that address some of our nation's most pressing social problems including economic and rural community development, obesity prevention, family farm preservation, food security and environmental protection," noted Corry Bregendahl, one of the authors of last month's report, "Food Hub Development in Iowa: Lessons learned from a study of food hub managers and regional food coordinators." Begendahl added: "Food hubs are viewed as an important way to bring local foods from the farm to the table for everyone."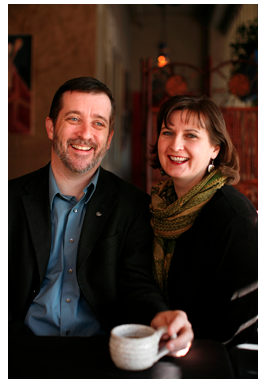 No one understands this better than Chef Kurt Michael Friese, a nationally acclaimed food advocate and Iowa City author, and owner and "chef emeritus" of the renowned sustainable cuisine Devotay restaurant, who has spent the past three decades in the forefront of the local food and slow food movement in the heartland, and across the country. Co-publisher of Edible Iowa River Valley with his wife Kim McWane Friese, Friese has written for numerous national publications, including the Huffington Post, and is author of A Cook's Journey: Slow Food in the Heartland and most recently, Chasing Chiles: Hot Spots Along the Pepper Trail.

In advance of his participation in the Ecopolis Iowa City forum, which will include Dubuque County local foods coordinator Carolyn Grace Scherf, local food entrepreneur Kyle Sieck, and University of Iowa student garden leaders Sophie Coker Gunnick and Andrew Hirst, Friese answered a few questions on the local food movement in Iowa City and the region.
Jeff Biggers: As a long-time local food advocate, chronicler and entrepreneur, do any stories stand out to you as important cautionary tales--both inspiring and vexing---for newcomers to the growing local food movement in town?

Kurt Michael Friese: Old-fashioned persistence has always been a challenge, for me and everyone else. We might plant a school garden to great fanfare and with great participation from everyone, only to see it fade away in a few years. On the flip side, when I opened Devotay 18 years ago, it was the only restaurant in town that bought locally. Now there are probably 20. In a town the size of Iowa City, that's fantastic.
JB: Louisville recently announced its intention to invest in a major regeneration project, turning a former industrial site into a local farm and food hub. Do you think Iowa City should explore a similar "food hub" project, and if so, how?
KMF: Absolutely. When I helped open NewBo City Market in Cedar Rapids, I did so because I was failing to gain any traction here in Iowa City with the idea, and they had a lot of support already in place. What we built there is fantastic, but if I could do it over I would change a couple of things. I would have a much larger, and possibly indoor growing/teaching space. I would have a community kitchen where farmers and makers could create added value products (think sweet corn relish or pickles or bitters) in a licensed facility. Teaching people to cook (as opposed to demonstrating recipes), like in my Public Hearth concept, would be integral. And CSA's and food coops could use some space for distribution, as well.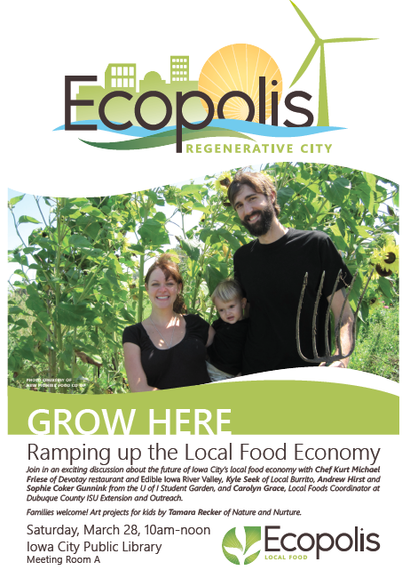 JB: Several cities in California are taking advantage of the state's Urban Agriculture Incentive Zones laws and providing tax credits for local farm efforts. Would such tax incentive efforts work in Iowa City, or do you think there are better ways to promote local farms, community gardens?

KMF: I'm no economist, but I always prefer incentives to disincentives. This idea will be helpful for some who are already interested in the idea of urban agriculture, but I would be pleasantly surprised if it drew in people who didn't already have the itch.
JB: As part of its farm-city-campus "Oberlin Project," the town of Oberlin is aiming to produce 70% of its local food needs. Do you think the City of Iowa City and the University of Iowa should set their own benchmarks for local food production, and if so, how?
KMF: I think it should, although I think county-wide might be more realistic and effective, because then you increase the participating population base markedly. Woodbury County got a start on such a thing when it required at least 10% of the food the County buys to come from within the "Siouxland." To get to a lofty goal like 70% will require mileposts along the way. Think about this: There are about 50,000 households in Johnson County. If each of them redirected just $10.00 of their weekly food budget toward something produced locally, it would keep $26M in the Johnson County economy every year. $20? $52M, and so on.
JB: Other thoughts, ideas?
KMF: We need to find ways to convince people that cooking is not a chore, it is not drudgery. It is what separates us from the rest of the animal kingdom, and it is the most tangible way we have of demonstrating our love to our family and friends. What could be a higher priority than that? Let's revitalize the kitchen and the table as centers of our everyday lives.
Calling all HuffPost superfans!
Sign up for membership to become a founding member and help shape HuffPost's next chapter