Flyers with xenophobic messages have been making the rounds in Edison, New Jersey, angering residents. 
People in the township received the anonymous mailers this week. They feature the photos of two Asian-American school board candidates, Jerry Shi and Falguni Patel, with the word "deport" stamped atop both pictures. The ads also claim that "The Chinese and Indians are taking over our town!"  
"Make Edison Great Again," a riff on President Donald Trump's campaign slogan, was prominently printed on the flyers as well.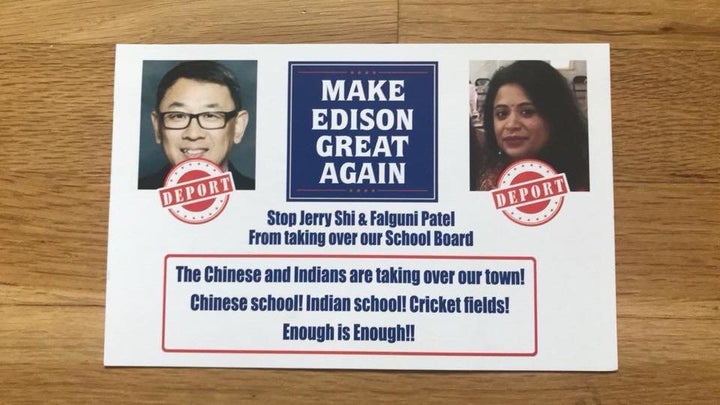 Edison's residents and leaders said they were outraged by the incident. 
"I'm obviously disgusted by it, to say the least," Patel told local radio station WKXW of the ads. "I didn't expect anything like that. We live in a such diverse town, it's very shocking somebody would put that in writing."
Both Shi and Patel also condemned the actions in a joint statement sent to HuffPost, but clarified that they are moving on from the incident. 
"Edison is a wonderful community full of amazing people of all backgrounds, this is our strength," they wrote in the statement. "So, we will not be distracted by these unfortunate attacks. They are un-American and not the Edison we know."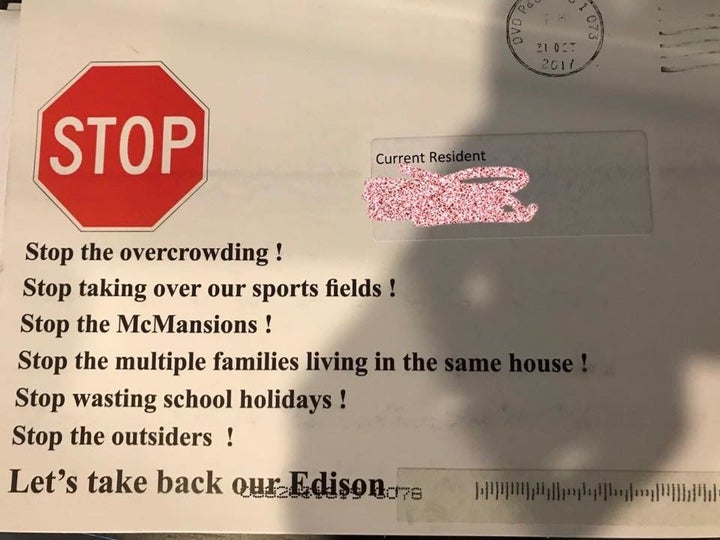 The mailers arrived in envelopes printed with exclamations like "Stop the overcrowding," "Stop the McMansions," "Stop the multiple families living in the same house," and "Stop the outsiders."
Authorities are investigating the incident, but have not yet identified any culprits, Edison Mayor Thomas Lankey told HuffPost in a statement. 
"It has become a sad reality that in our polarized political atmosphere, some people suddenly feel empowered to publicly express these vile nativist ideas," Lankey stated. "Make no mistake, we will do everything we can to expose the shameful people behind this."
The flyers hit home for many residents of the diverse township. Almost 37 percent of Edison's population is Asian and nearly 35,600 residents are immigrants. 
The statements in the ads echo Trump administration rhetoric and are nothing new, said Suman Raghunathan, the executive director of the nonprofit South Asian Americans Leading Together, in an email to HuffPost. She cited the Trump administration's attempts to crack down on immigration, including the RAISE Act and multiple iterations of a travel ban affecting mostly Muslim-majority countries.
Since the 2016 election, SAALT has tracked more than 190 incidents of hate and violence. People with racist, xenophobic views likely feel emboldened by the president, Raghunathan said.
"There is an increasingly troubling and un-American normalization of anti-immigrant, anti-Muslim, anti-Asian (and many others) sentiment in this country," Raghunathan said. "I'm incredibly disappointed and find it telling that the flyer in question cites the Trump campaign's slogan of 'Make America Great Again.'"  
The flyers also highlight another issue that plagues the Asian-American community ― the pervasive stereotype that Asians are perpetual foreigners who will never be truly American, said Terry Ao Minnis, director of census and voting programs at Asian Americans Advancing Justice | AAJC.
"When someone sees an Asian-American, they automatically assume they're not from America, that they couldn't be a citizen," Minnis said. "This is one of the things you see in the flyer ― the idea of deportation and foreigners coming in to take over."
Asian-Americans are currently the fastest growing racial group in the country, and they're becoming more politically active. In fact, the South Asian community in New Jersey is experiencing a "political awakening" in terms of running for political office. It's possible that this could cause others to see the minority group as a threat, Minnis told HuffPost.  
"It is clear that we as a community are growing both in numbers and also being vocal advocates ― speaking up when something is wrong, speaking up for policies and candidates. That is certainly something that frightens those that would keep things status quo."
Raghunathan points out that an increasingly diverse U.S. population should be celebrated, rather than attacked as it was in the ads. 
"The sentiments espoused by these flyers are un-American," she told HuffPost. "We are with you, we are not going away, and we see you. Our nation is better than this."
This story has been updated with a statement from both candidates. 
Calling all HuffPost superfans!
Sign up for membership to become a founding member and help shape HuffPost's next chapter