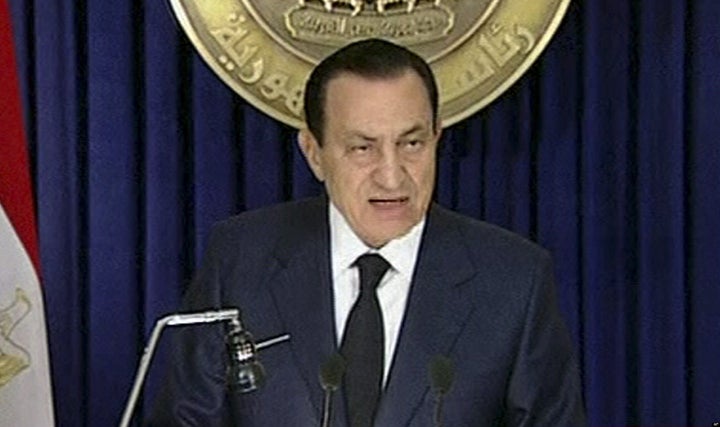 CAIRO (Reuters) - Hundreds of thousands of Egyptians marched peacefully in Cairo on Friday to demand an immediate end to Hosni Mubarak's 30-year rule, but there was no sign of the army or the president's U.S. allies forcing him out just yet.
With the unrest entering its 12th day, protesters camped out in Tahrir Square, the hub of demonstrations in the heart of Cairo, prepared on Saturday to wait him out.
"Mubarak must go, Mubarak must go" and "Hold your ground, God is with us," someone shouted over a loud speaker, after a brief burst of heavy gunfire shortly before 2 a.m. local time.
The origin of the gunfire was unclear and there were no reports of casualties. One protester said the army, which is separating pro-democracy supporters and Mubarak loyalists after violent clashes earlier this week, had fired in the air.
Television footage later showed people milling around but there was no sign of violence.
Mubarak said on Thursday Egypt faced chaos if he left now, setting up for what could be a long war of attrition between him and protesters who say they will not give up until he resigns.
But some Egyptians are keen to return to normal after the nationwide unrest which has crippled the economy. Banks were due to reopen on Sunday, the start of the week in the Middle East, and the stock market on Monday.
The United States has also been pressing the 82-year-old Mubarak to begin a transfer of power and pave the way for democracy in a country which has been dominated by the military since it toppled the monarchy in 1952.
But seeking to deflect criticism of interference in Egypt's affairs, Obama said on Friday: "The future of Egypt will be determined by its people."
Have a tip you want to share? You can leave a message for HuffPost at 00-1-315-636-0962. If you know someone there and have email access, send us an email at egypt@huffingtonpost.com. Our Skype account is HuffPostReports.
REAL LIFE. REAL NEWS. REAL VOICES.
Help us tell more of the stories that matter from voices that too often remain unheard.