Forty years ago, El Museo del Barrio was a dream contained in a single classroom so far north that "sophisticated" Manhattanites would not visit there after dark.
It was founded in 1969 by artist and educator Raphael Montañez Ortiz and a coalition of parents, educators, artists, and activists who noted that mainstream museums largely ignored Latino artists.
Last week, on a cold, windy night, over 1,600 New Yorkers arrived to welcome the opening of the Museum after more than a year of renovations.  The place was so alive, so hot – so on fire.
I focus in this piece on Nexus New York, and in the Daily Kos on the second show Voces y Visiones.
In celebration of El Museo's reopening, the Empire State Building was illuminated with the museum's signature mango-yellow color.
"El Museo del Barrio is at the junction of Museum Mile on Fifth Avenue and the gateway to El Barrio, a neighborhood rich in Latino traditions," says Julián Zugazagoitia, El Museo's Director and CEO.
"Our holdings and programs span from our Puerto Rican roots to a wide range of Latino, Caribbean and Latin American cultures," Julián said.
I was delighted to meet and chat with the curator of Nexus New York, Deborah Cullen, who gave me a detailed understanding of her new exhibition.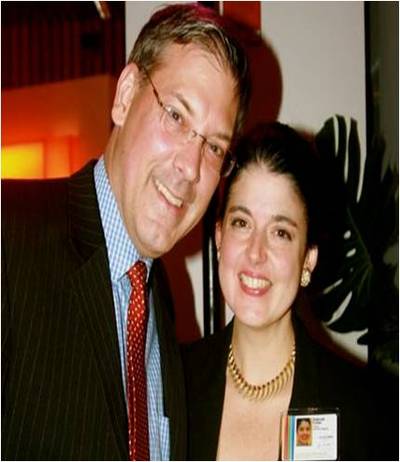 I was delighted to meet and chat with the exhibition's curator, Deborah
Cullen.
"Nexus New York covers new ground for most viewers," Deborah told me.  "The connections brought to life in our galleries have never been concretely explored before – by bringing the actual artworks from the times together, we are allowing them to speak for themselves and the vibrant dialogues occurring from early in the 20th century."
"The longstanding intertwinement of Latin American artists in what has been thought of as "American" modernism, their presence and impact, is very enduring, rich, and multi-faceted," she explained.
This landmark exhibition examines pioneering Caribbean and Latin American artists who lived in New York City before World War II and shaped the American avant-garde.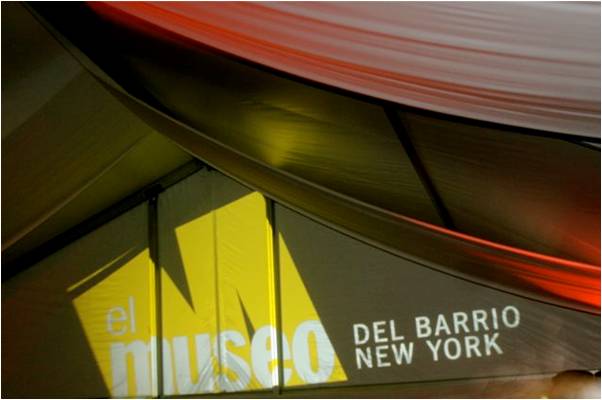 El Museo has unveiled a new visual
identity that reflects the vitality of its offerings and
programs. The new visual identity is the work of Miguel Sal, executed by Elvira
Moran
Between 1900 and 1942, New York City was the site of extraordinary creative exchange where artists could share ideas in a global context.
Nexus: New York is the first exhibition to explore the profound way these artistic exchanges between Latino and non-Latino artists deeply impacted art and art movements in this city and numerous countries for years to come.
Chief among them were Frida Kahlo, Diego Rivera, and Miguel Covarrubias – familiar to me from trips to the museums of Mexico City.  Works from each of the artists' are on show in el Museo's Nexus New York.
Salvador Dali, Robert Motherwell, Wilfredo Lam, and Marcel Duchamp are also represented in the show.
The exhibition is also deeply representative of El Museo's mission to produce new scholarship on the significant yet sometimes overlooked contributions made by Latino, Caribbean, and Latin American artists.
More than 200 important works by artists from Bolivia, Brazil, Chile, Cuba, the Dominican Republic, Ecuador, Mexico, Peru, Puerto Rico, Uruguay, as well as by artists working in the United States, are presented together for the first time.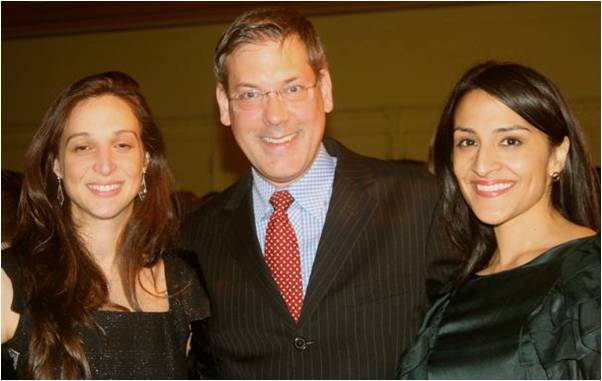 Chatting with El Museo del Barrio staff Michelle
de Leon and Mariana Salem.
The swiftly-changing urban landscape before and between the World Wars inspired the erosion of artistic boundaries and fostered a new climate of modernist experimentation.
Frida Kahlo's haunting work memorializing socialite Dorothy Hale's 1938 suicide in New York is included in the exhibition.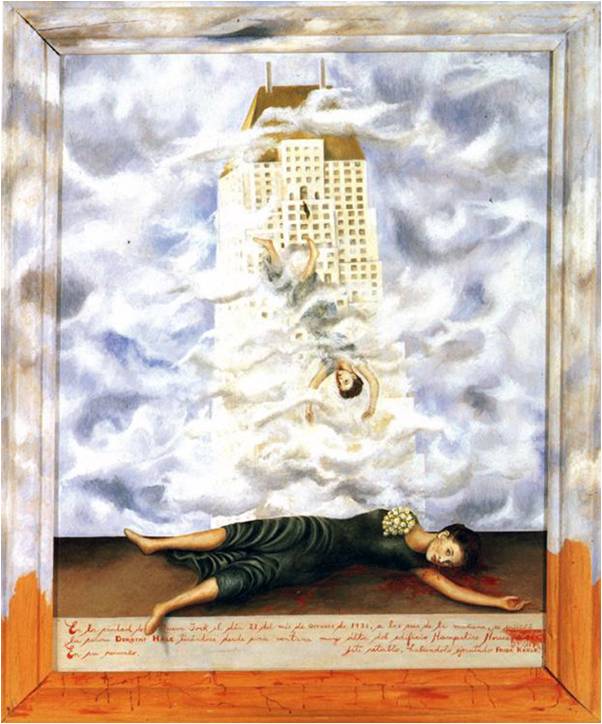 Frida Kahlo. The Suicide of
Dorothy Hale (El suicidio de Dorothy Hale). 1939.
Nexus New York focuses on key artists from the Caribbean and Latin America who entered into dynamic cultural and social dialogues with the American-based avant-garde and participated in the development of a new modern discourse.
The exhibit features for the first time ever, a fresco panel from Diego Rivera's New Workers' School Cycle, completed in late 1933 after his ill-fated Rockefeller Center mural, one of the most significant art world controversies ever to take place on U.S. soil.
This scandal involved Rivera's 1933 mural Man at the Crossroads, which was destroyed in 1934 before completion due to Rivera's sympathetic depiction of Lenin.
Frustrated Rivera utilized his large Rockefeller family fee to carry out the Union Square mural cycle that clearly depicted his political ideologies, once the other project was abruptly destroyed.
Before this controversy, Rivera, who spent 1930 to 1934 in the United States, was honored with a solo exhibition at the Museum of Modern Art in 1931.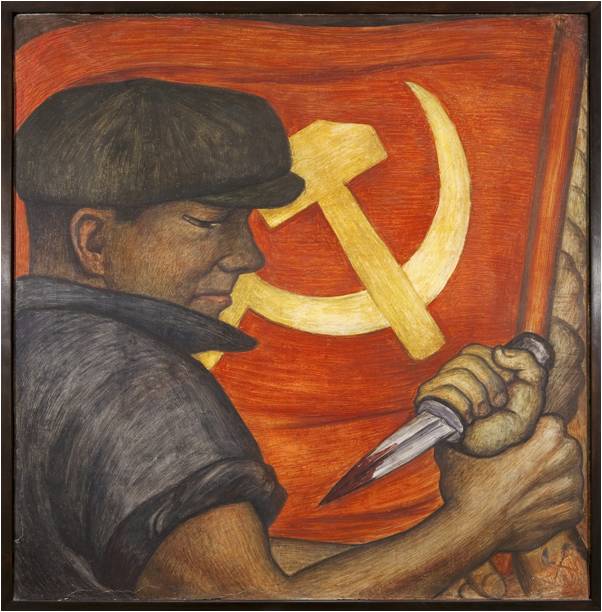 Diego Rivera. Opponent of Fascism (Adversario del
fascismo). 1933.
Photo courtesy Collection Michael Fuchs, New
York.  Photo: Jason Mandella.
© 2009 Banco de Mexico Diego Rivera Frida Kahlo Museums Trust, 
Mexico, D.F. / Artists Rights Society (ARS), New York.
An illustrated, bilingual scholarly catalogue, distributed by Yale University Press, will accompany the exhibition, with essays that focus on specific environments, exchanges, or centers, and which detail the various artists' New York milieus and artistic development.
The renovated museum features a new glass façade, a redesigned courtyard, modernized galleries, as well as a new café/programming space and an expanded shop. 
The design by Gruzen Samton Architects received an award for Excellence in Design presented by Mayor Michael Bloomberg on behalf of the Art Commission of the City of New York.
Major support for the exhibition was provided by the Terra Foundation for American Art, Agnes Gund, and the Henry Luce Foundation.  The lead corporate sponsor is MetLife.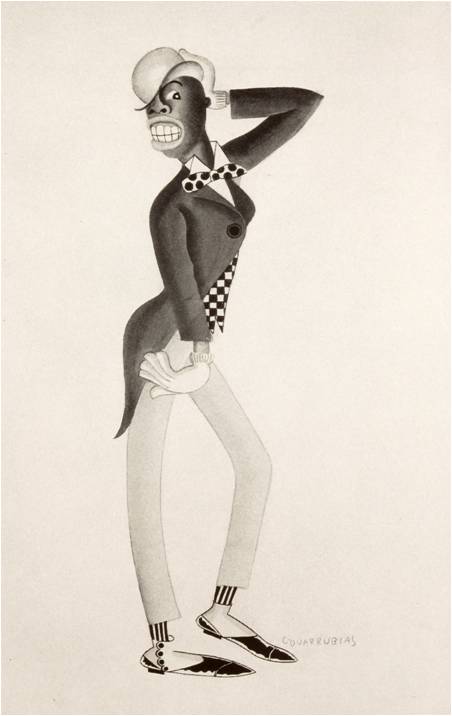 Miguel Covarrubias.  Comedian (Humorista). 1927.
Photo courtesy of El Museo del Barrio, New
York City.
Photo: Jason Mandella. © María Elena Rico Covarrubias.
A dynamic artistic, cultural, and community gathering place, El Museo is a center of cultural pride on New York's Museum Mile.
Since its inception, El Museo has been committed to celebrating and promoting Latino culture, thus becoming a cornerstone of El Barrio, and a valuable resource for New York City.
El Museo's varied permanent collection of over 6,500 objects spanning more than 800 years of Latin American, Caribbean, and Latino art includes pre-Columbian Taíno artifacts, traditional arts, twentieth-century drawings, paintings, sculptures and installations, as well as prints, photography, documentary films and video.
El Museo del Barrio is located at 1230 Fifth Avenue at 104th Street, across from Central Park and one block above the Museum of the City of New York.  It is situated between the Upper East Side and East Harlem – "El Barrio."
Photos of reception attendees by John Lee.
Calling all HuffPost superfans!
Sign up for membership to become a founding member and help shape HuffPost's next chapter