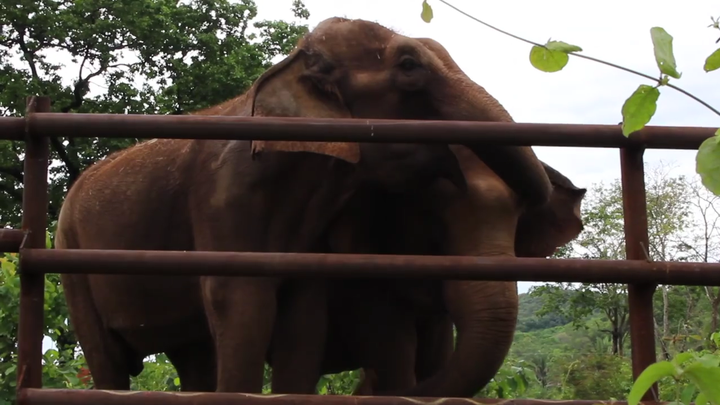 A new elephant sanctuary in Brazil is giving two old gals a fresh start.
On Oct. 11, Maia and Guida, two Asian elephants who spent four decades at the same circus, became the first residents at Elephant Sanctuary Brazil. The area is Latin America's first reserve for elephants who'd previously been in captivity.
On their first day at the 2,800-acre facility, located in the western Brazilian state of Mato Grosso, a video was posted of the two majestic mammals affectionately entwining their trunks and touching one another gently: 
Maia and Guida, both over 40 years old, spent most of their lives in a circus 800 miles away in the Brazilian state of Minas Gerais. After they became too old to perform, they were sent to a nearby farm, where they spent the past five years tied up in chains. Guida was allowed out of her chains occasionally. But Maia, who was considered more aggressive and has knocked Guida over in the past, was not.
Blais told CNN that ever since the pair arrived at their new home, there have been no signs of hostility between them.
"Their very first contact they had with each other without a barrier, Guida was a little defensive, a little protective, and after that it was like they have been together, side by side, best buds for 50 years," he said.
This is the first of hopefully many success stories at Elephant Sanctuary Brazil. Officials at the facility estimate that there are more than 50 aging and at-risk elephants in South America that have lived the bulk of their lives in captivity and need a place to enjoy their golden years in peace, per The Associated Press.
Elephant Sanctuary Brazil, built on an old cattle ranch, aims to provide its animals with veterinary care and acres of tropical land that includes forests, pastures, creeks and springs in which to roam.
Blais, who co-founded a similar sanctuary in Tennessee in 1995, told the AP that when these intelligent animals that have been caged for decades finally get a taste of freedom in a controlled and safe environment like a sanctuary, their true personalities come to light.
He uses an elephant he knew back in Tennessee, named Sissy, as an example. She was labeled anti-social and a killer after a zookeeper who was handling her died from crushed ribs. Sissy wasn't expected to last long in Blais' sanctuary. But 16 years later, she's flourishing.
"We saw that all the things she was labeled with were not her at all," Blais told the outlet. "She evolved into one of the most sensitive, complex beings that I've ever witnessed."
Calling all HuffPost superfans!
Sign up for membership to become a founding member and help shape HuffPost's next chapter
BEFORE YOU GO
PHOTO GALLERY
Elephants Mia and Sita Rescued From Indian Circus