Mom-of-three Michele Bell has captured the Internet's attention with her elaborate Elf on the Shelf setups, which she uses as an opportunity to teach her kids about history, literature, and pop culture.
Bell got into the Elf on the Shelf game five years ago when her mother gave her the doll. After Bell's then-3-year-old daughter Finley named the elf "Alfie," the mom slowly began exploring the world of elf antics. "The first year, I thought it was kind of silly -- but by the next year, we started to move it around the house, and the kids started to think it was fun," Bell told The Huffington Post.
"Last year it got out of hand," the mom added. Bell set up elf scenes that incorporated lessons for her kids and documented her creations on an Instagram account for Alfie. From dressing Alfie up as historical icons to putting him in the pages of classic books, the mom saw no limit to the elf's educational potential.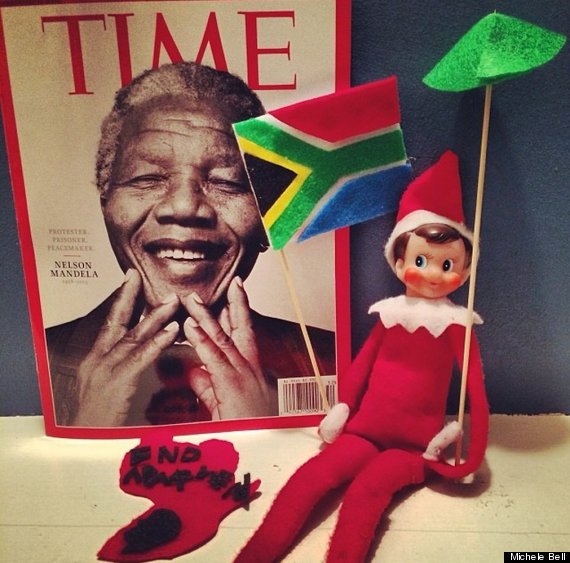 "I've tried to weave in some lessons about history, empathy, and giving into some of the Alfie sets," she said. "For example, when Nelson Mandela died last year, I did a tribute to him where he had the flag, an umbrella, and a felt Africa that said, "End Apartheid."
Today, 8-year-old Finley and her two little brothers, 6-year-old Sanders and 3-year-old Charlie, love Alfie so much that they race to find him as soon as they wake up each morning. And while Bell's Elf on the Shelf scenes are on the elaborate side, she says she's learned that "it takes very little to brighten your child's day." The mom said Elf on the Shelf need not be a Pinterest-filled project, "Even moving them just a few inches can make your children feel magical -- if even just for a few minutes!"
While the mom is aware of the Elf on the Shelf backlash, she called it "absurd." "I think there are other things to get worked up about other than Elf on the Shelf," Bell said. "I love our Alfie and we're sticking with him."
Check out a sample of Michele Bell's culture-filled scenes with Alfie: