Elon Musk and Grimes have a third child, according to a new biography about the billionaire tech entrepreneur.
In a review of journalist Walter Isaacson's forthcoming tome about the Tesla CEO, The New York Times revealed Musk and Grimes are parents to a son named Techno Mechanicus, whom they call Tau.
Representatives of both Musk and Grimes did not immediately return HuffPost's request for comment.
Musk's third child with Grimes, given name Claire Boucher, makes him a father of 11.
He fathered six children with his first wife, Justine Wilson, before welcoming son X Æ A-12 with Grimes in May 2020. The pair had daughter Exa Dark Sideræl, whom they call Y, via surrogate in late 2021.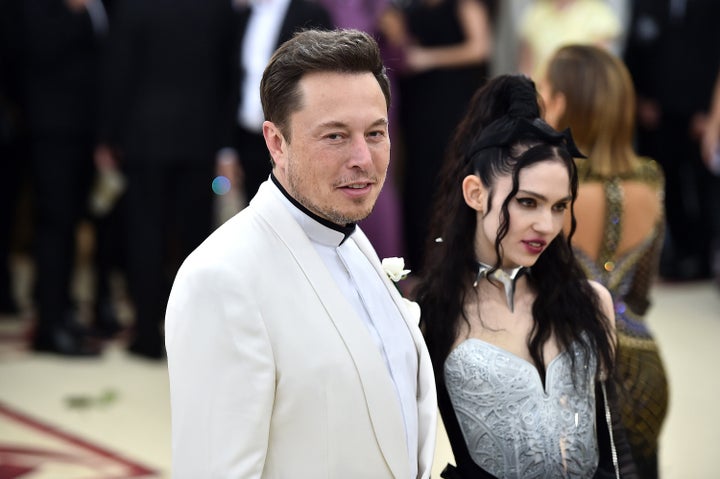 Just weeks before Y's arrival, former Neuralink executive Shivon Zilis gave birth to Musk's twins Strider and Azure. The public didn't learn about the babies until the next year, however.
After the news of his twins with Zilis emerged in summer 2022, the SpaceX CEO joked about his growing list of heirs, telling Twitter he was "doing my best to help the under population crisis" and that "a collapsing birth rate is the biggest danger civilization faces by far."
Last week, Grimes appeared to share a troubling plea to the father of her children, who reportedly ended their relationship for a second time at the start of 2022.
In unverified screenshots circulating the web, the "Oblivion" singer appears to respond to a photo of Musk, Zilis and their twins saying, "Tell Shivon to unblock me and tell Elon to let me see my son or plz respond to my lawyer."
"I have never even been allowed to see a photo of these children until this moment, despite the situation utterly ripping my family apart."
Support HuffPost
The Stakes Have Never Been Higher
Popular in the Community