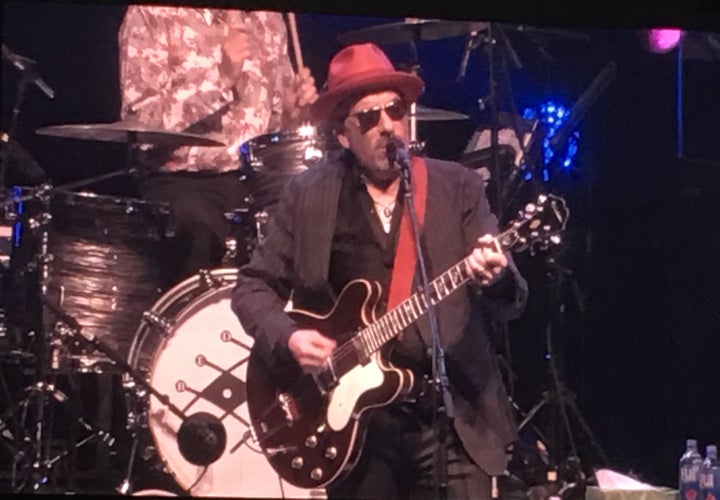 Elvis Costello's blazing streak from the English Punk Rock and New Wave scene in the late 1970s into rock super stardom in the 80s started with his debut album My Aim Is True. His songs were like electric shocks to the body. He was alternative rock before it officially existed. He was his own genre of existential outrage; self hating and self loving his misery and triumphs. His violent poetic streaks across 12 bars or rock and roll seemed to bring a new excitement and expression to a medium already bored of the punk scene it created. When he famously changed his performance during his live set on SNL in 1982 to an unapproved song and was banned from the show for years, his 'bad boy' reputation was cemented in stone. He created a lyrical code that is now normal expression for intellectual rock and roll for bands like Cold Play, Muse, The Black Keys, One Republic, Imagine Dragons and up through Fall Out Boy, Linkin' Park and Panic at the Disco.
Last night at the Greek Theater in Los Angeles, Elvis Costello proved he's still an original. He rocked the stadium for two hours and coursed through 30 songs that centered around his pinnacle album; Imperial Bedroom. An emotionally complex and verbally dexterous expression, musically playful, creative, catchy and punishing. Released in 1982 the album was listed 38th on Rolling stones 100 great albums of the 80s, and voted best album of the year on The Village Voice Pop and Jazz critic poll. It's what some feel is the best album in a career that spans over 20 other albums, a career that includes collaborations with Paul McCartney and Burt Bacharach, and playing stadiums as well as at the White House for President Obama.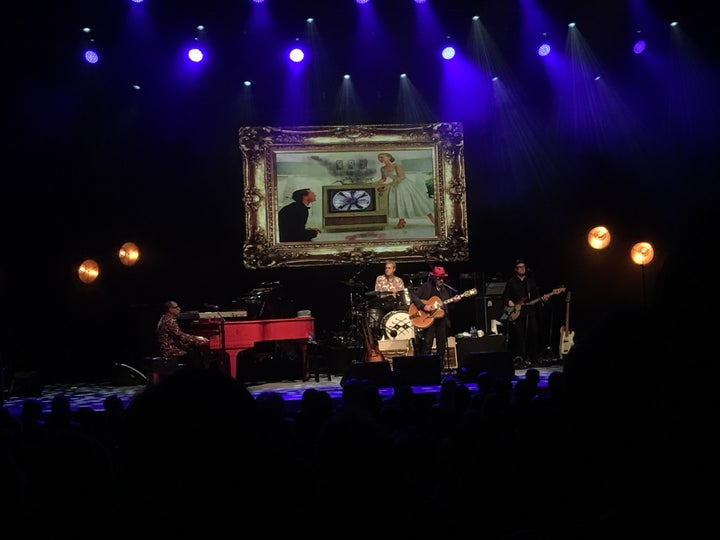 Hearing Imperial Bedroom live was still as much of a thrill as it was hearing the genre bending album back then. Performing on a simple stage the "Imposters" were long time Costello collaborator Steve Nieve at a red grand piano and multiple keyboards, drummer Pete Thomas (from the Attractions), and bassist Davey Faragher ("The newest member of the band for only 15 years!" Costello remarked later) and two back up vocalists vocalists, Kitten Kuroi and Briana Lee. They started just after 8pm as crowds were still lined up to get into the stadium and many were still rushing to their seats.
The crowd cheered his arrival at the foot lights as Costello jump started "Loved Ones" and "In Every Home" and "Tears Before Bedtime." After which he came to the mike for frequent anecdotes and amusing insights into his work throughout the evening. His love of performance and crafting of his art was infectious. In many songs his guitar filled the auditorium with his unmistakable distorted vibrant solos belaying his punk roots.
Talking about Imperial Bedroom he said:"We made this album before many of you were born. And we thought we made the feel good hit of the summer! You can imagine my dismay when I saw the album art by Barny Bubles. When I saw that I thought. Oh my God, is that what we made? He called it the 'Snake charmer and the reclining octopus'. I always hoped I was the snake charmer."
Tearing into 'Accidents Will Happen." And "Armed Forces" the crowd cheered as the rockers who've kept time together for almost four decades drove tight arrangements of the crowd's favorites. There were also some new interpretations of his classics, "Shabby Doll" for example was slower and more sultry, and on "Go Tell" Steve Nieve's piano was chiming powerfully and Costello's dissonant guitar raging. "Watching the Detectives" happened in almost a complete blackout with Costello underlit in green while pulp fiction movie posters shimmered across the large video screen behind them.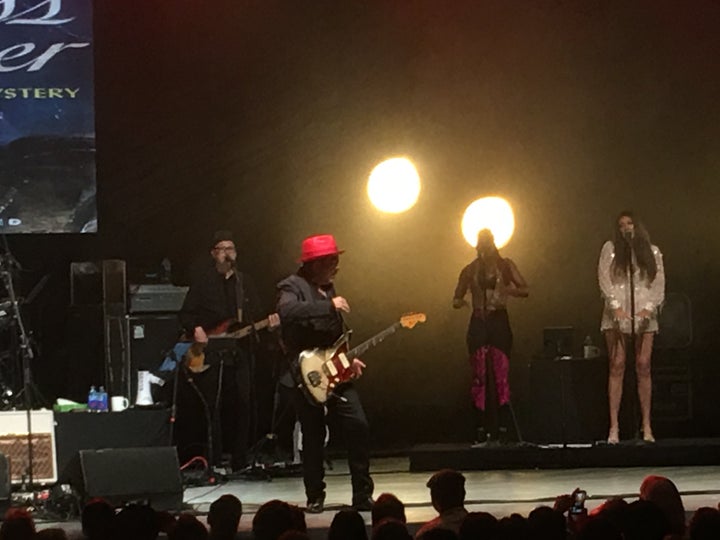 "This was a song about a woman so fixated on a TV show it drove her man out of her mind. And now, it's the same scene a few years later, the TV is still on, but is' only snow, and the boy is gone. There's been a long honeymoon – and it's like no time has passed" and he rolled into "Long Honeymoon."
He blazed through many other cuts on Imperial Bedroom including "Kid About It", "Indoor Fireworks", "You Little Fool", and 'Pidgin English'
"I did my first album, My Aim Is True, In 24 hours, the second, Armed Forces, took three weeks. So when we booked 12 weeks to do Imperial Bedroom, we really thought we had hit the big time," he shared. "The recording studio looked down on Oxford Circus and looking out a night, you'd see people going home and you didn't know if they were heart broken, or in love, or on the way to the greatest night of their lives. And I tried to put some that into my songs. And this one is great, because it was sung my my girl, so this one goes out to her in Milwaukee," and he rolled into "Almost Blue." His girl, of course, is his wife Diana Krall, who did a cover of 'Almost Blue' on her album in 2004. Almost Blue was a critic highlight of Imperial Bedroom for its haunting emotionality.
After closing, Costello returned for two encore sets. He played another ten songs split up by a standing ovation as the crowd demanded even more. He started with a beautiful rendition of 'Alison' with just his back up vocalists at a single mike in a spotlight. Then several brilliant duos with Steve Nieve including a crashing cascading piano tour de force on "Shot With His Own Gun". "Beyond Belief" and "Man Out of Time" brought the whole band back to the stage and the crowd to their feet before rolling into their second encore, which was the most high powered set of the night. They started with "Every Day I Write the Book," his highest charting song, which reached #2 on the English charts, then had the crowd dancing with a stadium rocking "Pump it Up" and a finale that was a simple political statement of the night: ending his concert with a long jam of "(What's So Funny 'Bout) Peace, Love and Understanding."
What is amazing about Elvis Costello is that no one sings like him, his phrasing is still unique, he still inspires and seeing him play his early work and a masterpiece of an album live made for a truly unforgettable evening.