When SPIN magazine asked me to select a track to debut from their Nevermind 20th anniversary tribute record of covers, I asked for two; nobody wants the job (nor the subsequent heat from fans with their own opinions) of picking just one moment from that damn album which means so much to so many... what song from Nevermind would you choose?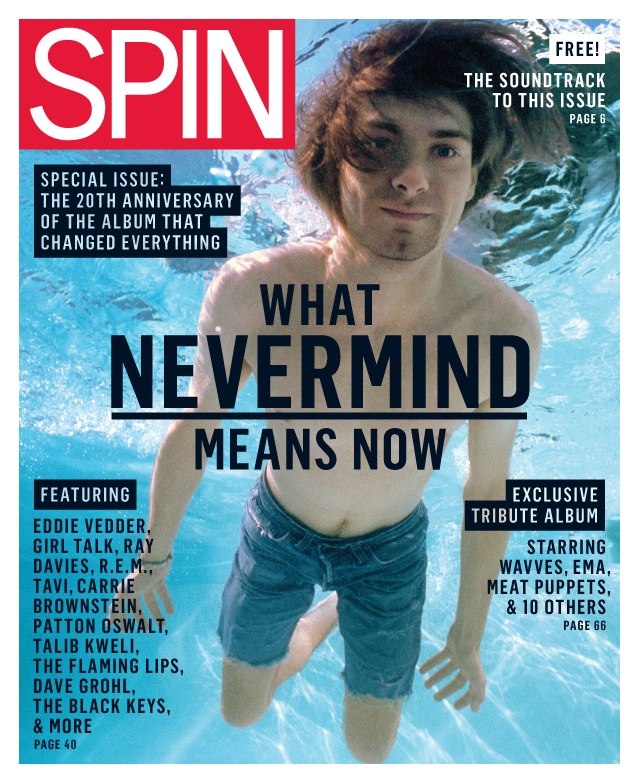 Does it offend you, yeah/no? Kurt Cobain moons for the camera during a photo shoot.
In making a splash, is SPIN painting a vulgar picture? No, not really, to my mind, as there is no doubt that the subject in this photo was fully cognizant of his pose and its significance, making this image less a matter of controversy -- irrespective of any intent to drum up editorial drama, or even the sacrosanctity fans have conferred upon Cobain -- and much more a personal statement from the artist, manipulating everything around him to show it for what it really was. My own thoughts on including this photo herein -- and I apologize if this sounds presumptuous -- are exclusively for Miss Francis Cobain, who may not have seen this image, and to whom I can only say that it is another challenging work of dark humor from her father who was a complex artist, and that sharing it does not feel contrary to what we as fans understood of his aesthetic and his wit. One might reasonably note that in this image, Mr. Cobain was having the last word.

Herewith, the full track listing from the project -- and by way of a referendum of sorts, I included an approximate number of cover versions performed by Nirvana fans on Youtube. Perhaps a fan-generated, fan-curated covers album might be an interesting project.
"Smells Like Teen Spirit" Meat Puppets (11,1000 -- incl Patti Smith, Tori Amos)
"In Bloom" Butch Walker (2,120 covers)
"Come as You Are" Midnight Juggernauts (3,510)
"Breed" Titus Andronicus (2,380)
"Lithium" The Vaselines (2,520 incl. The Pink Panther and Polyphonic Spree)
"Polly" Amanda Palmer (2,280)
"Territorial Pissings" Surfer Blood (4,170)
"Drain You" Foxy Shazam (4,839)
"Lounge Act" Jessica Lea Mayfield (864)
"Stay Away" Charles Bradley and the Menahan Street Band (1,190)
"On a Plain" Telekinesis (2,600)
"Something in the Way" JEFF the Brotherhood (3,400)
"Endless, Nameless" EMA (800 incl Muse)
The versions above range from straight-forward emulations to complete re-workings, the latter of which I found more interesting. Alas, I was asked to pick just one song -- but first, a few highlights, to my ears:

"Come As You Are" Midnight Juggernauts
While I would have thought first right-of-refusal would be offered to Killing Joke (whose bass line for their track "Eighties" was an inspiration, as admitted by Cobain, and who also know something about album-cover controversy from their "Malicious Damage" artwork -- which adorns my favorite T-shirt) Midnight Juggernaughts' "Come As You Are" delivers a worthy-beyond-the-dancefloor bit of hypnotic stomp-and-shiver electro with tapered edges that give the funk an added momentum, over which a spacey quasar-pulsing keyb counts up and down the scale, before the (vocoded and human) vocal -- swoons overhead, eventually arresting one's consciousness, hyper-focusing on a single word: "memory" against which a solemn, mournful, counter-harmony rises, ending beautifully, a cappella , inducing a possible embrace of loss, and a sorrow great enough to give one comfort. This is one of my favorite versions on this album, emerging as unexpected elegy.
Foxy Shazam's vampy, glammy rhapsody is a delirious, nearly hyperventilating affair. Within the measure of a percussive piano, the breezy brass section yawns and stretches time, giving the work a proper swing, - and making for a very welcomed change-up on this album. It is the most joyous work here, yet it had me closer to tears than any other song. OK, I was in tears. While I always admired the dark instrumental passage of the original, which felt a lot like Joy Division and the modern rock progeny they inspired, Foxy Shazam's breakdown-slash-build-up isn't as Goth -- instead, it just builds like a bull-ring showdown, slyly throwing in Wagner's "Thus Spake Zarathustra" aka the theme from 2001: A Space Odyssey. 'Probably my favorite work from this album, and one I would love to hear performed live.
"Stay Away" Charles Bradley and the Menahan Street Band
Charles Bradley -- who'd never heard the original -- delivers a steamy, soul number that will have you clicking DL in seconds. As a Daptone label project -- and in the age of Saadiq and Barkley -- it could be called "revivalist", save for the fact that Bradley was born in '48 and knows this sound intimately. This will no doubt be heard in wider circles and will be perhaps the most talked-about version on this record.
I chose "Polly", a most literary bit of music and certainly one of the band's most dialogue-inducing works perhaps because frankly, as part of the generation that just-missed Punk (I am 45, the same age Mr. Cobain would be) I still feel an admittedly inchoate, dare I say Punk (as I define it) need to give impact and purpose to a message, while not shying away from the challenging ambivalence that the expression and experience of the baroque posits in each of us to confront our own potential darkness.
"Polly" emerges as anomaly on Nevermind, almost like an interlude, but it instantly locks the listener in a room of horrific design. This is not the anarcho-individualistic candle-lit retreat of "Lithium". It is hell, and through the power struggle it depicts, it inherently intoxicates us with both the captor's sense of absolute power and the captive's will to ultimately escape.
Historically noted by band members as having been written by Cobain after reading about the abduction, torture, rape -- and ultimately, escape -- of a fourteen year-old runaway in Tacoma, Washington in 1987, "Polly" is not simple, and has been viewed by fans as a cool song about bondage, a misogynist gross-out and a beguilingly dark taking on of the psychopathic mind, in addition to myriad other listener experiences.
Maybe I selected "Polly" because as I typed this up, news outlets were chirping non-stop about the ratings bonanza to come from "new details" as told by another abduction, rape and torture victim, Jaycee Lee Dugard, whose kidnapping by Phillip Craig Garrido, occurred in June of '91, three months before Nevermind was released. Ms. Dugard's ordeal lasted 18 years until she was rescued in 2009. By way of oddball trivia, it was a 27-year span between a prior abduction by Phillip Craig Garrido and the abduction of Dugard.
By way of cultural context, this was also the year Bret Ellis published American Psycho and Silence of The Lambs won Oscars for best picture, actor, actress, director and adaptation. I had interviewed Ellis in '89 when he was working on American Psycho and he told me that he'd be crying from reading all these horrible books about serial killers, as he'd been working on a book "about a guy who works on Wall St. and like to kill prostitutes." I had no idea what he was really up to until I read American Psycho. By way of additional trivia, "Polly" is also the only song from Nevermind on which Chad Channing, Nirvana's original drummer, performs.
In a case of very interesting casting, Amanda Palmer's headphone odyssey is a in three-movement, work comprised of her signature, alternately dark and twee music box lullaby; a banjo arpeggio; a lone bass line. The secondary female voice screaming -- and the simple fact that a female sings "Let me take a ride....clip your dirty wings" invites additional meditations, and yours are welcome in the comments section.
"Polly" as performed by Amanda Palmer

Extra-credit viewing: Author Michael Azzerad and filmmaker AJ Schnack take audience questions after the screening of About A Son, plus a fan's notes, shared on-camera.
Popular in the Community