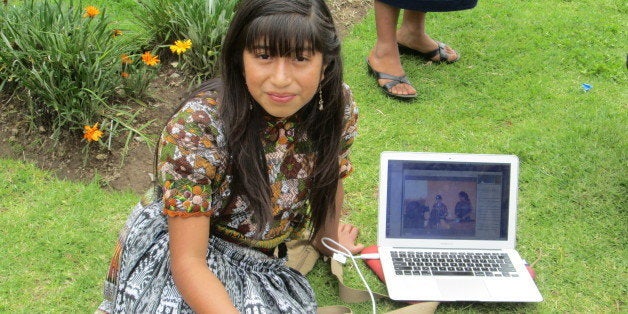 She helped secure funding for girls' education and health in her rural Guatemalan town, and the international community noticed.
Last Tuesday, Emelin was invited to speak at the United Nations' Commission on the Status of Women alongside the U.N. Secretary-General Ban Ki-moon and humanitarian Melinda Gates, NPR reported. She spoke on behalf of Let Girls Lead, a nonprofit that helped Emelin advocate for her hometown peers.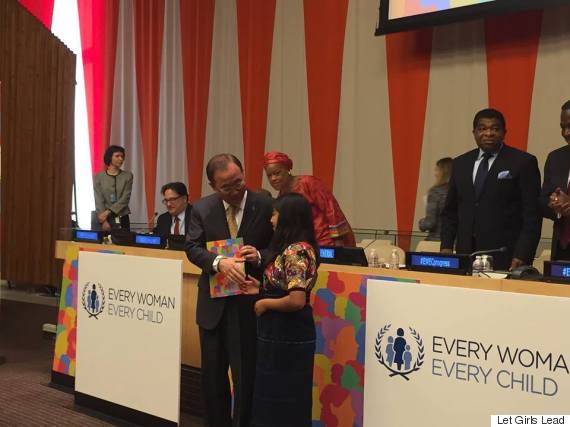 Emelin with U.N. Secretary-General Ban Ki-moon on Tuesday, March 10, 2015. Photo: Let Girls Lead
Girls in Emelin's community are struggling to overcome numerous obstacles, she said in her speech, which was translated from Spanish and provided to The Huffington Post. They face disproportionate rates of "early pregnancy, maternal death, rape, lack of education and health," according to the teen. The majority of Guatemalan children who are not in school are indigenous girls from rural regions of the country, like Emelin, the Global Education Fund points out.
Their attempts to promote change began with grassroots efforts, like meeting with government officials and speaking on youth radio programs. They developed a detailed policy proposal to present to the mayor, Let Girls Lead told The Huffington Post, and at first, the mayor laughed in their faces. But they continued to fight for their cause, and local government finally came around.
Less than a year after Emelin began her advocacy work, the mayor approved funding that led to the construction of the Municipal Office of Childhood and Adolescence in her community.
The center provides several support services to residents -- access to peer counseling for adolescents, initiatives to bolster girls' engagement in the democratic process and legal accompaniment to cases of rape and domestic violence.
"It is important that we as adolescent girls are empowered to defend ourselves and not to be tokenized or utilized," Emelin said in her speech. "So now as a leader in my community, I have decided to fight for my rights, because the rights of girls and women are human rights."
Emelin was able to promote her efforts with help from Juany Garcia Perez of the Adolescent Girls' Advocacy & Leadership Initiative, according to NPR. Perez -- who was introduced to Emelin through Let Girls Lead -- taught her skills that'd help create positive change, such as community organization and public speaking.
Emelin used her opportunity addressing world leaders last week to not only promote gender equality in Guatemala, but globally.
"I want all leaders with decision-making power to act on behalf of girls around the world so they can have opportunities," she said in her speech. "You have the responsibility to ensure girls' happiness."
To take action on pressing education issues, check out the Global Citizen's widget below.
Before You Go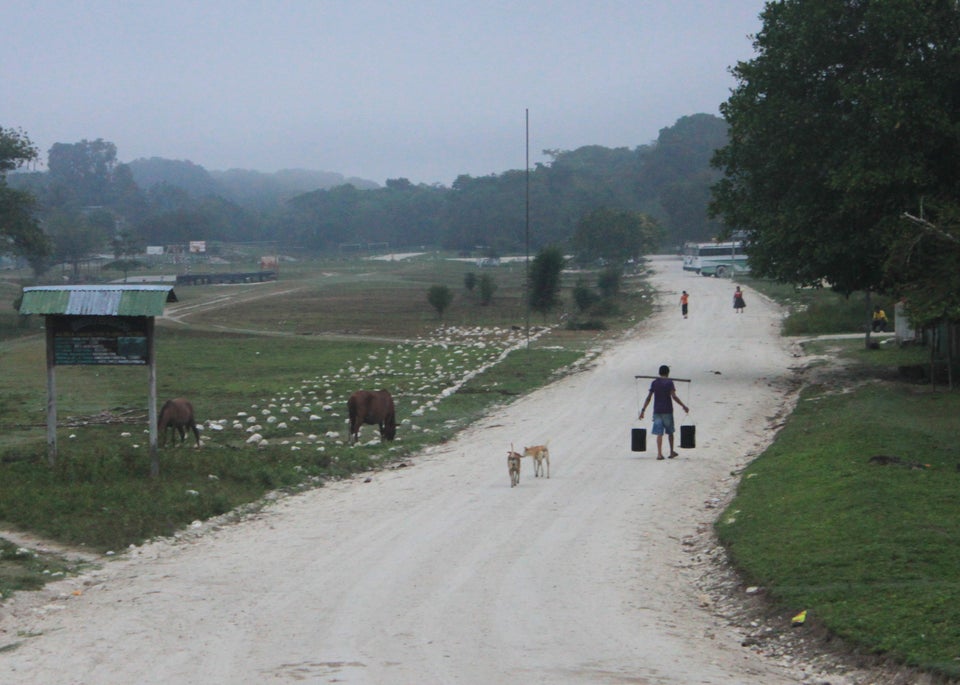 The Maya in Guatemala