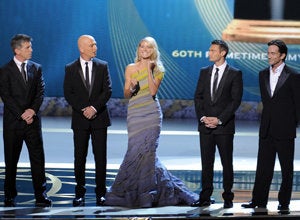 And the award for lowest-rated Emmys ever goes to ...
ABC's Sunday night telecast.
The three-hour 60th Primetime Emmy Awards ceremony received a 3.8 rating/9 share in the adults 18-49 demo -- the lowest in Nielsen's recorded People Meter history. That's 12% below last year's previous Emmy record low, a ceremony hosted by Ryan Seacrest on Fox.
Among total viewers, the Emmys effectively matched the previous historic low from 1990. Last night was seen by 12.2 million viewers, lower than last year (13 million), on par with 1990 audience (12.3 million).