Just yesterday, I gave birth to a bouncing baby boy. He was 8 lbs 7 oz. 22 inches long and with all his fingers and toes. A beautiful, healthy baby. Holy sh*t, did he blindside me. I never thought I could love anything as I much as I did that baby boy. Well, guess what? Said baby boy was 20 years old when he moved out. Away... from home. I've had good and bad days since he left. I was sad a lot.
20 years of taking care of him. Feeding, clothing, bathing... wait, I stopped that when he was a toddler.
I look around and see so many of my younger friends in the midst of it all. How frazzled they all look.
The baby years: When all you do is look at this thing you and your hubby made and wonder at the miracle of it all. They are totally dependent on you.
The toddler years: When they take their first step away from you and become their own little person the first time they say no.
The child years: The most fun years where everything they do is done with such joy. Oh, and the hugs and kisses.
The tween years: The aforementioned joy is now DRAMA at every waking moment. You start thinking, why did I get pregnant? And you have to tell them "I promise I won't kiss you in front of your friends."
The teen years: I was lucky, he was a great teenager. But for the rest of you... You really start worrying Who is this satan's spawn I gave birth to?
And then, just like that, they leave. No warning at all.
"Mom, it's time for me to go"
Seven words that broke my heart, sniff.
Him leaving home meant a various amount of things to me. He was an adult, I was getting older, I would actually have to talk to my husband. I knew this was the part of parenting that sucks. You hear other people say "Push them out of the nest and see them fly." I really don't know how birds do it. I bet when no one is looking there's a group of canaries drinking out of a spiked water fountain lamenting the loss of their chick.
Look, I KNEW it was the right thing, but it's like one day we were driving along at this fast clip and suddenly, we screeched to a halt. Truth is, I missed him A LOT. My heart ached and I pulled away too just to make his transition easier. Don't even get me started on what THAT does to a Jewish mother. NOT being able to hover??? Oh, the humanity...
I DIDN'T WANT TO STOP MOTHERING!!! I liked it too much. Everything about it. The dirty faces, the spills, the fights, the tears, the birthday parties, the house full of noisy kids after a little league game. I could go on, but you get my point.
So, I made peace with it and said to my son Layne, "You're the light of my world, go out and soar kid, show 'em what you're made of. I'm already so proud of you."
Fast-forward about a year later.
Imagine my surprise around October of last year when my son mentioned to me that he was unhappy with his living arrangements. I had to word my response carefully, even though I was bursting at the seams, thrilled that my son wanted to return home.
"Well," I said "If you really need to come home, I guess we'll make room."
(Of course I wanted to do a happy dance right then and there but I held myself back.)
A lot of my friends couldn't believe that I was letting him move back home.
"What about your new-found freedom?"
Yes, empty nesters, this is what you will hear when your child moves away: Freedom, vacations, hours of uninterrupted sex! Let's go over these, shall we?
Freedom? From what? I still paid for his cell phone and groceries AND he came home to eat at least twice a week.
Vacation? I'm a comedian, we don't DO vacations. My vacation is when I go on the road.
And uninterrupted sex? Are you kidding me? I live with my mother-in-law who has no boundaries, so let's not even go there.
To be honest, I am a nurturer, I like taking care of people, the more the merrier. When he moved out we of course did what every empty nester does -- we made his room into an office. We live in NYC where space is premium, so an extra room was heaven. And as much as we wanted him home my husband & I were not too thrilled about having to share our "office". It didn't help when he actually said to me, "Can't you move the computer back to your room?" And in typical New York style I told my son "Go Fuck Yourself" And yes, he still wanted to move back.
During the holidays when he spent more time at our home then his own, I could tell he was ready to be mothered again. My favorite part of the holidays was when he and a bunch of kids he went to high school with showed up and just hung out for a few hours. For those brief moments, I was den mother all over again. Pizza was brought in, beer now instead of juice boxes and when they left to go to a party the house looked destroyed as it always did back then.
And I smiled... he's home.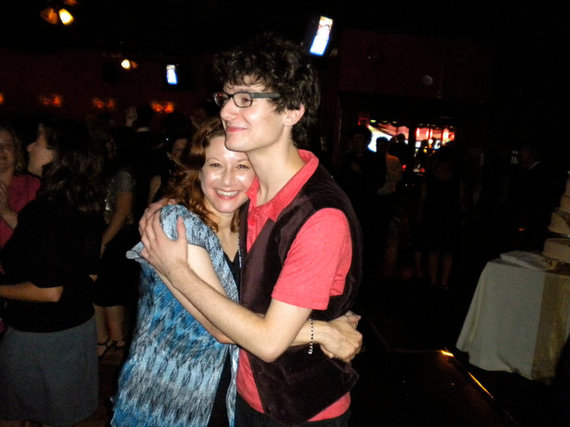 PHOTO GALLERY
Celebrity Empty Nesters