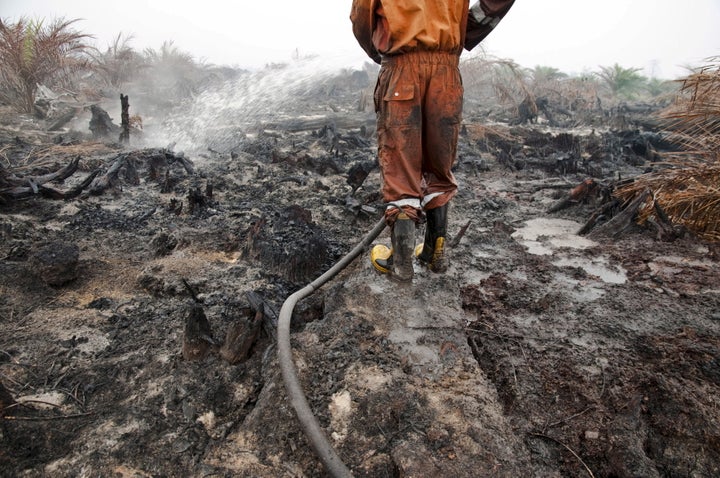 For those tasked with the protection of our planet, 2015 was a year steeped in blood.
At least 185 land and environmental defenders, those who take peaceful action to protect natural resources, were killed in 2015, according to a new report released Monday. Those figures, the highest ever documented by the watchdog group Global Witness, represent a stark increase of nearly 60 percent from just a year earlier and an average death rate of more than three people per week.
"The environment is emerging as a new battleground for human rights," the report, "On Dangerous Ground," reads.
More than half of those killed came from just three countries, Brazil had 50 deaths, the Philippines, 33, and Colombia, 26. All are home to fierce battles between indigenous residents and corporations engaged in environment-harming enterprises like logging, mining and the expansion of plantations.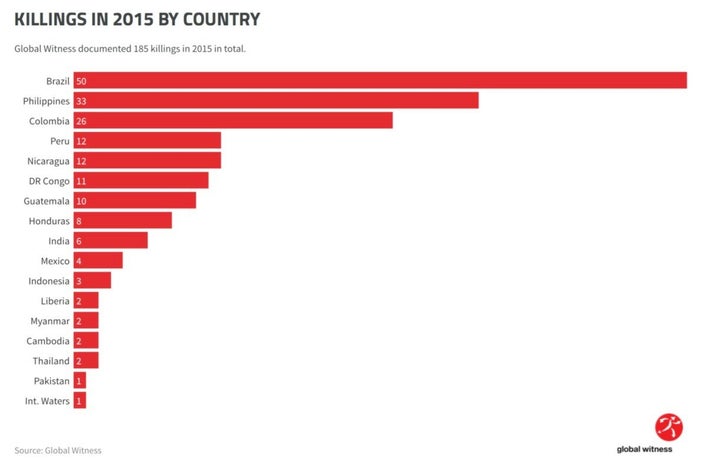 "What we're seeing is an increasing scramble for environmental prizes," Billy Kyte, campaign leader for Global Witness, told The Huffington Post earlier this year. "Corporations are entering more remote areas where they get more bang for their buck, and they're encroaching on indigenous land."
Mining enterprises have been linked to at least 42 of these deaths, agriculture and logging another 20 and 15, respectively. The report found indigenous groups were particularly vulnerable to violence, accounting for 40 percent of those killed last year.
While the number of activists killed has increased since last year, the report notes the official 185 figure represents only reported deaths. The actual figure is likely "far higher," the paper notes, citing war-torn regions in Africa and South Asia that have little oversight but likely violent political retribution over environmental advocacy.
Sadly, even the reported deaths often go uninvestigated and unpunished, according to the report, which chronicles the shooting of two prominent advocates in the Philippines. Filipino activist Michelle Campos saw both her father and grandfather, fierce opponents of encroaching mining interests, killed in front of their family by paramilitary groups linked to the military.
"They told us to leave our community in two days or else they will finish us all," Campos wrote in a letter published by The Philippine Reporter. "They killed Onel, my father and our chairperson. They shot him in the head in front of our community, in front of my three younger siblings."
About 3,000 people were forced to leave their homes following the incident, and although several suspects have been identified, no arrests have been made.
The report also comes just months after the death of Berta Cáceres, a high-profile environmentalist who for decades worked to defend indigenous land rights in Honduras. That country was the deadliest in which to conduct such work from 2010 to 2015, though it ranked eighth in 2015 alone. Cáceres, a winner of the prestigious Goldman Environmental Prize for grassroots activism, was gunned down in her home after receiving death threats for years.
In her speech last year upon receiving the Goldman Prize, Cáceres called on humanity to act on the urgent need for protection. She dedicated the award to those "who gave their lives in the struggle to defend our natural resources."
"Let us wake up. Let us wake up, humankind," she said. "We're out of time."
Related
Before You Go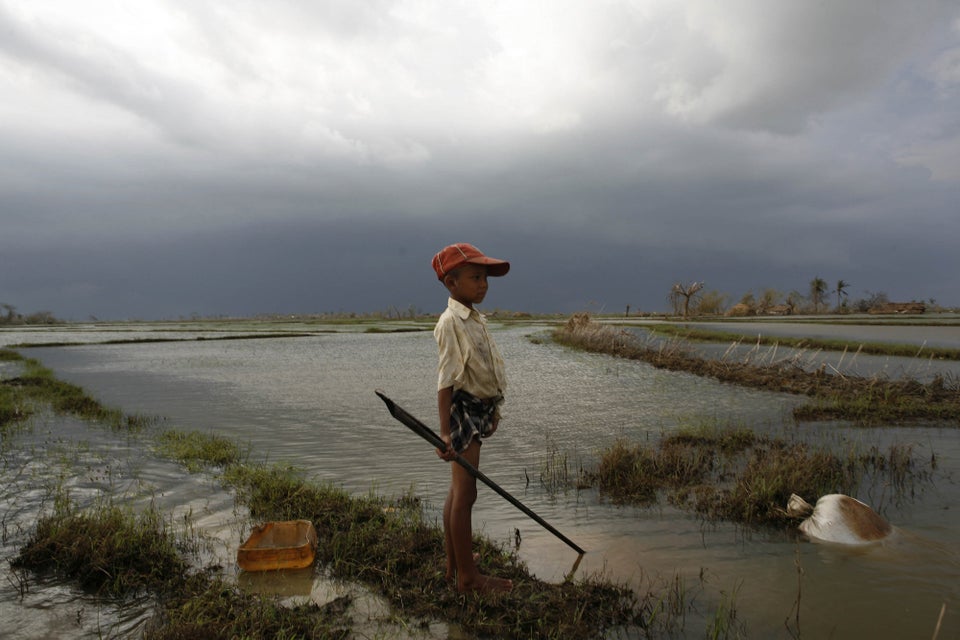 Climate change seen from around the world