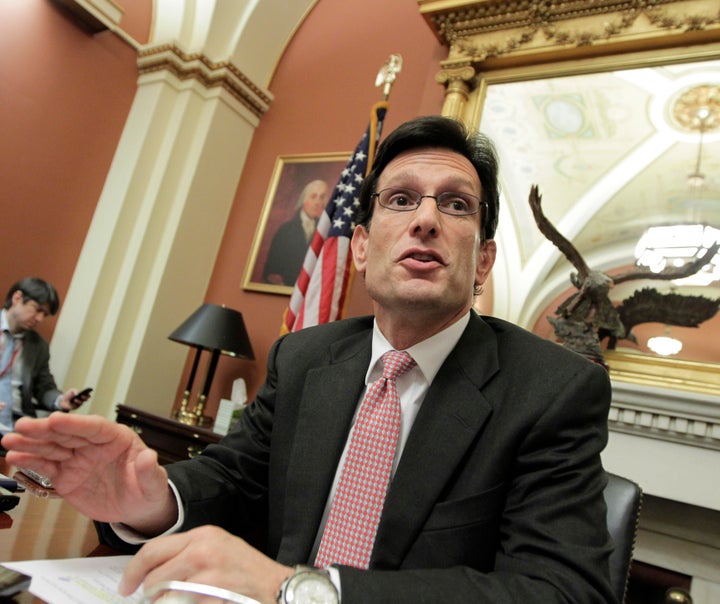 WASHINGTON -- House Majority Leader Eric Cantor called on Monday for Democrats to strip Rep. Anthony Weiner (D-N.Y.) of his committee assignments if he does not step down from the House of Representatives.
The Virginia Republican has said repeatedly that Weiner should resign in light of his tweeting indiscretions, which were exposed on the Internet in the past two weeks. Weiner announced this weekend that he will request a leave of absence to seek psychological treatment, but said he will not resign from his seat.
Democratic leaders such as Minority Leader Nancy Pelosi (D-Calif.) and Democratic National Committee Chairwoman Debbie Wasserman-Schultz (D-Fla.) called for Weiner to resign. Rep. Pelosi also asked the Ethics Committee to investigate whether the congressman broke House rules in his online dalliances.
But Cantor argued the Democrats should go one step further to ensure Weiner leaves the House. "I called on him to resign early," the majority leader told reporters. "I think this kind of behavior is unacceptable."
"I'm hoping that they will begin to move, if he does not resign, toward things like perhaps stripping him of his committees," Cantor added.
House Speaker John Boehner's (R-Ohio) spokesman, Michael Steel, questioned in an email to reporters on Monday why Weiner had not yet put in a formal request for a leave of absence.
"The Leaders of each representative conference/caucus sign formal requests for a leave of absence," he wrote. "Will Leader Pelosi sign Rep. Weiner's formal request for a leave of absence? If Rep. Weiner fails to ask for a formal leave of absence (rather than simply saying he intends to take one via press release), then he will officially be AWOL while still being paid by taxpayers."
"What will Leader Pelosi do if he fails to ask for a formal leave of absence?," Steel asked.
Cantor said he wants the issue to no longer serve as a distraction.
"I don't think that we have time for this," he said referring to Weiner. "We obviously have a lot of other things to be concerned with."
Calling all HuffPost superfans!
Sign up for membership to become a founding member and help shape HuffPost's next chapter