WASHINGTON -- In his brief remarks to a room full of shell-shocked supporters Tuesday night, deposed House Majority Leader Eric Cantor expressed disappointment, thanked his family and staff, and began talking about research.
"I'm really proud of the Gabriella Miller Kids First Research Act. Because what it says as conservatives is that we don't believe you ought to spend taxpayer dollars on political conventions. That in fact it's probably better to help cure disease, because not only do you save lives and help people, you can ultimately solve the federal deficit problem by bringing down federal health care costs," Cantor said.
Tucked inside that moment of seemingly random self-puffery, Cantor alluded to one of the central political fights that ended up driving him from office in a shocking primary defeat to a little-known challenger, Dave Brat, in Virginia's 7th Congressional District.
Cantor, who had been next in line to become speaker of the House, was caught off guard by grassroots energy that emanated from a battle with his political organization to take back control of the state's Republican Party from forces unleashed two years ago by former state Attorney General Ken Cuccinelli.
The battle was over using a convention process, rather than primary elections, to nominate Republican candidates.
In 2012, Cuccinelli supporters took over the state central committee and ruled that the 2013 Republican nomination for the governor's race would be decided at a convention rather than through the traditional primary process. The more cumbersome process meant that only the most intensely committed activists would get to decide the GOP nominee for governor. The decision drove moderate Lt. Gov. Bill Bolling from contention and paved the way for Cuccinelli to cruise to the nomination.
Using a state chapter of his Young Guns political action committee, YG Virginia, Cantor decided to take on the activists trying to purge the Virginia GOP, said Ron Meyer, who ran unsuccessfully for the state Senate in 2013.
"YG ramping up was in direct reaction to Cuccinelli taking over the party to defeat Bolling," Meyer said.
But the tactic of "slating" used by YG and by Cantor's political lieutenant in the state, Ray Allen, had the effect of poking "a nest of already angry hornets" in the conservative grassroots, as Steve Albertson, a member of the state central committee, put it.
"Slating" was a procedural move by Allen and YG operatives to push out grassroots delegates to congressional district conventions that vote on seats to the state central committee. The central committee is the body that decides whether statewide candidates are elected by a convention or primary.
Cantor wanted to restore primaries and get rid of conventions to protect his allies in the state, as well as his own seat.
"He was worried that the state central committee would allow conventions for incumbents" like himself, Meyer said.
And that's the reason Cantor went to war with the grassroots, and the reason why he mentioned conventions in his concession speech Tuesday night.
One Virginia GOP operative said that the fight over the central committee was "all of" the reason Cantor lost.
"[Rep. Rob] Wittman in VA-01 has a voting record arguably to the left of Cantor, and won handily against his Tea Party challenger," the Virginia operative said. "So you start eliminating variables: immigration, Tea Party strength, etc. and the one thing that truly sticks out is the fight over district chair seats across Virginia -- spearheaded by Young Guns.
"That's what makes VA-07 an outlier at the end of the day. The grassroots noticed the desire to whack the liberty movement and in turn the Tea Party made the decision to punish," he said.
Cantor was never well liked, especially by conservatives, who considered him a fraud. His operation's battle with Virginia's grassroots -- a move described by one senior Cantor aide as "Richmond hubris" -- created a perfect storm to propel one of the bigger upsets in American political life for some time.

Before You Go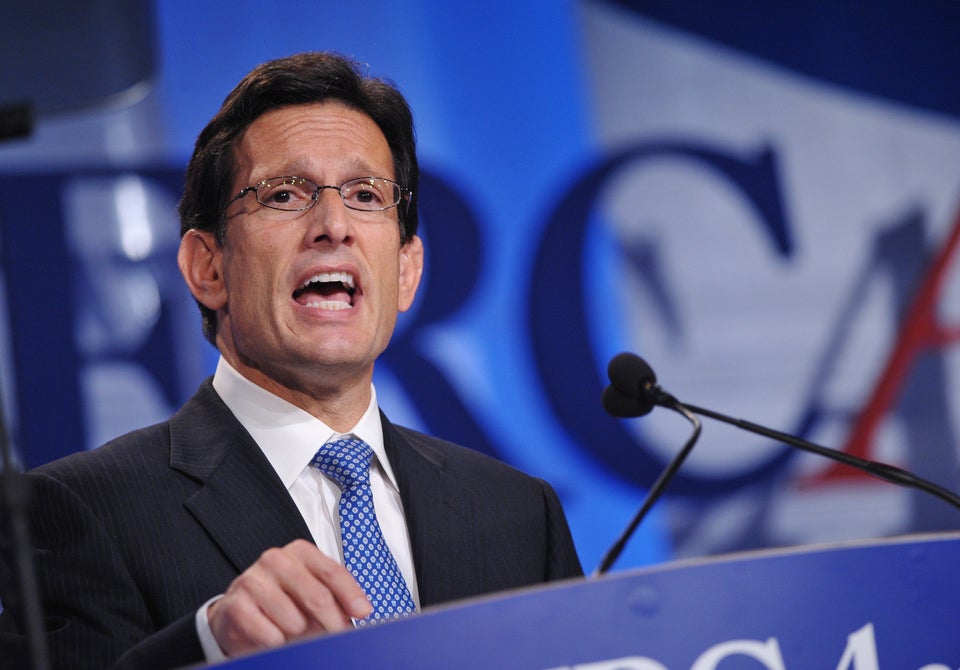 House Majority Leaders Through The Years
Popular in the Community